Tending to Your Mental Health During Pride Month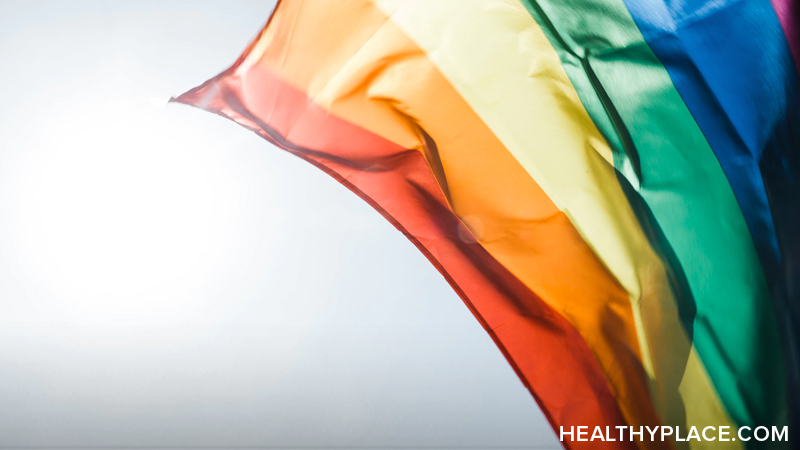 It may seem strange to talk about taking care of our mental health during Pride Month. Pride is a time of joy, fun, and liberation as we celebrate our collective history and identities as queer people. Pride is definitely something I look forward to every year (and I am not above going overboard with rainbow glitter and motifs), but it can also be an emotionally charged time as we confront the ongoing discrimination and systemic oppression that continue to impact our community and daily lives.
Pride Month Can Take a Toll on Mental Health
For many queer folks, Pride Month can evoke feelings of isolation, loneliness, and even anger. Many of us lack family support systems, which can take an especially difficult toll on the mental health of queer and transgender youth. Some of us live in areas of the country where being "out" can be especially dangerous, making it difficult to find and establish community with other queer folks.
Then there are the ongoing attacks on our hard-fought rights to live as full members of society; in my home state of Texas alone, several bills have recently been introduced that, if passed, would ban transgender children from playing on interscholastic sports teams and receiving gender-affirming healthcare from their doctors. While Pride is a celebration of how far we have come as a community, it also serves as a painful reminder that the fight for lesbian, gay, bisexual, transgender, and queer (LGBTQ) rights is far from over — and that the realities of systemic oppression we face as a community are even more challenging for queer people of color, queer immigrants, disabled queers, and others with additional marginalized identities.
Pride Month Can Trigger Feelings of Grief and Loss
For me, June 12th is an especially difficult day as it is the anniversary of the Pulse nightclub massacre that occurred in Orlando, Florida, in 2016. In addition to being the deadliest act of violence against queer people in United States history,1 the attack happened less than a month after my own coming out. I remember waking up to the news that morning and thinking to myself, "What year is this?" It was at that moment that any lingering naivety I had vanished as I realized that there is never a "safe" time to be a queer person in America, and I felt disoriented and profoundly frightened.
Thankfully for me, I happened to be visiting New York City at the time of the attack and was able to attend the candlelight vigil outside of the famed Stonewall Inn, where the 1969 riots sparked the modern queer liberation movement (and are the reason we even have a Pride Month, to begin with). As horrific as the circumstances were, it was a powerful thing to witness and be witnessed by other queer folks as we grieved a profound loss. I felt a deep sense of pride at that moment — pride that, no matter how many hits our community takes, queer people continue to show up for one another when we need it the most. It's how we survive as well as thrive.
But I'm tired of just surviving. I'm tired of the queer community struggling to survive, especially since the obstacles we face do not affect all of us equally. As much fun as Pride Month can be, it also reminds me how much work there is to be done in order for us to build a world where everyone can live a life with dignity regardless of their sexuality or gender. It makes me feel very tired and overwhelmed, which can lead me into a dangerous depression.
Pride and Mental Health Awareness Go Hand in Hand
Pride to me means taking back control of the narrative of who we are as queer people that is so often twisted and maligned by straight society, and tending to our mental health is a non-negotiable part of that process. I offer you these suggestions for taking care of your mind and heart during Pride Month (and the rest of the year):
Don't feel pressured to feel a certain way about Pride Month. It's okay to feel happy, excited, and eager to get in on the fun. It's equally okay to feel sad or angry or apathetic about it. It's even okay to have mixed feelings that fluctuate from day to day. That's simply part of being human.
Lean on the support of your community, friends, and family (by blood or by choice). If you are isolated in an area where you don't have access to queer spaces, there are many online support and social groups to meet and build community with other queer folks. Just be sure to practice common sense online safety.
There is no shame in seeking professional help when mental health challenges become overwhelming. Whether you're seeking a therapist to develop positive strategies to cope with stress and intense feelings, or a psychiatrist for help with a more serious psychiatric issue, taking care of yourself in this way is a radical act. If you have concerns about finding an LGBTQ-friendly provider, there are many online resources to help you locate one in your area or online.
Even if Pride Month is an emotionally charged time for you, try to find moments of joy wherever you can, even if it's only a small thing. The small things add up.
Take some time to learn about and remember the queer activists and ancestors who came before us and paved the way for the rights and freedoms we have today. Remember the challenges they overcame and know that none of us are in this struggle alone.
How are you planning to tend to your mental health during Pride Month? Drop a line in the comments and let me know.
Sources
Rotramel, A., "Profile: Anti LGBTQ Hate Crimes in the United States: Histories and Debates | LGBTQ+ Studies: An Open Textbook." Lumen Learning. Archived from the original on September 24, 2020. Accessed May 30, 2021.
APA Reference
Rose, N. (2021, May 31). Tending to Your Mental Health During Pride Month, HealthyPlace. Retrieved on 2023, December 1 from https://www.healthyplace.com/blogs/thelifelgbt/2021/5/tending-to-your-mental-health-during-pride-month
Author: Nori Rose Hubert
Beautiful piece. I love your connections between Pride and mental health awareness. These are absolutely true and so well explained. I'm so glad to see that you included "finding moments of joy", this is such wonderful magic for so many situations.
Leave a reply