Stigma Surrounding Pilots' Mental Health
Pilots' mental health is a hot topic and stigma surrounding pilot's mental health is an important point to highlight. I am an airline pilot and mental health advocate. Let me tell you my experience with aviation, mental health and what I know about flying, stigma and being a pilot with a mental illness.
Becoming a Mental Health Advocate and a Pilot
I began my aviation career over 30 years ago after graduating from the United States Air Force Academy. I spent seven years on active duty flying the C-21A Learjet and the KC-135A Stratotanker. I received an honorable discharge from the Air Force in September 1991.
I accepted an offer from a major commercial airline shortly after separating from the military. I am currently an active airline pilot with over 10,000 hours of flight time.
I became a mental health advocate unintentionally. My son was diagnosed with bipolar disorder when he was 12 years old. I have shared his story with various groups to raise mental health awareness.
Recently I joined the Air Line Pilots Association (ALPA) committee called Pilot Assistance Network (PAN). PAN provides support for ALPA pilots during difficult times. As a PAN volunteer, I am trained to aid my fellow pilots with mental health issues and direct them to appropriate care.
Stigma and Pilot Mental Health Screening and Monitoring
There has been much discussion concerning pilot mental health screening by airlines and a lot of this discussion is an example of stigma surrounding pilots' mental health. When I got hired, I underwent a thorough physical and mental health examination. The interview process included meeting with a psychiatrist.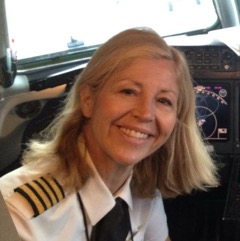 There is also public interest in monitoring a pilot's mental health. Some ask whether pilots should be allowed to fly with a diagnosis of depression. The answer is yes, they are.
The Federal Aviation Administration (FAA) publishes the "I'm Safe" checklist, which stands for illness, medication, stress, alcohol, fatigue, and eating/emotions. A pilot must ask himself if he meets each of these wellness checks.
As an airline Captain, I am required to maintain an FAA First Class Medical Certificate. I meet with my Aviation Medical Examiner (AME) every six months for a complete physical. I report all known health conditions and visits to healthcare providers.
My AME can deny my medical for many reasons including mental disorders. The FAA considers the following disqualifying: bipolar disorder, psychosis and suicidal ideation. However, there are situations the Federal Air Surgeon can grant an Authorization for Special Issuance of a Medical Certificate.
A Special Issuance may be granted to a pilot using antidepressants for mild to moderate depression if there is no history of psychosis or suicidal thoughts. The pilot must be using a single medication only (there are currently four approved) and be stable a minimum of six months. A specially trained psychiatrist or psychologist closely monitors the pilot during the time of the special issuance. According to Deputy Federal Air Surgeon Dr. Michael Berry, 78 pilots with First Class Medicals were approved to fly while taking antidepressant medication as of November 2014.
Why Don't Pilots Seek Mental Health Treatment? Stigma
Stigma may deter airline pilots from pursuing treatment for depression and the special medical certificate required. Pilots have a reputation for being high achievers, competent, dutiful, disciplined, assertive, confident and calm in dangerous situations. Stigma tells pilots that mental illness is a weakness, which conflicts with typical pilot traits.
Fear and ignorance affect pilots with mental illness. Pilots may not know the symptoms of mental illness or treatment options. An airline pilot may fear losing his medical certificate and job. Finally, aviators may not be aware of the new antidepressant rules established in 2010. Ten years ago, airline pilots were not allowed to fly while taking antidepressants.
Pilots' mental health and stigma is an essential topic we need to discuss. The rules will continue to sharpen in light of the recent attention to pilots' mental health. As a career pilot and avid mental health advocate, I encourage the conversation.
You can find Christina on Google+, Twitter and Facebook.
To be a guest author on the Your Mental Health Blog, go here.
APA Reference
Halli, C. (2015, April 2). Stigma Surrounding Pilots' Mental Health, HealthyPlace. Retrieved on 2023, October 3 from https://www.healthyplace.com/blogs/yourmentalhealth/2015/04/stigma-surrounding-pilots-mental-health
Author: Christina Halli
Hi Ryan, are you still happy to share your story? If so then I will email you - I can't find your foundation etc online so wondered if you were still open to this...
Hi Scott,
Thanks for your comment. The FAA process of getting a Special Issuance on your class 1 can take a long time, sometimes years. Part of the problem is bureaucracy. Part is that the FAA and our airlines want to be sure every pilot is fit to fly. The process will improve as more pilots use it as it's intended. The good news is that pilots will no longer lose their jobs or careers for situational depression or anxiety.
Christina, great stuff but I think you neglected to mention how long a pilot will be withheld from flying before receiving a special issuance. More scrutiny will be forthcoming because a European airline (purposely?) overlooked a mental issue of a non-vetted first officer, ultimately leading to mass-murder. Self reporting is key, however we all like to know who we work with forward of that door. Peace! Scott.
Where does one turn when what you though and are told is the last case senario and support when suffering with depression ans wanting to die and they send you home saying you"re ok??
I dont know all the details but what I do know from recent experience and that is if you do let employers or Unions of past Mental Illness issues and that is you become a liability to them and they"ll let you go. I have tried to be open and help others only to be let go of my last two jobs after recovering from severe depression and anxiety where 24 ECT treatments were needed.......Long story short, by talking about it resulted in my loss of employment with no support from my union and the Medical system.It has literally paralyzed me. I haven"t been able to find or get propper help/advice for almost 30 years, it has not only ruled my life but ruined it. I went from launching a non profit organization to help others suffering with Depression, Anxiety and Suicide prevention and awareness to trying to find my own........On that note, I an looking for a way to tell my storey as I know it will help others but get overwhelmed as there is so much to my story but dont lnow where and how to start because of my anxiety......Any input and or ideas would be muchly appreciated. You may also email me @ mulligan@mulliganfoundation.com
Thank you Everyone, "We are all Connected"
Ryan Mulligan.
I am more worried of the folks who are texting while driving, and coming into my lane.
Leave a reply