Can Alcoholics Take Prescription Pain Medication in Recovery?
Is it okay to take prescription pain medication when you're a recovering alcoholic or addict? Does getting sober mean you can never take a drug of any kind for the rest of your life?
Some recovering addicts are so dedicated to living clean and sober that they eliminate all mood-altering drugs or substances from their lives -- including caffeine and psychological medications. These men and women are cognizant that their addiction can manifest in a dozen different ways.
All Drugs are Addictive -- Even When Prescribed
I never abused pills (or drugs of any kind) but that didn't stop me from breaking down into hysterics when prescribed a narcotic medication after severely injuring my shoulder after four years of sobriety.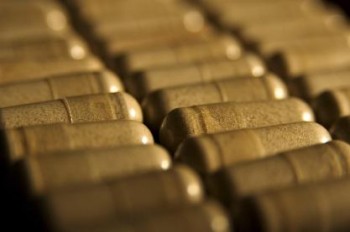 I didn't know what to do. I was in excruciating pain throughout the day and night, unable to sleep more than two hours at a time, and was still too afraid to take the medicine prescribed by my doctor.
In the previous four years, I had heard horrible stories of people "going back out" as a result of taking prescribed medication. I heard of one woman relapsing on mouthwash and others who fell off the wagon after taking over-the-counter cold medicine.
So the idea of taking a hard-core narcotic terrified me. I questioned my motives, tried to gauge my pain levels, and determined whether or not it was really necessary. Even though I had never used pills to get loaded when active in my alcoholism, I knew that I could very easily become addicted to pain medication.
Prescriptions Exist for a Reason
Terrified by the power I knew these medicines held, I decided to call a trusted friend with more sobriety time than me. My friend reminded me that, first of all, I was not a medical doctor (M.D.). If an M.D. saw my condition to be serious enough to warrant prescription pain medicine then the pain was certainly severe enough.
Second, we discussed the difference between taking pain pills as prescribed for pain management and taking them to get high (not as prescribed). The best guideline for this is observing whether or not I am following the directions printed on the label. If I am following the dosage described, then I am not abusing the medicine. Plain and simple.
We discussed various precautions I could take:
Asking a friend to administer the medicine at specified times
Ensuring my doctor gave me the least potent and addictive prescription possible
Calling my doctor if my pain increased -- instead of just taking more medicine
Checking in with a friend each day and telling him/her if I'm taking the right dosage
Attending recovery meetings or listening to recorded speeches to keep recovery at the front of my mind
Third, she pointed out that my pain was so severe that it was a drain on my quality of life. I didn't get sober to suffer more. I got sober to live a more fulfilled and balanced life -- and for me, sometimes that means following my doctor's orders and taking medicine that is prescribed to me.
Photo courtesy of Phil Date | Dreamstime Stock Photos.
You can find Becky on Facebook, Twitter, Google+ and her website.
APA Reference
Doyle, B. (2014, November 6). Can Alcoholics Take Prescription Pain Medication in Recovery?, HealthyPlace. Retrieved on 2023, September 28 from https://www.healthyplace.com/blogs/debunkingaddiction/2014/11/can-alcoholics-take-prescription-pain-medication-in-recovery
Author: Becky Doyle
[…] largely on the person. Some alcoholics and addicts can take medications safely, some can not (Can Alcoholics Take Prescription Pain Medication in Recovery?). I know of at least two alcoholics recovering from surgery who did not take prescribed painkillers […]
saying this simply was ;an opportunity to go out and add another football player that we have high regard for.
[…] a recovering alcoholic, I try to avoid addictive substances. Opinions differ on whether recovering alcoholics and addicts should take prescription pain medications. Someday I may face a situation where I do feel the need to take prescription opioid […]
On Aug 28th I'll have 30 yrs of sobriety. During the past 10 yrs I've had to take pain meds muscle relaxers and medical cannibas. Yes the pain is that severe. 5 ruptured discs in my neck, 2 ruptured discs in my lower back, spinal stenosis affecting my neck. I suffer from migraine type headaches due to all the damage in my neck. I also have bone spurs as a result of having osteoarthritis all up and down my spine. Yes of course I'm physically addicted to tell pain med but I must take the pain meds 3x a day with my muscle relaxer. This has not caused me to go off the deep end. I can't do as much as I use to but try to get something accomplished everyday. I have found, to my surprise, that i do need pain meds on a daily basis and that the pain meds work differently (to my benefit) than how I reacted to the pain meds when I was practicing my disease. Any questions, thoughts, doubts?
Hi Grant, I'm not the original author of this blog post (there's two of us who trade off each week) but from my perspective, it's all about your intention and motivation behind it.
Hi Grant, I'm 30 years sober and still have sponsees and a sponsor. I go to two men's weekend step retreats a year. About five years ago due to multinle spine issues that all treatment modalities failed to resolve I ended up on opiate pain medication. It worked pretty well for awhile , but as time went on I needed to increase the dose, under the very close supervision of my doctor. I always took exactly as prescribed. About six months ago I went with my wife to visit a good friend/sponsee. While there i updated my friend about the meds I was taking. Well, it just so happened that I became very ill with a sinus infection and my friend attributes my fatigue to the meds and discussed with my wife how to get me into detox. So when I get home my wife and friend scheme an intervention on me. I was told that I was addicted and needed to go to rehab. Well, to keep peace in the house I went along with it.
I was not able to get all the way off at the detox due to the pain levels so I was sent home on suboxone. Now several months later I'm still on soboxone for pain and I hate it. I wish that I told my wife that I would simply discuss the issue with my doctor and just taper as much as I could without the rehab. I kick myself for not standing up for myself. The pressure was on by my nazi AA friends who somehow think they have honorary doctorates just because they got sober. Don't let the shit show happen to you if you'd in my shoes. The fucking hysteria around opiate pain medication has gone so far that it is gravely effecting the quality of life for individuals with serious issues.
I am an alcoholic and an addict and I have found over the counter medications to be very effective, if however the pain is more than can be handled by these and my physician prescribes pain killers I proceed as described by Kira above. I heard at a meeting a long time ago "if I am hit by a truck in front of the meeting place don't drag me inside and call my sponsor, call an ambulance so they can take me to the hospital!"
Hi Don, thanks for your input. I just want to point out that my co-author, Becky Doyle, is actually the author of this particular post. I know it showed my picture next to it so it gets confusing. This topic is interesting and extremely relevant at some point for most people in recovery. Thankfully, so far in my journey, I have not been in a situation that required prescription painkillers (although they've been offered to me for medical things I didn't really see as requiring them!) but I know that day might well come.
What would help this article and anyone who rely on it for perspective in their decision making would be updates over time.
Leave a reply