Schizophrenia or Schizoaffective Disorder in College
Having schizophrenia or schizoaffective disorder in college is really hard. Getting a master's degree is really hard, too. Dealing double duty can be a real challenge. I got my master's degree in photography while coming to terms with my diagnosis of schizoaffective disorder. Here's what it's like to be in college while battling schizophrenia or schizoaffective disorder.
It's Hard to Earn a College Undergraduate Degree With Schizophrenia or Schizoaffective Disorder
I should know. I had my first psychotic episode in college at the Rhode Island School of Design. I was diagnosed with schizophrenia right off the bat just because that's the disorder my uncle has. It wasn't until I was back home in Chicago and a graduate student that I was correctly diagnosed with schizoaffective disorder, bipolar type.
In between my first diagnosis and my correct diagnosis, I transferred to the School of the Art Institute of Chicago, where I got my bachelor of fine arts degree. The hardest thing about getting my undergraduate degree was that the medication I was on made me so tired all the time. I slept through class a lot, even if the class was in the afternoon. Somehow, I made it through my undergraduate studies, catching up whenever I could, and got my degree.
Earning a College Graduate Degree With Schizophrenia or Schizoaffective Disorder Is Even Harder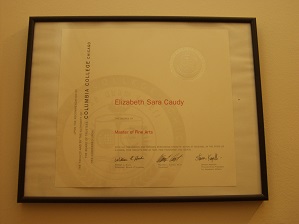 I was accepted at Columbia College, Chicago's graduate photography program, but I continued to have trouble making it to class just as I had at the School of the Art Institute of Chicago. Then my psychiatrist and I started switching around my medication, trying to find one that didn't cause weight gain. My weight drastically decreased and increased again all throughout graduate school.
And the toll it all took on my mood made me insufferable. I sent out so many offensive emails -- even to my teachers and fellow students. Some emails were just incoherent. That was when I was manic. And then I crashed into depression. I slept all the time – including through some of my classes. My teachers didn't know what was going on with me, and I didn't know what was going on with myself. Getting a special needs letter from the college's disabilities office helped a lot. It meant teachers knew I had a verified illness – I wasn't just a slacker.
Graduate school is supposed to be a time when you forge alliances with colleagues. But I barely made it through school. Things would have been a lot easier if I had come to accept the weight gain, as I do now, and not switched around my medication so much. Can you really blame me, though? I had been a size two all my life, and now I was a size 12. (For the record, I am now a size 14, even though I exercise every day to manage my anxiety. However, I've come to accept my current weight. I'd much rather be heavy than untreated.)
I made it through graduate school. I love photography and one thing my illness did seem to give me was a unique way of seeing things that flowed through the camera and into my pictures. And, incidentally, getting treatment didn't take that away. My degree is hanging on the wall of the apartment I share with my husband – along with many of my photographs. Also, I did make a lot of friends in graduate school, even if I also alienated a lot of people along the way. That's just something I'm going to have to live with.
Video About Schizophrenia, Schizoaffective Disorder and College
Photo by Elizabeth Caudy.
Find Elizabeth on Twitter, Google+, Facebook, and her personal blog.
APA Reference
Caudy, E. (2016, May 5). Schizophrenia or Schizoaffective Disorder in College, HealthyPlace. Retrieved on 2023, December 11 from https://www.healthyplace.com/blogs/creativeschizophrenia/2016/05/schizophrenia-schizoaffective-disorder-and-college
Author: Elizabeth Caudy
I recentently had a psychotic break last semester. I am a history major at PSB . I have 43 credits or so until I am done. I was diagnosed recently with schizoaffective disorder. My breakdown was very nasty and it happened in the public sphere during school. My biggest hurdle is reaching out to my academic advisor and mentor to hash out a plan and to give an update. Social I have digressed so severely leaving my house for work is a chore being around people is aggrevating. Do you have any advice moving forward on how to reconnect socially with friends etc
For now, I would focus on reaching out to your advisor. That sounds like the most important thing. After that, you may find you have the confidence to reach out to friends.
Thank you for sharing your experience! I have a son who is a senior in high school and has schizoaffective disorder. He wants to go away to College next year. However, I am deathly afraid of this! I'm scared he will isolate and feel depressed away from home. His illness has led him to lose his friends and he is very shy and lacks social skills to make friends. Do you have any advice for parents in this situation?
My advice is to try to convince your son to go to college close to home, and preferably live at home during college. I lived in the dorms while at The School of the Art Institute of Chicago, and I had a hard time because I was lonely so I eventually moved back in with my parents. I also advise getting in touch with his college's students with disabilities office. That helped a lot in grad school.
That's inspiring, I also have schizophrenia I came down with it in college, but I dropped out. I trying to go back and finish. I spoke to an advisor today at ASU. My med also makes me really sleepy. I also used to be a size two now I'm 14, but went up to 16 and then dropped a size.
Leave a reply