Taking Schizophrenia Medication that Makes You Feel Numb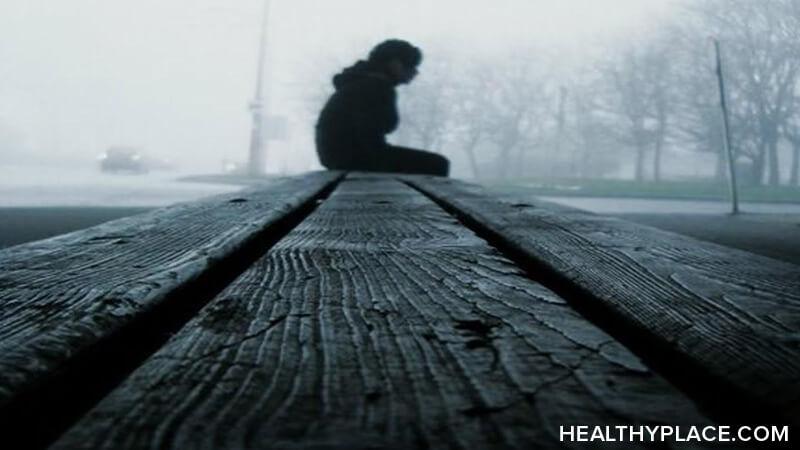 I took an atypical antipsychotic medication that makes you feel numb when I was first diagnosed with schizophrenia in 1999. It wasn't until I was diagnosed with schizoaffective disorder, bipolar type and tried a mood stabilizer that my doctor allowed the antipsychotic dosage to be decreased. Finally, I felt like myself again.

Was It Depression or the Side Effects of a Medication that Makes You Feel Numb?
When I say the medication made me feel numb, I mean inwardly—the sensation felt a lot like depression. At first, the reaction very well could have been partially depression. I had just left my dream school, the Rhode Island School of Design (RISD), because it had turned into more like a nightmare as my first psychotic episode took hold. Two problematic roommates and spiraling paranoia soon turned my world delusional.
I had wanted to go to RISD since I was a sophomore in high school. I made it there and flourished my freshman year. It all fell apart the next year and that did make me depressed, even though I was speedily accepted at The School of the Art Institute of Chicago (SAIC) with a merit scholarship. The SAIC turned out to be the real dream school, though I didn't know that at the beginning of the first spell of medication and that unsettling numbness.
When Medications Make You Feel Numb and Rob You of Your Spark
I was diagnosed with schizoaffective disorder in 2002 and, by then, I realized SAIC was the place for me. It became clear the numbness wasn't depression at all. I simply felt I had no spark. This manifested in all sorts of ways—even in the way I dressed. Before the symptoms of schizophrenia triggered, I had a very quirky, funky style of my own--darkly goth dresses and vintage hippie outfits filled the closet. But jeans and tops were all I could manage with my illness. Of course, part of the change in the way I dressed resulted from the weight gain caused by the antipsychotic medication.
Finally, at the beginning of getting my MFA at Columbia College Chicago, enough was enough. I got a second opinion from an esteemed psychopharmacologist who asked me if my psychosis was accompanied by mood swings. I said yes—in fact, I'd been having extreme mood swings since I was 11. She finally figured out my diagnosis, bless her. I had schizoaffective disorder, bipolar type. A mood stabilizer helped a lot and my dosage of the antipsychotic was decreased— no more numbness.
I was back to my old self. I didn't just sit there like a motionless log when I went out with my friends. I laughed again. I was again overflowing with stories and anecdotes. I wanted to do things other than sleep all the time.
My medication had made me feel numb, but with the adjustment, my spark came back.
APA Reference
Caudy, E. (2018, March 15). Taking Schizophrenia Medication that Makes You Feel Numb, HealthyPlace. Retrieved on 2023, December 6 from https://www.healthyplace.com/blogs/creativeschizophrenia/2018/03/when-schizophrenia-medication-makes-you-feel-numb
Author: Elizabeth Caudy
Hi
I'm on pshycosis medicine called trilafone which is a very old medicine for pshycosis. I feel like my creative thinking is gone and I also feel that very often i have nothing to say, like there is no movement from thoughts or imagination in my brain, like when someone sais something i can only find the words cool or that is amazing to answer, like i dont have any input. Can that be triggered by the pshycosis medicine my loss for words? Do you think so? I have schizoaffective disorder but I was thinking if it would be okay for me to start on lithium which is a mood stabilizer. Because I'm starting film school in two weeks and I'm anxious that i'm not gonna have any creative thinking... Just a thought
My son is 45 years old and has been diagnosed with schizophrenia 25 years ago....he is not doing well now and my question is "do you have any comments to make about the doctor having him on 3 anti-psychotics at the same time.....saphris 20 mg, rispidal 10 mg and geodone 60mg....I feel like he is getting worse with his symptoms....do you have any comment?
I was diagnosed with schizoaffective disorder ten years ago. Of the three anti-psychotics I've been prescribed, the best is quetiapine. There's no emotional numbness, and I would recommend anybody whose medication has altered one's personality to take it instead.
Psychopharmacologic approaching indicates crucial step to comprehensive psychiatric treatment of any mental disorder. When are in question serious psychosis, such is schizoaffective disorder antipsychotic medication should be tuned by individual principles, where mood shifts determines the chose and dosage of respective antipsychotic medication. Beside antipsychitc medication it ought to take plus any psychostabilizaror medication, in order to prevent frequent mood shift. This algorhythm of shizoaffective disorder will decrease the dosage of respective antipsychotic medication. As a result, the side effects of antipsychotic medications would be minimal and safety, as well. These cautions are precursor of satisfying psychopharmacologic treatment of shizoaffective disorder. However, antipsychotic medication should be an elective process with great caution, where medical and paramedical circumstances must take in consideration.
Hi my name is Deandrae I was diagnose with schizoaffective disorder every since the mood stabilzer and psychotic meds I have being taking my creative thinking is gone my flash of insight does not happen anymore and I feel num inside its like I dont feel for know one no matter what it is one can die in my family which they have and I can't feel no sadness no nothing what should I do
Leave a reply