Alcoholism and Mental Illness
HealthyPlace Mental Health Newsletter
Here's what's happening on the HealthyPlace site this week:
Drinking Alcohol Doesn't Resolve Mental Health Symptoms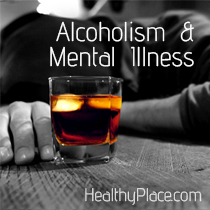 Unfortunately many people drink alcohol to manage their troubling mental health symptoms. Feeling depressed? Drink. (How Depression Can Lead to Alcohol Abuse and Addiction) Feeling anxious or irritable? Take a shot or two to calm down.
When you engage in substance abuse and have a mental health disorder, and some 4 million Americans fall in that category, it's not unusual for the end result to be an addiction and mental health problem. It's so common, there's even a name for it, "dual diagnosis".
Of course, alcohol abuse and alcohol addiction can really mess up your life. Before it gets to that point, you should discuss your mental health symptoms with your doctor or therapist. If you already have an alcoholism issue, there are various alcohol treatment programs available. (Different Alcohol Treatment Programs Work for Different People)
Related Articles Dealing with Real Change
Your Thoughts
Today's Question: Have you used alcohol or drugs to manage your mental health symptoms? How did that start? We invite you to participate by commenting and sharing your feelings, experiences and knowledge on the HealthyPlace Facebook page.
------------------------------------------------------------------
Share our Stories
At the top and bottom of all our stories, you'll find social share buttons for Facebook, Google+, Twitter, Pinterest and other social sites. If you find a particular story, video, psychological test or other HealthyPlace feature helpful, there's a good chance others in need will too. Please share.
We also get many inquiries about our linking policy. If you have a website or blog, you can link to any page on the HealthyPlace website without asking us beforehand.
---
---
Most Popular HealthyPlace Articles Shared by Facebook Fans
Here are the top 3 mental health articles HealthyPlace Facebook fans are recommending you read:
If you're not already, I hope you'll join us/like us on Facebook too. There are a lot of wonderful, supportive people there.
------------------------------------------------------------------
Mental Health Experiences
Share your thoughts/experiences with any mental health subject, or respond to other people's audio posts, by calling our toll-free number (1-888-883-8045).
You can listen to what other people are saying by clicking on the gray title bars inside the widgets located on the "Sharing Your Mental Health Experiences" homepage, the HealthyPlace homepage, and the HealthyPlace Support Network homepage.
If you have any questions, write us at: info AT healthyplace.com
------------------------------------------------------------------
From the HealthyPlace Mental Health Blogs
We want to welcome a new blogger to HealthyPlace. Gabe Howard is co-authoring the "Anxiety-Schmanxiety" blog with Tanya J. Peterson. Drop by, check them out and say hello. On all our blogs, your comments and observations are always welcomed.
Feel free to share your thoughts and comments at the bottom of any blog post. And visit the mental health blogs homepage for the latest posts.
------------------------------------------------------------------
Stand Up for Mental Health
Thousands Have Joined the Stand Up for Mental Health Campaign
But we still need you. Let others know there's no shame in having depression, anxiety, bipolar disorder, trichotillomania, OCD, ADHD, schizophrenia or any other mental illness.
Join the Stand Up for Mental Health campaign. Put a button on your website or blog (buttons for family members, parents, mental health professionals and organizations too). We also have covers for Facebook, Twitter and Google+.
------------------------------------------------------------------
Latest Mental Health News
These stories and more are featured on our mental health news page:
UCL And Max Planck Society Invest €5m To Open World's First Computational Psychiatry Centre
Women With PCOS May Suffer Psychiatric Complications, Menstrual Irregularity
First Stem Cell Model For Bipolar Disorder Could Lead To New Treatments
Suicide More Likely In Frequent-Attenders At Gps
The Powerful Benefits of Arrogance and Spite.
Deficit Schizophrenia Patients Show Reduced FA In The Left Uncinate Fasciculus
'Autism Rates Soar 30% In 2 Years,' CDC Say
Fund-Raising Can Be Fun, And Good For You.
Reasons For Substance Use Vary Among Mental Health Patients
An Under-Recognized Issue That May Be On The Rise: Fetal Alcohol Spectrum Disorders
That's it for now. If you know of anyone who can benefit from this newsletter or the HealthyPlace.com site, I hope you'll pass this onto them. You can also share the newsletter on any social network (like facebook, stumbleupon, or digg) you belong to by clicking the links below. For updates throughout the week:
APA Reference
Staff, H. (2014, April 2). Alcoholism and Mental Illness, HealthyPlace. Retrieved on 2023, December 5 from https://www.healthyplace.com/other-info/mental-health-newsletter/alcoholism-and-mental-illness
Last Updated: September 18, 2014