Diabetes and Mental Health Conditions: New on HealthyPlace
Here's what's happening on the HealthyPlace site this week:
---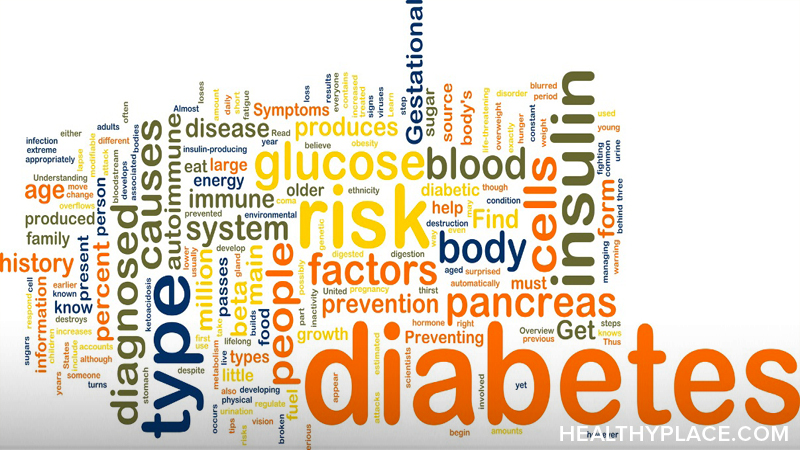 Diabetes and Mental Health Conditions: New on HealthyPlace
We've updated and expanded our diabetes information on HealthyPlace. Why? If you live with any mental health condition, you might be at an increased risk of developing diabetes. Likewise, if you have diabetes, you might be at an increased risk of developing a mental health condition.
Studies are showing that the link between mental health and diabetes is strong:
Americans, especially minorities, with a severe mental illness such as schizophrenia or bipolar disorder are more than twice as likely than others to develop type 2 diabetes.
In another study, 28 percent of participants with severe mental illness had type 2 diabetes; in contrast, 12 percent of the general population has type 2 diabetes.
Diabetes affects a wide variety of mental health conditions, including—but not limited to—illnesses like
ADHD
Addiction
Anxiety
Bipolar disorder
Depression
OCD
Schizophrenia
Mental health conditions and diabetes are each difficult to live with and manage. Combine them and treating them can be daunting. Mental illnesses are overwhelming, can cause exhaustion or a sense of being wired, and can zap either motivation or concentration (or both) needed to meet the demands of diabetes care. Likewise, diabetes can impact both brain chemistry and lifestyle, thus contributing to and worsening mental health conditions. (Diabetes and Mental Health: How One Affects the Other. )
Mental health conditions and diabetes have a profound impact on each other, and together they impact our total health and wellbeing. Discover comprehensive information on diabetes and the diabetes and mental health connection.
Related Articles Dealing with Diabetes and Mental Health
Your Thoughts
Today's Question: If you live with a mental health condition and diabetes, what do you find particularly challenging? We invite you to participate by sharing your thoughts, experiences, and knowledge on the HealthyPlace Facebook page and on the HealthyPlace Google+ page.
From the HealthyPlace Mental Health Blogs
On all our blogs, your comments and observations are welcomed.
Feel free to share your thoughts and comments at the bottom of any blog post. And visit the mental health blogs homepage for the latest posts.
------------------------------------------------------------------
From HealthyPlace YouTube Channel
I'm Hannah. I Have Bipolar 2
Bipolar and Ghosting: Why We Do It
Why would someone with bipolar disorder engage in ghosting? Why would they be ghosting someone they've been in a seemingly good relationship with?. (Watch Hannah and subscribe to the HealthyPlace YouTube channel for more great mental health videos.)
------------------------------------------------------------------
Most Popular HealthyPlace Articles Shared by Facebook Fans
Here are the top 3 mental health articles HealthyPlace Facebook fans are recommending you read:
If you're not already, I hope you'll join us/like us on Facebook too. There are a lot of wonderful, supportive people there.
------------------------------------------------------------------
Mental Health Quote
"Never go back what you already rescued yourself from."
Read more abuse quotes.
------------------------------------------------------------------
That's it for now. If you know of anyone who can benefit from this newsletter or the HealthyPlace.com site, I hope you'll pass this onto them. You can also share the newsletter on any social network (like facebook, stumbleupon, or google+) you belong to by clicking the links below. For updates throughout the week, circle HealthyPlace on Google+, follow HealthyPlace on Twitter or become a fan of HealthyPlace on Facebook. Also, check out HealthyPlace on Pinterest and share your mental health pins on our Share Your Mental Health Experiences board.
APA Reference
Peterson, T. (2019, January 21). Diabetes and Mental Health Conditions: New on HealthyPlace, HealthyPlace. Retrieved on 2023, December 9 from https://www.healthyplace.com/other-info/mental-health-newsletter/diabetes-and-mental-health-conditions-new-on-healthyplace
Last Updated: January 22, 2019