Facing Mental Health Challenges? You're Not Alone
HealthyPlace Mental Health Newsletter
Here's what's happening on the HealthyPlace site this week: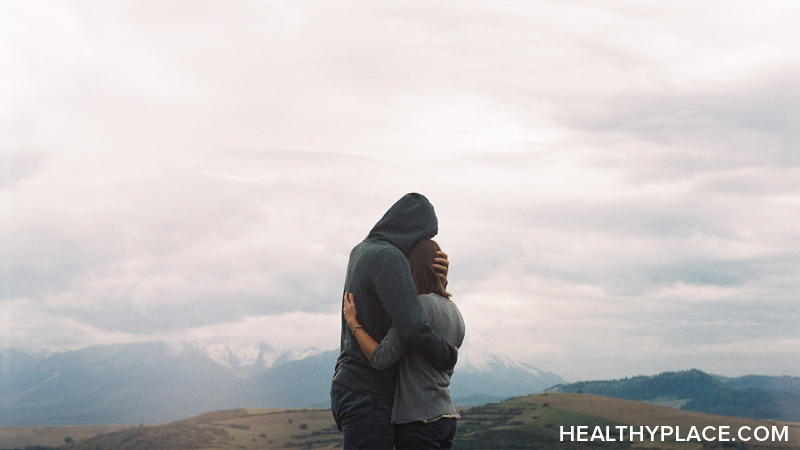 Facing Mental Health Challenges? You're Not Alone
You are not alone. This encouraging statement is seen in so many places both on- and offline. It refers to the fact that mental health disorders are fairly common. According to both the National Alliance on Mental Illness (NAMI) and the National Institute of Mental Health (NIMH), approximately 20% (one in five) of all adults living in the US experience a form of mental illness in any given year. So, truly, you're not alone.
A goal of mental health awareness month is to help people realize the scope of mental health challenges. Given that approximately 20 percent of the population experiences some type of mental illness, chances are very high that everyone knows someone whose life is touched by mental illness.
Increasing mental health awareness increases understanding, not only of what mental illness is but of the people who experience these mental health challenges. Also, knowing that you're not alone can reduce feelings of isolation and shame; someone struggling with mental health issues isn't "weird" or "defective" or the only one. Are you facing your own mental health difficulties? Do you know someone who is? You're not alone. You're in very good company—humanity.
Related Articles Dealing with Not Being Alone with Mental Illness
Your Thoughts
Today's Question: Is it helpful for you to know that you're not alone with a mental illness, and if so, how? We invite you to participate by commenting and sharing your feelings, experiences and knowledge on the HealthyPlace Facebook page and on the HealthyPlace Google+ page.
---
---
Share our Stories
At the top and bottom of all our stories, you'll find social share buttons for Facebook, Google+, Twitter, Pinterest and other social sites. If you find a particular story, video, psychological test or other HealthyPlace feature helpful, there's a good chance others in need will too. Please share.
We also get many inquiries about our linking policy. If you have a website or blog, you can link to any page on the HealthyPlace website without asking us beforehand.
Most Popular HealthyPlace Articles Shared by Facebook Fans
Here are the top 3 mental health articles HealthyPlace Facebook fans are recommending you read:
If you're not already, I hope you'll join us/like us on Facebook too. There are a lot of wonderful, supportive people there.
------------------------------------------------------------------
From the HealthyPlace Mental Health Blogs
On all our blogs, your comments and observations are welcomed.
Feel free to share your thoughts and comments at the bottom of any blog post. And visit the mental health blogs homepage for the latest posts.
------------------------------------------------------------------
Stand Up for Mental Health
Thousands Have Joined the Stand Up for Mental Health Campaign
But we still need you. Let others know there's no shame in having depression, anxiety, bipolar disorder, trichotillomania, OCD, ADHD, schizophrenia or any other mental illness.
Join the Stand Up for Mental Health campaign. Put a button on your website or blog (buttons for family members, parents, mental health professionals and organizations too). We also have covers for Facebook, Twitter and Google+.
------------------------------------------------------------------
Latest Mental Health News
These stories and more are featured on our mental health news page:
Study Finds Depression Lowers Women's Chances Of Pregnancy
Effects Of Maternal Smoking Continue Long After Birth
Study Shows That Workaholism Frequently Co-Occurs With Adhd, Ocd, Anxiety, And Depression
Multiple Personality Disorder May Be Rooted In Traumatic Experiences
Alcohol Exposure During Adolescence Leads To Chronic Stress Vulnerability
FDA Approves Zinbryta To Treat Multiple Sclerosis
Opioids Might Worsen Chronic Pain, Study Finds
Cognitive Decline Hastened With Greater Fluctuations In Blood Pressure
That's it for now. If you know of anyone who can benefit from this newsletter or the HealthyPlace.com site, I hope you'll pass this onto them. You can also share the newsletter on any social network (like facebook, stumbleupon, or digg) you belong to by clicking the links below. For updates throughout the week:
APA Reference
Peterson, T. (2016, June 3). Facing Mental Health Challenges? You're Not Alone, HealthyPlace. Retrieved on 2023, December 4 from https://www.healthyplace.com/other-info/mental-health-newsletter/facing-mental-health-challenges-you-re-not-alone
Last Updated: June 3, 2016