How Seasonal Changes Can Affect Our Mental Health
HealthyPlace Mental Health Newsletter
Here's what's happening on the HealthyPlace site this week: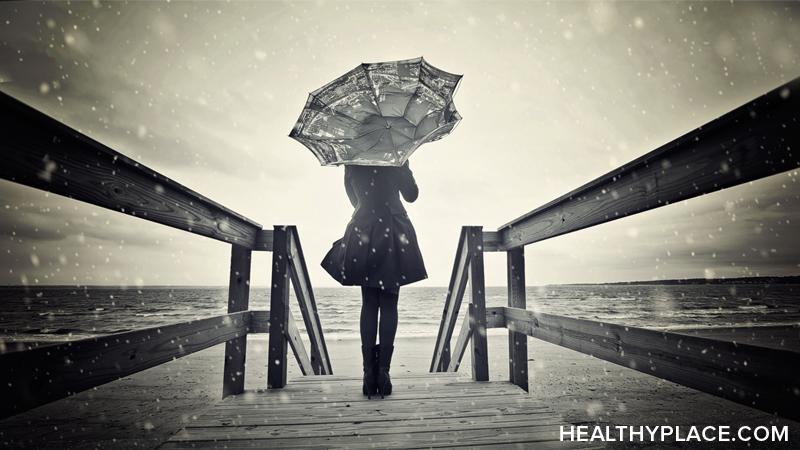 How Seasonal Changes Can Affect Our Mental Health
The effects of seasonal changes on our mental health can be profound. Many changes accompany the shifting seasons: the length of daylight; the intensity of the sunlight; our diet; our routine; how and where we spend our time.
As late fall turns to winter, it's common for people to feel tired, unmotivated, and depleted. Anxiety can increase, too, because these changes can create a vague, unsettled feeling. Also, symptoms of depression can begin or increase. There's a specific disorder called seasonal affective disorder (SAD) that is directly tied to seasonal change.
The following tips help enhance mental health through the changing seasons:
Create a new routine that helps you enjoy things despite the early darkness (reading, board games, crafts, puzzles, etc.)
Work in movement throughout the day (brief walks, stretches, climbing stairs, etc.) to keep your energy level constant
Stock up on a variety of favorite teas or coffees, depending on your personal caffeine tolerance
Be mindful of what you eat, for diet affects mental health
Identify what you love about the season, and be intentional about incorporating that into your life.
Here are some other ideas on how to deal with the winter blues and those seasonal changes that affect our mental health.
Related Articles Dealing with Seasonal Change and Mental Health
Your Thoughts
Today's Question: What helps you deal with your own unique mental health challenges that are caused or made worse by seasonal changes? We invite you to participate by commenting and sharing your feelings, experiences and knowledge on the HealthyPlace Facebook page and on the HealthyPlace Google+ page.
---
---
Share our Stories
At the top and bottom of all our stories, you'll find social share buttons for Facebook, Google+, Twitter, Pinterest and other social sites. If you find a particular story, video, psychological test or other HealthyPlace feature helpful, there's a good chance others in need will too. Please share.
We also get many inquiries about our linking policy. If you have a website or blog, you can link to any page on the HealthyPlace website without asking us beforehand.
Most Popular HealthyPlace Articles Shared by Facebook Fans
Here are the top 3 mental health articles HealthyPlace Facebook fans are recommending you read:
If you're not already, I hope you'll join us/like us on Facebook too. There are a lot of wonderful, supportive people there.
------------------------------------------------------------------
From the HealthyPlace Mental Health Blogs
On all our blogs, your comments and observations are welcomed.
Feel free to share your thoughts and comments at the bottom of any blog post. And visit the mental health blogs homepage for the latest posts.
------------------------------------------------------------------
Stand Up for Mental Health
Thousands Have Joined the Stand Up for Mental Health Campaign
But we still need you. Let others know there's no shame in having depression, anxiety, bipolar disorder, trichotillomania, OCD, ADHD, schizophrenia or any other mental illness.
Join the Stand Up for Mental Health campaign. Put a button on your website or blog (buttons for family members, parents, mental health professionals and organizations too). We also have covers for Facebook, Twitter and Google+.
------------------------------------------------------------------
Latest Mental Health News
These stories and more are featured on our mental health news page:
Online Cognitive Behavioural Therapy Benefits People With Depression, Anxiety
Selective Media Coverage May Cause Us To Forget Certain Health Facts
Interrupted Sleep Impacts Mood More Than Lack Of Sleep, Study Finds
Memory Complaints May Indicate Greater Dementia Risk Decades Later
When It Comes To Children's Ability To Think, Weight And Activity Level Both Matter, Study Finds
'Love Hormone' May Stimulate Release Of 'Bliss Molecule'
Lifestyle Change Could Reduce Risk Of Alzheimer's
That's it for now. If you know of anyone who can benefit from this newsletter or the HealthyPlace.com site, I hope you'll pass this onto them. You can also share the newsletter on any social network (like facebook, stumbleupon, or digg) you belong to by clicking the links below. For updates throughout the week:
APA Reference
(2015, October 30). How Seasonal Changes Can Affect Our Mental Health , HealthyPlace. Retrieved on 2023, December 10 from https://www.healthyplace.com/other-info/mental-health-newsletter/how-seasonal-changes-can-affect-our-mental-health
Last Updated: November 3, 2015