Pretending You're Fine Worsens Depression
Here's what's happening on the HealthyPlace site this week:
---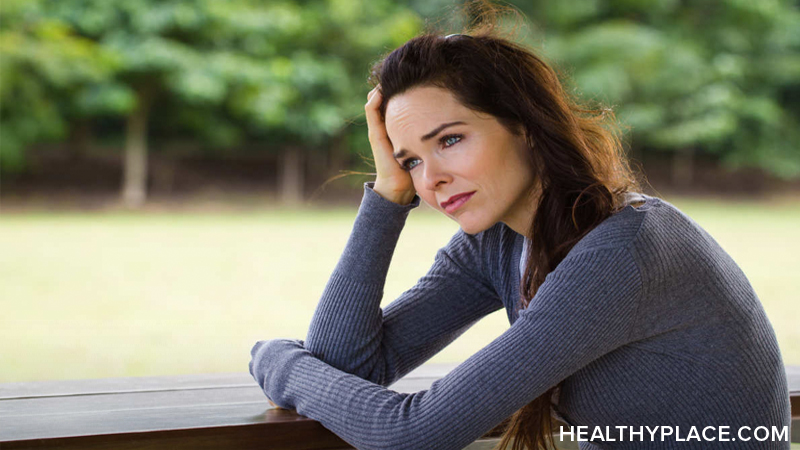 Pretending You're Fine Worsens Depression,,
It's a dilemma someone on the outside of depression might not realize. When you live with depression, it takes supreme effort to appear as if you're fine. Even though doing so is exhausting, you drag yourself out of bed and support others or simply trudge to the next gargantuan chore on your list. Maybe you pretend to be fine because you don't want to be a burden. Perhaps you feel like you must hide your pain. Whatever your personal reason, you do everything you can to keep going and look "normal."
"The only thing more exhausting than being depressed is pretending that you're not." ~ Depression Quote
However, depression is a real illness that is both mentally and physically exhausting. The effort it takes to function as if you're fine can wear you out further. This makes your need for depression support and understanding even greater, but because others think you're fine, you silently slide deeper into the dark hole that is major depression.
Consider a balanced approach. Choose one or two areas that, to you, are important to spend your very limited energy. Identify areas where you need extra support. Give yourself permission to ask for help in those areas so you can spend energy elsewhere.  
It's understandable that you might want people in your life to see you as okay. Remember, though, that depression is an illness you're experiencing. It isn't a weakness, a flaw, or a component of your character. It is okay to not be okay.
Related Articles Dealing with Depression and Support
Your Thoughts
Today's Question: Does pretending your fine make your depression worse? We invite you to participate by sharing your thoughts, experiences, and knowledge on the HealthyPlace Facebook page.
From the HealthyPlace Mental Health Blogs
On all our blogs, your comments and observations are welcomed.
Feel free to share your thoughts and comments at the bottom of any blog post. And visit the mental health blogs homepage for the latest posts.
------------------------------------------------------------------
Most Popular HealthyPlace Articles Shared by Facebook Fans
Here are the top 3 mental health articles HealthyPlace Facebook fans are recommending you read:
If you're not already, I hope you'll join us/like us on Facebook too. There are a lot of wonderful, supportive people there.
------------------------------------------------------------------
Mental Health Quote
"Sleep just isn't sleep anymore. It's an escape."
Read more depression quotes.
------------------------------------------------------------------
That's it for now. If you know of anyone who can benefit from this newsletter or the HealthyPlace.com site, I hope you'll pass this onto them. You can also share the newsletter on any social network (like facebook or stumbleupon) you belong to by clicking the links below. For updates throughout the week, follow HealthyPlace on Twitter or become a fan of HealthyPlace on Facebook. Also, check out HealthyPlace on Instagram, YouTube and Pinterest, where you can share your mental health pins on our Share Your Mental Health Experiences board.
APA Reference
Peterson, T. (2020, March 31). Pretending You're Fine Worsens Depression, HealthyPlace. Retrieved on 2023, December 6 from https://www.healthyplace.com/other-info/mental-health-newsletter/pretending-youre-fine-worsens-depression
Last Updated: March 31, 2020