What Is the Best Type of Mental Health Support?
Here's what's happening on the HealthyPlace site this week:
---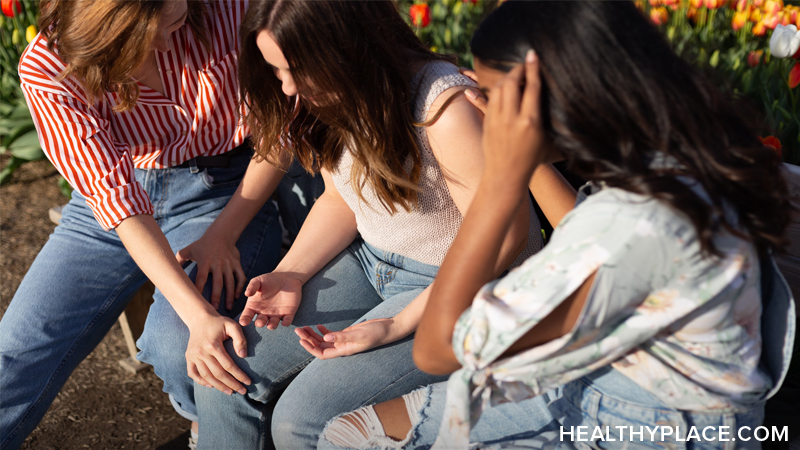 What Is the Best Type of Mental Health Support?
Having mental health support is important. With it, people can survive those dark periods that make everything seem overwhelming, upsetting, and negative. With mental health support, people can go beyond surviving to thriving even while living with mental illness. "Support," though can be a broad and vague term, which can make finding it a daunting task.
This truth just might remove some of the pressure of finding the right support: Mental health support is very individualized, and the best type is different for everyone. The key is defining what you need. Support takes many forms, and some are direct while others are indirect. Which of these (one, some, or all) would best help you?
Starting with just one source is enough. The best type of mental health support is the one that feels the most helpful to you.
Related Articles Dealing with Mental Health Support
Your Thoughts
Today's Question: What types of mental health support are most valuable to you? We invite you to participate by sharing your thoughts, experiences, and knowledge on the HealthyPlace Facebook page.
From the HealthyPlace Mental Health Blogs
On all our blogs, your comments and observations are welcomed.
Feel free to share your thoughts and comments at the bottom of any blog post. And visit the mental health blogs homepage for the latest posts.
------------------------------------------------------------------
Most Popular HealthyPlace Articles Shared by Facebook Fans
Here are the top 3 mental health articles HealthyPlace Facebook fans are recommending you read:
If you're not already, I hope you'll join us/like us on Facebook too. There are a lot of wonderful, supportive people there.
------------------------------------------------------------------
Mental Health Quote
"Sometimes all you need is someone just to be there, even if they can't solve your problems, just knowing there is someone who cares can make all the difference."
Read more mental health quotes.
------------------------------------------------------------------
That's it for now. If you know of anyone who can benefit from this newsletter or the HealthyPlace.com site, I hope you'll pass this onto them. You can also share the newsletter on any social network (like facebook or stumbleupon) you belong to by clicking the links below. For updates throughout the week, follow HealthyPlace on Twitter or become a fan of HealthyPlace on Facebook. Also, check out HealthyPlace on Instagram, YouTube and Pinterest, where you can share your mental health pins on our Share Your Mental Health Experiences board.
APA Reference
Peterson, T. (2020, January 20). What Is the Best Type of Mental Health Support? , HealthyPlace. Retrieved on 2023, December 11 from https://www.healthyplace.com/other-info/mental-health-newsletter/what-is-the-best-type-of-mental-health-support
Last Updated: January 21, 2020