What If Your Child is a Bully?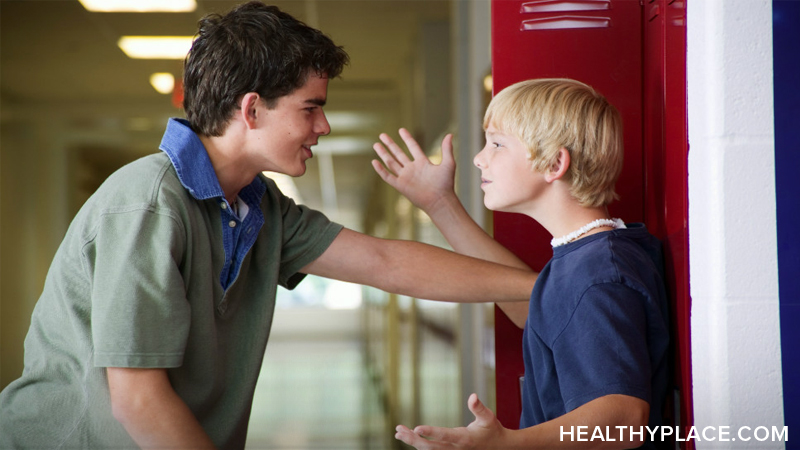 If your child is bullying other children, there are effective ways to deal with it. Here's some help for parents who are worried that their child is a bully.
A child can be a bully for a variety of reasons. Not all bullies are the product of a violent or neglectful home. If your child continually bullies others, he too experiences psychological harm. Patterns of aggression and intimidation can become ingrained. The longer they persist, the more difficult they are to expunge.
Find out as much as you can about the problem.
Is your child the leader or just one followers in a group? If your child is a follower, talk to him about the situation. If his behavior persists, you may need to keep him away from the leader or even the entire group.
Supervise your child more closely when he plays. You may need to insist that he play where you or another parent can see him.
If the bullying occurs on the way to or from school, he should be driven or should go directly to school or home.
If he is an adolescent, you may need to put the brakes on certain unsupervised activities.
If your child is the leader in bullying activities, you need to find out as much as you can about the extent and nature of his or her activities.
Protect your child by seeing that his victim is protected. If necessary, restrict your child from going near his victim.
Cooperate with teachers and other parents in monitoring your child's activities. Make sure that they know that you are responsible and want to be involved. Ask them to report back to you if your child resumes any form of intimidation.
Talk to your child about alternatives to violent or socially intimidating behavior. Make sure that he or she understands the personal impact that the bullying can have on the victim.
Make sure that your child apologizes and makes meaningful reparations. If material objects have been stolen or destroyed, your child must pay for them. If he or she cannot do so, you should pay and then insist that he or she work off the payments over time.
Finally, you and your child should try to understand why he has the need to intimidate others. You should start an ongoing dialogue. In some cases, your child may have so much anger, impulsivity or depression that you cannot handle it alone. In this case, you should seek professional advice.
About the author: Dr. Watkins is Board Certified in Child, Adolescent & Adult Psychiatry and in private practice in Baltimore, MD.
APA Reference
Staff, H. (2021, December 17). What If Your Child is a Bully?, HealthyPlace. Retrieved on 2023, December 5 from https://www.healthyplace.com/abuse/bullies/what-if-your-child-is-bully
Last Updated: December 30, 2021