Don't Panic: Taking Control of Anxiety Attacks
Details on "Don't Panic: Taking Control of Anxiety Attacks"; a wonderful self-help book for those with panic disorder, panic attacks and anxiety.
381 in-depth pages, written for the patient
The attitudes that promote recovery & the strategies to overcome panic
Self-help skills for panic disorder, social phobias and the fear of flying
The most comprehensive evaluation of all recommended medications
The authoritative book on overcoming panic and anxiety - thoroughly updated and revised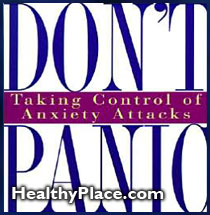 A leading international expert in panic and anxiety disorders, psychologist R. Reid Wilson, Ph.D., offers a new, straightforward, and remarkable effective self-help program for overcoming panic and coping with anxious fears.
With insight and compassion, Dr. Wilson shows you:
how a panic attack happens, what causes it, and how it affects your life
a detailed, five-step strategy for controlling the moment of panic
how to quickly master specific problem-solving skills, breathing exercises, and focused thinking during anxiety-provoking times
eleven ways to control the chronic muscle tensions that increase anxiety
how to conquer fear and face problems with confidence
techniques to master the two most common distresses: fear of flying and social anxiety
the most comprehensive evaluation of all medications currently recommended for anxiety disorders
the eight attitudes that promote recovery from anxiety disorders
how to establish reachable goals and gradually increase your involvement and enjoyment in life
Click to order "Don't Panic: Taking Control of Anxiety Attacks"
About the Author
R. Reid Wilson, Ph.D.
directs the Anxiety Disorders Treatment Program in Chapel Hill and Durham, North Carolina. He is also Clinical Associate Professor of Psychiatry at the University of North Carolina School of Medicine. Dr. Wilson specializes in the treatment of anxiety disorders. He designed and served as lead psychologist for American Airlines' first national program for the fearful flier. Dr. Wilson is on the Board of Directors of the Anxiety Disorders Association of America. He served as Program Chair of the National Conferences on Anxiety Disorders from 1988-1991.
Buy the book: "Don't Panic: Taking Control of Your Anxiety Attacks"
next: Welcome ! What are Social Phobias?
~ back to Anxieties Site homepage
~ anxiety-panic library articles
~ all anxiety disorders articles
APA Reference
Staff, H. (2009, January 3). Don't Panic: Taking Control of Anxiety Attacks, HealthyPlace. Retrieved on 2023, October 2 from https://www.healthyplace.com/anxiety-panic/articles/dont-panic-taking-control-of-anxiety-attacks
Last Updated: June 30, 2016