Researchers Link Adolescent Cigarette Smoking with Anxiety Disorders During Early Adulthood
Researchers discover that heavy smoking during adolescence leads to anxiety disorders in young adults.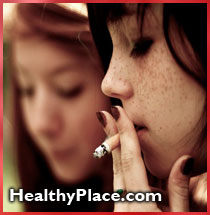 Scientists supported by the National Institute of Mental Health (NIMH) and the National Institute on Drug Abuse (NIDA) have documented that chronic cigarette smoking during adolescence may increase the likelihood that these teens will develop a variety of anxiety disorders in early adulthood. These disorders include generalized anxiety disorder, panic disorder and agoraphobia, the fear of open spaces.
Researchers from Columbia University and the New York State Psychiatric Institute report their findings in the November 8 edition of the Journal of the American Medical Association (JAMA).
Scientists have known of strong connections between panic disorder and breathing problems in adults. Given this association, the research team hypothesized that smoking might also relate to risk for panic disorder in children and adolescents through an effect on respiration.
"Numerous studies have shown that smoking causes a number of diseases, " says NIDA Director Dr. Alan I. Leshner. "This study is important because it highlights how cigarette smoking may rapidly and negatively affect a teen's emotional health-perhaps even before any of the widely known physical effects such as cancer may occur."
"These new data provide further evidence of commonalities between processes associated with anxiety in children and adults," says Dr. Daniel Pine, Chief of NIMH's Section on Developmental and Affective Neuroscience.
The researchers interviewed 688 youths and their mothers from 1985 to1986 and from 1991 to 1993. They found that a startling 31 percent of those adolescents who smoked 20 or more cigarettes per day had anxiety disorders during early adulthood. Among those who smoked every day and had an anxiety disorder during adolescence, 42 percent began smoking prior to being diagnosed with an anxiety disorder and only 19 percent were diagnosed with anxiety disorders before they reported daily smoking.
The research team used a community-based sample that has served as the foundation of a longitudinal study that has been ongoing for the last 25 years. They were able to exclude a wide range of other factors that might determine whether or not a smoking adolescent or young adult develops anxiety disorders, including age, gender, childhood temperament, parental smoking, parental education, parental psychopathology, and the presence of alcohol and drug use, anxiety, and depression during adolescence.
Source: NIMH, Nov. 2000
next: Preventive Sessions After Divorce Protect Children into Teens
~ anxiety-panic library articles
~ all anxiety disorders articles
APA Reference
Staff, H. (2000, November 1). Researchers Link Adolescent Cigarette Smoking with Anxiety Disorders During Early Adulthood, HealthyPlace. Retrieved on 2023, December 8 from https://www.healthyplace.com/anxiety-panic/articles/teen-cigarette-smoking-linked-with-anxiety-disorders
Last Updated: July 2, 2016