Inspirational Quotes for Building Self-Esteem
I want you to consider this inspirational quote and how it plays into building your self-esteem.
Tell me how a person judges his or her self-esteem and I will tell you how that person operates at work, in love, in sex, in parenting, in every important aspect of existence - and how high he or she is likely to rise. The reputation you have with yourself - your self-esteem - is the single most important factor for a fulfilling life. ~Nathaniel Branden
Your Thoughts are a Reflection of Your Self-Esteem
No matter who you fall asleep next to, your spouse, your dog or best friend, you fall asleep alone with your thoughts. This is one of the most important concepts to accept into your life. Your thoughts, and more importantly your view of yourself, are yours and yours alone. Those around us can help shape, validate, and lift us up when we are not feeling our best, but we have to believe it. I can tell you how wonderful I believe you are until I am blue in the face, but I can't make you own these thoughts. This is your choice, shaped by your experiences and your incentive to want to change.
Can Inspirational Quotes Really Build Self-Esteem?
There are times, however, that even if one has good self-esteem, you can find yourself in a rut. On the other hand, you may have low self-esteem and need a jump start to get rid of the negative thoughts and self-talk. One of the motivators for many of my clients and myself are inspirational quotes. When we are feeling our negative self-esteem step in and take control, often times talking back doesn't always do the trick. You may need some inspiration. Many of my clients have found it helpful to turn to inspirational quotations and positive affirmations to assist them. I love this idea.
My Favorite Inspirational Quotes
Here are a few of my favorite inspirational quotes that may resonate with you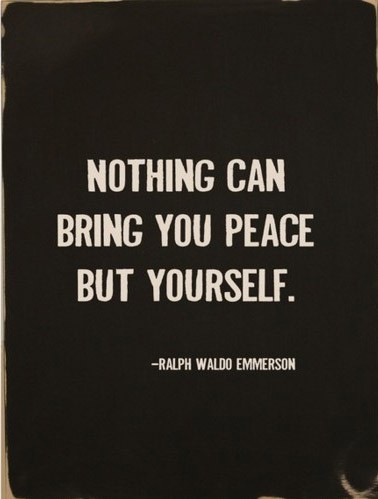 .
Of all the judgments we pass in life, none is more important than the judgment we pass on ourselves. ~ Nathaniel Branden
You yourself, as much as anybody in the entire universe, deserve your love & affection. ~Buddha
You alone are enough...You have nothing to prove to anybody. ~ Maya Angelou
You have been criticizing yourself for years, and it hasn't worked. Try approving of yourself and see what happens. ~ Louise L. Hay
"You're always with yourself, so you might as well enjoy the company."
~ Diane Von Furstenberg
You can't build joy on a feeling of self-loathing. ~ Ram Dass
People are like stained-glass windows. They sparkle and shine when the sun is out, but when the darkness sets in their true beauty is revealed only if there is light from within. ~ Elisabeth Kübler-Ross
The way you treat yourself sets the standard for others. ~ Sonya Friedman
Look at these inspirational quotes as just a small step in moving forward on your own individual journey. Please feel free to add your own inspirational quotes that inspire and motivate you to build self-esteem.
Take Good Care.
Emily is the author of Express Yourself: A Teen Girls Guide to Speaking Up and Being Who You Are.You can visit Emily's Guidance Girl website. You can also find her on Facebook, Google+ and Twitter.
APA Reference
Roberts, E. (2012, October 24). Inspirational Quotes for Building Self-Esteem, HealthyPlace. Retrieved on 2023, December 7 from https://www.healthyplace.com/blogs/buildingselfesteem/2012/10/inspirational-quotes-for-building-self-esteem
Author: Emily Roberts MA, LPC
RWE doesn't have 2 m's in his name
Tear yourself apart...make commitments to try harder be better,,,then you will happier,,,you know you tried..
"You have been criticizing yourself for years, and it hasn't worked. Try approving of yourself and see what happens. ~ Louise L. Hay"
I love that, if we can stop beating ourselves for our little mistake, sure happiness will begin to spring up in our daily lives.
James
Leave a reply