Perfectionism Damages Your Self-Esteem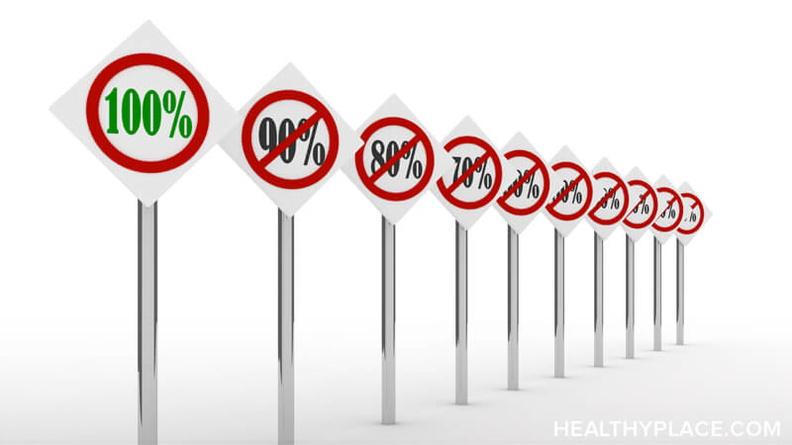 Perfectionism damages your self-esteem and it contributes to other mental health issues such as depression and anxiety. If you have low self-esteem, the chances are that you have unrealistic expectations of yourself. Expectations may be in terms of anything such as appearance, body weight, relationships, achievements, money, work, education, talents, abilities, personality or state of mental health. You believe you're not good enough if you're not perfect and that contributes to low self-worth.
Recognising Perfectionism As A Problem for Your Self-Esteem
Initially it can be hard to see perfection as a problem. You may believe that your expectations are reasonable; and perfectionism can easily be confused with aiming high. However, you can still have high standards without being perfect. A high standard is attainable whereas perfection is impossible. Perfectionism is a recipe for failure.
How To Get Over Perfectionism and Build Self-Esteem
Nobody is perfect and the challenge is to love your imperfect self. A healthy self-esteem is about embracing who you are and what you currently have.
Accept that it's okay to be imperfect. It's part of being human.
See the positives in your imperfection. Imperfections are what make us all special and they're often our greatest assets. Think of all the people who made a difference to this world, such as historical figures, musicians, artists or celebrities. They made a difference by having something different to offer. Alternatively, artefacts in a museum are cracked or broken but that's what makes them so valuable. Think of yourself in the same way.
Remember that you're a work in progress. You were born with nothing and have to learn everything you do. You first have to learn to crawl, eat, walk, talk and so on. It's a lifelong process. How can you be perfect when you're learning? Allow yourself to make mistakes; learn from them and keep on growing.
Look past your current circumstances. You may be experiencing a mental health issue such depression or anxiety, or you may find yourself without the ideal job, relationship, or money. However, your value as a person does not depend on those things.
See yourself as a whole person. Instead of focusing on your imperfections, get a more balanced picture. See your good qualities instead of being overly critical. It helps to express gratitude for what you have.
Treat yourself as you would a good friend. Be kind to yourself.
Challenge your thoughts. Replacing your negative thoughts with positive thoughts will transform your life.
Get mental health help. As always, I highly recommend getting the professional help you need. Deeply ingrained thoughts can be hard to change and you don't have to do it alone. Getting help is a strength not a weakness and there's no shame in doing so.
Being okay with imperfection does not mean you remain stationary. You never stop growing and your circumstances will change. Self-development is lifelong and there are always things to work on. Being imperfect is a normal part of being human. Love yourself as you are, imperfections and all. It is the key to a healthy self-esteem.
You can find Fay Agathangelou on Facebook, Google+, Twitter and her Website.
APA Reference
Agathangelou, F. (2014, December 2). Perfectionism Damages Your Self-Esteem, HealthyPlace. Retrieved on 2023, November 30 from https://www.healthyplace.com/blogs/buildingselfesteem/2014/12/perfectionism-and-self-esteem
Author: Fay Agathangelou
Being told constantly by my parents all the years of growing up and living at home "if you are not going to do anything properly /perfectly then you may as well not do it at all" has brainwashed me into perfectionism and has had a hugely detrimental impact on my personal and work life. Not to mention it is so ingrained it is very hard to undo this belief.
Hi, I really struggle with perfectionism and self esteem due to unrealistic standards in most areas of my life. Can you please recommend any self help programs, books I can do to help myself in this area. At the moment I'm just riddled with anxiety because of it
Hey I know this is off topic but I was wondering if you knew of any widgets I could
add to my blog that automatically tweet my newest twitter updates.
I've been looking for a plug-in like this for quite some
time and was hoping maybe you would have some experience with something like this.
Please let me know if you run into anything.
I truly enjoy reading your blog and I look forward to your new updates.
I definitely have this issue. Mainly expecting too much from myself- but even from others, now that you have me considering that. This makes me very sensitive to criticism because I am always criticising myself. I have suffered from bipolar disorder for 20 years now & was just diagnosed with GAD. I am wondering if perfectionism is a symptom of one of those disorders or a separate trait or if the perfectionism leads to the disorders. I always remember being a perfectionist but didn't have mood swings until I was 28 years old.
Thanks for your reply, Fay. Sef-esteem speaks to me more than the word, "perfectionism". Of course I'm not perfect and must do what I can with what I've got. But My self-esteem is very sensitive to REJECTION, whether by my mother, lovers or choirs and other groups, especially at work. I usually blame rejection on my BP and dyspraxia and dyscalculia. But maybe these are excuses.
I suppose one cannot be universally popular or good at everything.
Title is misleading. When I think of perfectionism I think not of myself (Am I arrogant?) but mistakes made by others...
Leave a reply