45 Ways to Build Your Self-Esteem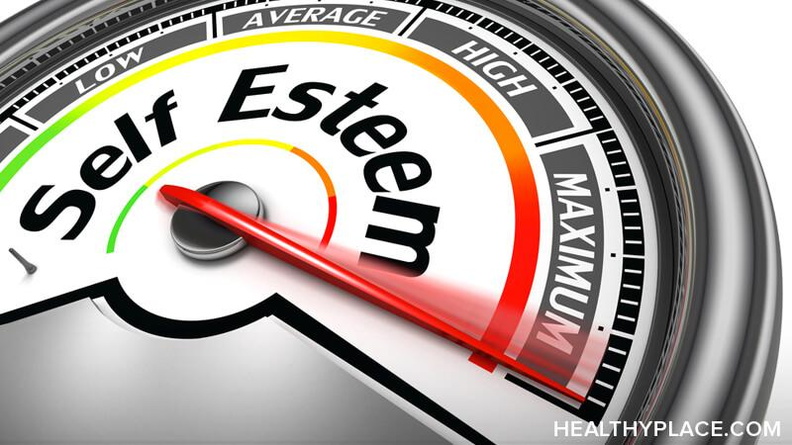 You probably know that building self-esteem is important for your mental health and wellbeing, and there are many ways you can build your self-esteem. Below is a list of tips for self-esteem building, compiled from posts over the past year.
45 Tips to Build Your Self-Esteem
Accept responsibility for your self-esteem. That includes accepting responsibility for getting the help you need. Understand that your self-esteem depends on you.
Get mental health help to build your self-esteem. This can help in addressing the underlying issues, including mental health issues such as anxiety and depression. You are not alone and it helps to have the right support.
Stop comparing yourself to other people.
Set goals that are right for you and build your self-esteem.
Work on your self-talk. Challenge your negative thoughts and replace them with healthier thoughts.
Stop being overly critical of yourself. Being too hard on yourself does not build your self-esteem.
Stop putting yourself down and instead, talk about yourself in a healthy way. Self-respect is important to build self-esteem.
Pay attention to the positives in your life.
Practice gratitude. Spend some time being thankful for the good things.
Let go of perfectionism. Learn to love yourself as an imperfect person, and keep your expectations reasonable.
Learn to be assertive. That includes learning to say no confidently and expressing your own opinion.
Set healthy boundaries, both personally and professionally. Distance yourself from toxic people and take time out from stressful situations.
Step outside your comfort zone. Keep on challenging yourself so that you can learn and grow. Challenge yourself by facing your fears and stop using avoidance to deal with self-esteem issues.
Think of mistakes as lessons. Look at them as opportunities to learn and grow.
Stop being too hard on yourself. You are human, after all.
Connect with people. Reach out to friends and family, or go to places where you can meet new people. Socialising is an important way of building self-esteem.
Use positive affirmations.
Listen to music that builds your self-esteem and doesn't take you to dark places.
Express yourself by journalling.
Volunteer or help someone.
Practice mindfulness.
Get moving by doing exercise or physical activity. It helps you to build confidence and makes you feel better.
Pursue a hobby that you enjoy or want to try purely for the sake of enjoyment.
Smile.
Fake it 'til you make it. Act confident until you become confident. That includes body language as well as your words.
Pay attention to personal grooming. Self-care is important.
Stop relying on others for approval.
Look after your health. That includes good nutrition and sleep.
Forget about diets because they are harmful. Instead, focus on nourishing your body, becoming healthier and creating healthy habits that are maintainable.
Make time for relaxation/meditation.
Read self-help books or articles, including online resources that help you build self-esteem.
Join a class or group.
Join an online mental health forum.
Spend some time alone, and learn to enjoy your own company. Be your own best friend.
Spend some time in nature.
Accept the things you cannot change.
Take steps to change the things that you can control.
Keep on persisting and learn to handle setbacks.
Believe in yourself. You are worthy and deserve the best.
These are just some ideas and it's a matter of experimenting to see what works for you. I encourage you to add your own ideas to this list. There are so many ways you can build self-esteem, and it's well worth putting in the effort.
You can find Fay Agathangelou on Facebook, Google+, Twitter, Pinterest and her website.
APA Reference
Agathangelou, F. (2015, December 29). 45 Ways to Build Your Self-Esteem, HealthyPlace. Retrieved on 2023, December 5 from https://www.healthyplace.com/blogs/buildingselfesteem/2015/12/45-ways-to-build-your-self-esteem
Author: Fay Agathangelou
Great article. Thank you for sharing such helpful, inspiring, and life changing information. Blessings and hugs!
PS ~ Happy New Year
Jeanne. Keep going. Maybe try therapy again, but another therapists. In hospital, maybe try to find a friend with similar issues. A friend that you can call often. Sometimes just talking with someone that has the same issues can help. I lived with bitterness myself. I finally realized all I was hurting was myself and family. It is not easy. Keep a good spirit if possible.
I have not had any self esteem for years. It is not easy and near impossible when you have had clinical depression, anxiety, agoraphobia etc. for years. I have tried all depression treatments and been in therapy also. I also have severe panic attacks and two nervous breakdowns. My husband of 50 years has Alzheimer's and he is my caregiver??? My family and friends do not understand at all any of the things I am going through, I have many health problems : pulmonary embolisms, asthma with COPD, Fibromyalgia, many asthma exasperations , in the hospital often. I doubt that I will ever have any self esteem ever.
I think 1,2,6,7,8,9,10,12,15,16,17,20,25,27,28,29,31,32,37,38,39,40,41,45 are the best.
Not sure on #30 Fake it until you make it. That could backfire.
My best are
9. Gratitude. I do say thank you a lot.
27. Exercise. I have been jogging 4 days a week and it really helps.
28. Pursue a hobby. I jog on green belt at night when very dark. I look at the night sky and identify constellations, planets, massive stars, and even satellites. Its fun.
41. Spend time in Nature. I do this. I look at flowers and their colors. I look at weeds and their survival strategy. I look at wild life too.
Good list.
Really nice article. A lot of different tips. You were really thorough Fay. Looks really proficient!
Leave a reply