Identify Your Shame Triggers So They Don't Control You
The New Year brings the opportunity for lots of shame triggers. Do you feel overweight? Underpaid? Messy? It is important to know and identify your shame triggers so you can live a happy life—free of the grip of shame (Perfectionism And Self-Esteem).
Recognize Your Shame Triggers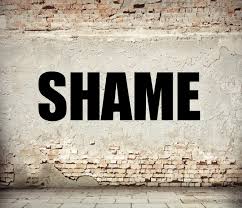 Last week I found myself overwhelmed by anxiety. My Christmas tree was still up and toddler toys filled the living room. (How many toys can one child receive for Christmas?) I felt like the clutter of my living room was going to overtake me. I wanted to cry. I want to use organized living as a tool for happiness, but for me it seems so hard.
At that point my boyfriend asked me what was wrong. We would clean up the toys and put away the tree. He assured me my living room looked like countless others across the country.
"I'm just so ashamed," I confessed. "I don't want to live like this—all cluttered and messy."
Put Your Shame Triggers into Perspective
Once I articulated my shame, I was able to put it into perspective. My messiness triggered shame and thoughts of worthlessness. The shame told me that I'm not lovable. But that's not true. Shame is a powerful emotion connected to all of the things we feel self conscious about, but shame is not a litmus test for our worth or lovability. And worthiness and belonging are key to living a blissful life.
Does my apartment get cluttered and messy? Yes. Does it get that way more often than I'd like? Absolutely. But that doesn't make me worthless. And it doesn't make the people who love me, love me any less.
What are your shame triggers? What are the things that bring you to tears and make you want to hide your head in a pillow? Chances are once you name those things you will find that they don't have as much power over you as you thought they did.
Diffuse Your Shame Triggers to Achieve Your Goals
I am a big believer in goal setting—particularly New Year's goals. I set some goals this year and I know I wouldn't be able to achieve them if I continued to let shame loom over my head. Once I took away the power of shame I found the negative energy from the shame became positive energy that I was able to use toward completely my goals. This morning I left for work with a clean and tidy apartment. But more importantly I left for work free of shame.
APA Reference
Hoskin, A. (2016, January 13). Identify Your Shame Triggers So They Don't Control You, HealthyPlace. Retrieved on 2023, October 3 from https://www.healthyplace.com/blogs/livingablissfullife/2016/01/identify-your-shame-triggers-so-they-dont-control-you
Author: Arley Hoskin, CMPS
A person does need to let go and forgive. Sometimes shame can ce from past guilt, low esteem, and of course, depression. You can't change anything of past. So a person must try to feel better about who they are.
Leave a reply