The Pharmacy: Where Everybody Knows Your Name
Last Tuesday I called Tom, my husband of nearly 24 years and our family's stay-at-home parent, and asked him to pick me up some bandages for a blister on my heel at the pharmacy. He groaned at me. "Sure," was his reply in a half whine, half frustrated tone. "I haven't been to the pharmacy in what, 12 hours. They're probably wondering what's happened to me."
Tom continued his rant, telling me he feels like Norm from Cheers when he walks into the building, and he swears the pharmacist knows our phone number by heart. I thought he was exaggerating until Friday when Tom asked me to stop and pick up a new medication for Tim on my way home from work. When I got to the pharmacy counter and asked for a prescription for Tim Hickey, the pharmacist said, "Where's Tom?" It took me a few seconds to pick my jaw up off the counter and politely answer that he was at home and no ill had befallen him.
Medications . . . Plural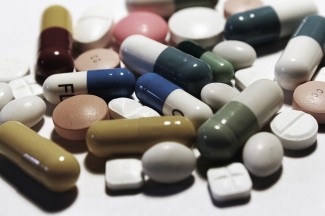 Part of the treatment plan for most persons with schizophrenia, including Tim, is medication. Tim takes six different meds right now: Latuda, an atypical antipsychotic, Buspar, an anti-anxiety medication, Ditropan, which is a medication for overactive bladder, which, in Tim, is a tactile hallucination, a blood pressure medication, Flonase for allergies, and Ativan, as needed, for heavier anxiety. He takes them in different dosages, and sometimes the dosages change, depending on the time of year (his anxiety is higher in the fall, and his psychosis is more prevalent in the late winter), if he's gained or lost weight, or if he has to change medications that become ineffective, which can happen with psychiatric medication.
Finding the Right Pharmacist
This is actually one of the slimmer med regimens that Tim has been on over the past five years. So it's no wonder our local pharmacist is on a first name basis with my husband. And as funny – or pathetic – as that may be, it's been a blessing to have a pharmacy we trust and a pharmacist who knows Tim's medication history. Tim started on meds in 2009 and this pharmacist has filled every prescription. He takes the time to read up on the medications with which he is unfamiliar, and he discusses concerns and potential interactions we should take back and discuss with Tim's psychiatrist. The wrong meds, or even the right meds in the wrong dosages, can be dangerous. When Tim was on Clozaril, which requires FDA registration of blood work and dispensing of medication weekly, he worked with us to ensure we all understood the requirements to get Tim his meds on time. So while Tom may snark about being a regular at the pharmacy, having that type of relationship with the person who handles Tim's medication has been as important as having that type of relationship with Tim's doctors.
Photo by e-Magine Art
You can also connect with Chrisa Hickey on Twitter, Google+, and Facebook.
APA Reference
Hickey, C. (2014, May 15). The Pharmacy: Where Everybody Knows Your Name, HealthyPlace. Retrieved on 2023, December 1 from https://www.healthyplace.com/blogs/mentalillnessinthefamily/2014/05/the-pharmacy-where-everybody-knows-your-name
Author: Chrisa Hickey
We find ourselves in the same boat. Our pharmacist knows us and we know them. I agree with some other that the pharmacist understands and knows the drugs better than the Doctors do. We have been saved from potentially nasty clashes of meds by the pharmacist on more than one occasion.
Our pharmacist here in Australia has just joined an IOS app where you can logon, see what prescriptions you have on file and order via the app and they reply when its ready!
We love our pharmacist - they help make this ride just a little more bearable
I also agree having a first name basis with the Pharmacist is a very Good thing.
My husband was quite ill with heart failure & needed to get his script filled unfortunately the Cardio hadn't given it to us, only discussing an increase in dosage, it was a Friday & the Cardio had surgeries all day the hospital suggested ringing & asking our Pharmacy to give the meds on the proviso the Cardio's office would fax through the details. I phoned & after checking computer they asked what time I would like to pick it up ;-))) it spins me out the shit you can find out when on a panic mission. I was a little over the top in my panic but that was my abandonment buzz I have since learnt ;-)
I find that it is just as important to have a good relationship with your pharmacist, just as it is with your doctor! If they do not want to take the time to answer my questions, get to know me a little bit, or realize that my family has many complexities, then they are not the right match.
My dad owned a pharmacy (locally owned). It always amazed me how many people he knew. I had worked with him through high school as well
Altho, Dad has passed on, I am lucky. I work at a walmart, and know the pharmacists, so if I have a question, I get a good answer
MY CVS PHARMACY HAS BEEN A GOD SEND. THE PHARMACISTS KNOW MORE ABOUT THE MEDS THAN THE DOCTORS PRESCRIBING THEM. MANY, MANY TIMES MY PHARMACISTS HAVE GIVEN ME INFORMATION ABOUT CERTAIN MEDS THAT I TELL MY DOCTORS ABOUT. LOTS OF TIMES THE DOCTORS HAVE CONCEDED THAT THE PHARMACIST(S) ARE MORE KNOWLEDGABLE ABOUT MEDICATIONS. MANY DOCTORS AND NURSES CALL A PHARMACIST TO GET MEDICATION ADVICE. 10 TIMES OUT OF 10, THE PHARMACIST KNOWS MORE ABOUT MEDS THAN THE DOCTOR PRESCRIBING THEM.
Mark, I'm sorry you feel jerked around. You shouldn't. Finding professionals in all this that are, well, professional, is a hard slog. But they are out there. Wishing you the best.
Whenever my doctor changes my medications the pharmacist always assures me how normal it is for people to take the meds I do. Occasionally he will tell me how many different ways he sees the same medication being directed for use. 2 in the morning, 1 at night or all 3 in the morning. I still feel like a guinea pig but I know I am not the only one.
I think knowing that other people are being jerked around makes it more bearable for me.
A good pharmacist is a blessing.
I absolutely agree! Every person in our pharmacy knows us by first name and they're all familiar with the drugs that we take. They have been invaluable to us as we make drug changes or additions. They are just as important to us on our team as our doctors are.
Leave a reply