Holiday Resentment Vaccination
It has been said that - an expectation is a preplanned resentment – and since the holiday season is built upon wave after wave of rosy, grandiose expectations it is reasonable to imagine that an avalanche of resentments ready to sleigh you cannot be far behind. This is particularly true for those of us who every day unwrap that most bizarre of all gifts, commonly referred to as mental illness.
As ever, your friends at Funny In The Head are here to help. The idea is simple, by inoculating you now – before hopes drop like artificial snow in one of those water-filled shake 'em up globes – we will prepare you for the crushing disappointments to come, which, as inevitable as reindeer dung, lurk around each corner.
So take a few minutes and watch as some commonly held holiday hopes and assumptions are shredded like a team of gingerbread men skiing across the shiny surface of a cheese grater. You'll be delighted to discover that forewarned is forearmed and, the only time you get exactly what you want is when all you want is to be disappointed.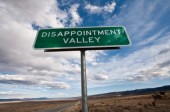 Holiday Expectations vs. Actual Results
1. You will not lose those 10 pounds in time to look fabulous for your office party. As ever, you will look like the Michelin man poured into a wetsuit.
2. Your friends will not be impressed by tales of your vacation in Trenton, New Jersey. To your horror, they will gleefully leak details about your ex who, since leaving you and kicking heroin, has landed on the short list for the Nobel Prize and is driving a Porsche.
3. Not one family member will congratulate you for spending an entire year without doing any time at all in a mental hospital, prison, or drainage ditch.
4. Most of the people you know will give you holiday-themed porcelain decanters full of cheap booze even though you've told them again and again that you stopped drinking years ago.
5. No one will laugh at your joke about the squid, the leprechaun, and the accordionist; it will bomb just like it did last year.
6. Having lived on your own for decades you are certain this will be the year your parents acknowledge that you are an adult, and treat you like one. No such luck. As ever they refer to you as, "Chubby-Chub-A-Dubba" and "Two-Tons Of Fun".
Of course this is only the tip of the iceberg, we can't anticipate all the hazards that await you. So, very best of luck from all of us at Funny In The Head – and Happy Holidays to one and all.
I will sign off with these words from Taz Mopula, "People are imperfect by nature; if a person you know and love doesn't disappoint you, you have a right to be disappointed."
APA Reference
McHarg, A. (2011, December 21). Holiday Resentment Vaccination, HealthyPlace. Retrieved on 2023, December 8 from https://www.healthyplace.com/blogs/funnyinthehead/2011/12/holiday-resentment-vaccination
Author: Alistair McHarg
A good reality check! Haha! Great post. :)
Hi Ash: Thanks for writing! Glad you enjoyed the post. Very best to you and yours for the holidays. Alistair
Leave a reply