APA Treatment Guidelines for Eating Disorders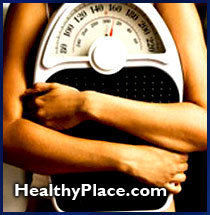 In January 2000, the American Psychiatric Association revised it guidelines for the treatment of anorexia nervosa and bulimia nervosa. The following summary focuses on psychosocial interventions incorporated into a comprehensive treatment plan that includes nutritional counseling and/or rehabilitation as well as medications. The authors note, in reviewing research on the impact of multi-part psychosocial interventions, that it may not always be possible to identify those components of the treatment plan that contribute to improvements in clinical status.
Anorexia Nervosa
Psychosocial treatment for anorexia nervosa has several goals:
to help the patient both understand and cooperate with the comprehensive treatment process;
to help the patient understand and, hopefully, change behaviors and underlying attitudes related to their anorexia;
to help the patient enhance social and interpersonal functioning; and
to help the patient address coexisting mental disorders and conflicts that support dysfunctional eating behaviors.
The first step, obviously, is to establish a therapeutic alliance with the patient. In the initial phase of psychosocial treatment, patients will benefit from empathic understanding and encouragement, education, positive reinforcement for achievements, and enhancement of motivation to recover.
Once the patient is no longer medically compromised and weight gain has commenced, formal psychotherapy may be quite beneficial. It should be noted that:
No specific form of psychotherapy appears to be a cut above any other in the treatment of anorexia.
Successful treatments are informed by an appreciation of:

psychodynamic conflicts;
cognitive development;
psychological defenses;
the intricacy of family relationships; and
the presence of concurrent mental disorders.

Psychotherapy, in and of itself, in insufficient to treat the medically compromised patient with anorexia.
Ongoing individual therapy is usually required for a minimum of one year and may, in fact, take between five and six years because of the recalcitrant nature of this condition and the need for continuing support during the recovery process.
Family therapy and couples therapy are often helpful in addressing both the symptoms of anorexia as well as the relationship problems that may contribute to their maintenance.
Group therapy is sometimes used adjunctively, but caution must be exercised, since patients may compete to be the "thinnest" or "sickest" group member or become demoralized through witnessing the ongoing difficulties of other group members.
Bulimia Nervosa
Psychosocial treatment for bulimia nervosa may incorporate several goals. These include:
reducing or eliminating binge eating and purging behaviors;
improving attitudes surrounding the bulimia;
minimizing food restriction and increasing food variety;
encouraging healthy (but not excessive) patterns of exercise;
treating concurrent conditions and clinical features related to the bulimia; and
focusing on the developmental issues, identity and body image concerns, gender role expectations, difficulties with sex and/or aggression as well as the regulation of affect, and family issues that may underlie the bulimia.
---
According to the Guidelines,
Interventions should be selected on the basis of a full assessment of the patient and take into consideration the individual's cognitive and emotional development, psychodynamic concerns, cognitive style, concurrent mental disorders, personal preferences, and family circumstances.
Cognitive behavioral therapy is the approach that has been most extensively studied to date and its utility has been the most consistently substantiated, although many experienced clinicians report that they do not find these techniques to be as effective as the research would suggest.
Some research indicates that combining antidepressant medication with a cognitive behavioral approach offers the best treatment outcome.
Controlled trials also support the use of interpersonal psychotherapy in the treatment of bulimia.
Behavioral techniques, including planned meals and self-monitoring, may also be beneficial, particularly for initial symptom management.
Clinical reports suggest that psychodynamic constructs, incorporated into individual or group treatment, may help once binge eating and purging are under better control.
Patients concurrently suffering from anorexia nervosa or a major personality disorder may require continuing therapy.
Family therapy should be added in whenever feasible, especially when treating adolescents who still live with their parents or older patients whose interactions with their parents continue to be conflicted.
Readers who would like more information on the treatment of these conditions are invited to review the full set of guidelines, cited below.
Source: American Psychiatric Association. (2000). Practice guidelines for the treatment of patients with eating disorders (revision). American Journal of Psychiatry, 157(1), supplement, 1-39.
next: Assessment of an Eating Disorder
~ eating disorders library
~ all articles on eating disorders
APA Reference
Staff, H. (2008, December 7). APA Treatment Guidelines for Eating Disorders, HealthyPlace. Retrieved on 2023, December 11 from https://www.healthyplace.com/eating-disorders/articles/apa-treatment-guidelines-for-eating-disorders
Last Updated: January 14, 2014