Books on Eating Disorders
MUST HAVES for people with an eating disorder like anorexia, bulimia, compulsive overeating
Recommended for sufferers, friends and family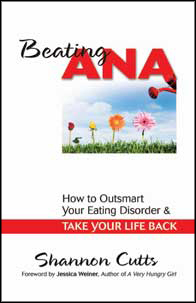 Beating Ana: How to Outsmart Your Eating Disorder and Take Your Life Back
By: Shannon Cutts
buy the book 

Life Without Ed: How One Woman Declared Independence from Her Eating Disorder and How You Can Too
By: Jenni Schaefer and Thom Rutledge
buy the book 
Reader Comment: 'Life Without Ed truly guides the reader into the separation of self from ED.'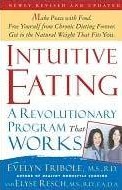 Intuitive Eating: A Revolutionary Program That Works
By: Evelyn Tribole, Elyse Resch
buy the book 
Reader Comment: 'This book is the only "plan" you'll ever need to get off the dieting roller coaster and become a healthy eater.'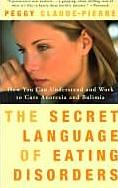 The Secret Language of Eating Disorders: How You Can Understand and Work to Cure Anorexia and Bulimia
By: Peggy Claude-Pierre
buy the book 
Reader Comment: "In her book, Peggy describes anorexia as a very slow attempted suicide, a descent toward nothingness---I agree. Anorexia is not a diet, it is not a shallow attempt to be "model thin", and it is definitely not just about food."

Help Your Teenager Beat an Eating Disorder
By: James Lock, Daniel le Grange
buy the book 
Reader Comment: "This book was not written as a self-help manual, but it was written for parents and contains loads of practical advice garnered from years of working directly with sufferers and their parents."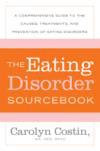 The Eating Disorders Sourcebook
By: Carolyn Costin
buy the book 
Reader Comment: "This book provides an excellent overview of many aspects of eating disorders and their treatment. Carolyn Costin is extremely insightful and knowledgeable about the subject and she writes in a clear, accessible way."

Eating in the Light of the Moon: How Women Can Transform Their Relationship with Food Through Myths, Metaphors, and Storytelling By: Anita A. Johnston PhD.
buy the book 
Reader Comment: "This is a deeply insightful book that speaks to women with disordered eating of all types and severities."

The End of Overeating: Taking Control of the Insatiable American Appetite
By: David Kessler MD
buy the book 
Reader Comment: "The book is a fascinating read, full of documentation and testimonials on the growing obesity problem and our apparent inability to control our food intake as a culture."
The Adonis Complex: How to Identify, Treat and Prevent Body Obsession in Men and Boys
By: Harrison G. Pope, Katharine A. Phillips, Roberto Olivardia
buy the book 
Reader Comment: "The chapter notes contain at least 50 research papers that they have published in various scientific journals. Some of their findings are pretty stunning."
---
---
APA Reference
Tracy, N. (2008, December 21). Books on Eating Disorders, HealthyPlace. Retrieved on 2023, December 3 from https://www.healthyplace.com/eating-disorders/books/books-on-eating-disorders
Last Updated: May 13, 2019