Helping Someone with an Eating Disorder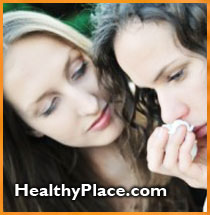 Treatment can save the life of someone with an eating disorder. Friends, relatives, teachers, and physicians all play an important role in helping the ill person start and stay with an eating disorders treatment program. Encouragement, caring, and persistence, as well as information about eating disorders and their dangers, may be needed to convince the ill person to get help, stick with treatment, or try again.
Family members and friends can call local hospitals or university medical centers to find out about eating disorder clinics and clinicians experienced in treating the illnesses. For college students, treatment programs may be available in school counseling centers.
Family members and friends should read as much as possible about eating disorders, so they can help the person with the illness understand his or her problem. Many local mental health organizations and the self-help groups listed at the end of this brochure provide free literature on eating disorders. Some of these groups also provide treatment program referrals and information on local self-help groups. Once the person gets help, he or she will continue to need lots of understanding and encouragement to stay in treatment.
next: How Eating Disorders Impact on Relationships
~ eating disorders library
~ all articles on eating disorders
APA Reference
Staff, H. (2008, December 16). Helping Someone with an Eating Disorder, HealthyPlace. Retrieved on 2023, October 4 from https://www.healthyplace.com/eating-disorders/articles/helping-someone-with-an-eating-disorder
Last Updated: January 14, 2014