Positive Inspirational Quotes for People with Depression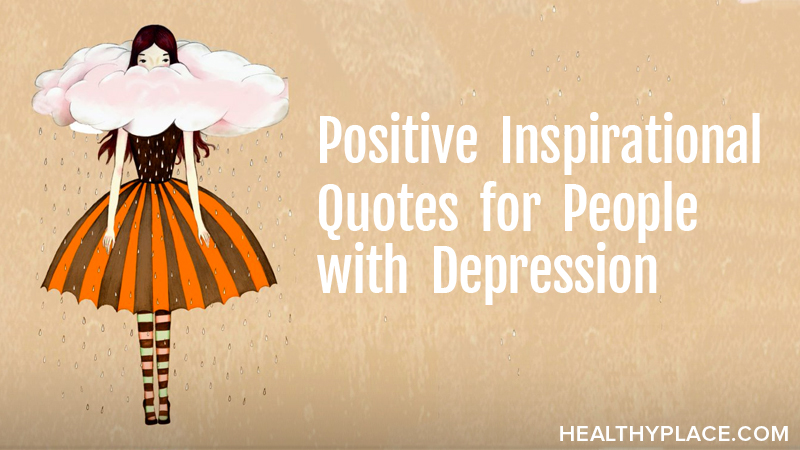 Positive inspirational quotes are good for people with depression to have on-hand. Depression can make life so gray that you aren't sure where the sunshine is hiding or if it will return. Depression can bring you so low that you may wonder if positivity for depression is even possible, much less such thing as a positive depression quote that could lift you up again. But there are, and they can – if only a little.
Reading some positive quotes when you're depressed might, at the very least, distract you from depression's pain ("Negative Thinking and Depression: How One Fuels the Other"). So, we've put together some positive inspirational quotes that you can read whenever you're feeling down. We hope you find some relief in these positive inspirational quotes.
*Click the images to open a larger, shareable image.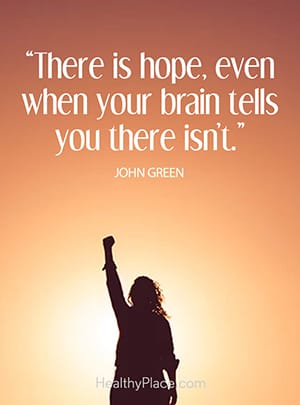 Positive depression quote: "There is hope, even when your brain tells you there isn't."
John Green
See "Examples of Negative Thoughts in People with Mental Illness"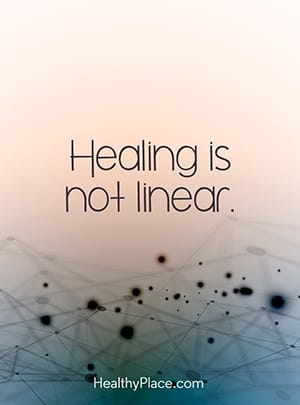 Sometimes you get better, regress, then get better again as this positive depression quote points out: "Healing is not linear." Never underestimate the power of positivity when living with a mental illness.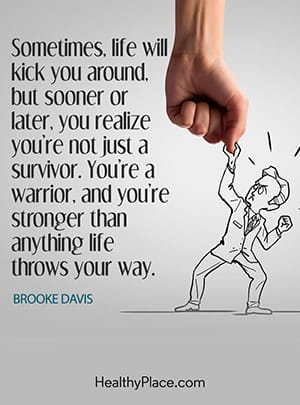 Positive depression quotes remind you of your strengths: "Sometimes, life will kick you around, but sooner or later, you realize you're not just a survivor. You're a warrior, and you're stronger than anything life throws your way."
Brooke Davis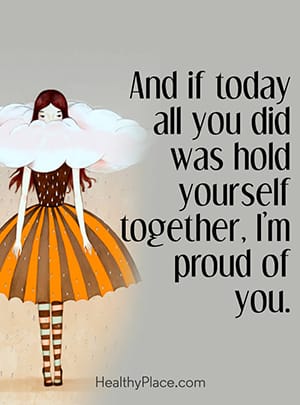 Positive quotes for when you're depressed are accepting: "And if today all you did was hold yourself together, I'm proud of you."
You might like to read "Positive Messages for a Mental Health Crisis"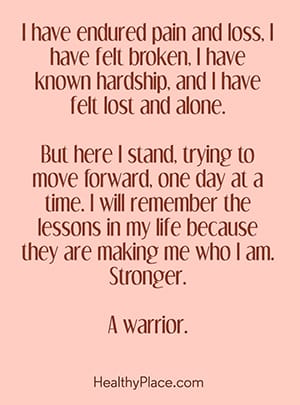 Positive depression quotes remind you that your pain has a purpose and that you can create positivity in a life currently filled with pain: "I have endured pain and loss. I have felt broken. I have known hardship, and I have felt lost and alone. But here I stand, trying to move forward, one day at a time. I will remember the lessons in my life because they are making me who I am. Stronger. A warrior."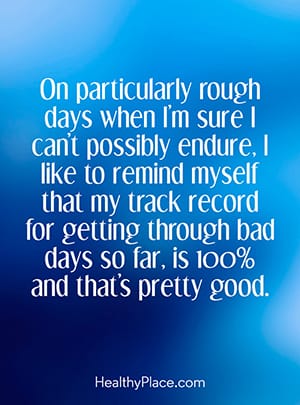 Here's a positive inspirational quote for you: "On particularly rough days when I'm sure I can't possibly endure, I like to remind myself that my track record for getting through bad days so far is 100%, and that's pretty good." That quote gives off positive vibes for sure!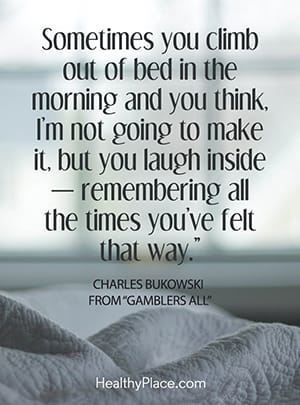 This positive inspirational quote reminds you to keep a sense of lightness in the heaviness of depression: "Sometimes you climb out of bed in the morning and you think, I'm not going to make it, but you laugh inside – remembering all the times you've felt that way."
Charles Bukowski from "Gamblers All"
The article "How to Develop a Positive Mental Attitude Despite Depression" might help you keep it lighter.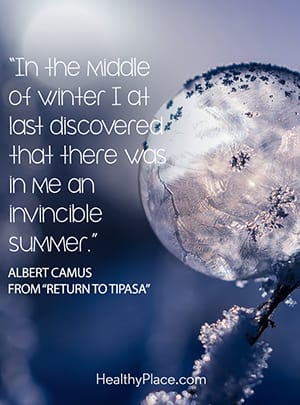 Positive depression quotes ask you to find the fire within: "In the middle of winter I at last discovered that there was in me an invincible summer."
Albert Camus from "Return to Tipasa"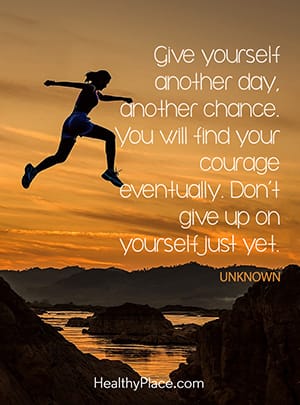 Positive depression quotes beg you to fight suicidal thoughts: "Give yourself another day, another chance. You will find your courage eventually. Don't give up on yourself just yet." Need more convincing? See "10 Amazing Positivity Facts to Improve Your Outlook".
APA Reference
Holly, K. (2018, November 2). Positive Inspirational Quotes for People with Depression, HealthyPlace. Retrieved on 2023, November 30 from https://www.healthyplace.com/insight/quotes/positive-inspirational-quotes
Last Updated: April 9, 2020