Positivity Quotes for Life with Mental Illness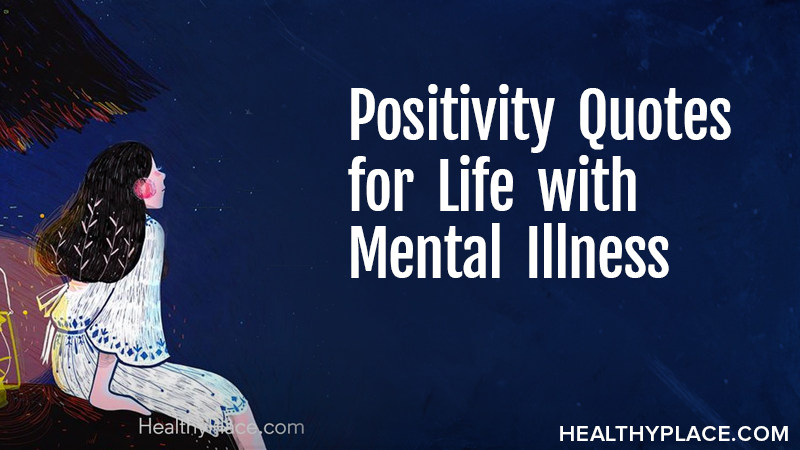 Positivity quotes for life with mental illness can aid your recovery. You know that life with mental illness isn't easy. You must try harder to do everyday things than people whose brains are well. Because of that, life can feel like an ongoing struggle. However, knowing some positivity quotes about life can help you during your struggle by offering hope, suggesting resilience, and reminding you of how far you've come.
A life with mental illness must include positivity – wearing rose-colored glasses doesn't help -- but being able to see a better future does (Positive Words for People with Mental Illness). Positivity quotes about life can help you see a better future for yourself and to deal with your everyday struggle in a calm, hopeful way. We hope this list of positivity quotes for life with mental illness helps you to feel better today.
*Click the images to open a larger, shareable image.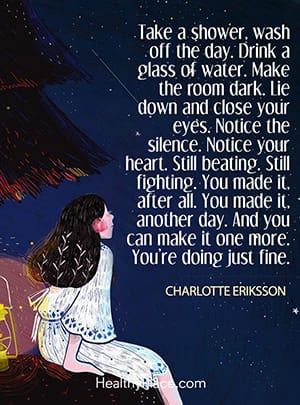 Live a positive life quote: "Take a shower, wash off the day. Drink a glass of water. Make the room dark, lie down and close your eyes. Notice the silence. Notice your heart. Still beating. Still fighting. You made it after all. You made it another day. And you can make it one more time. You're doing just fine."
Charlotte Eriksson
You can create positivity in life when you have a mental illness – be gentle with yourself.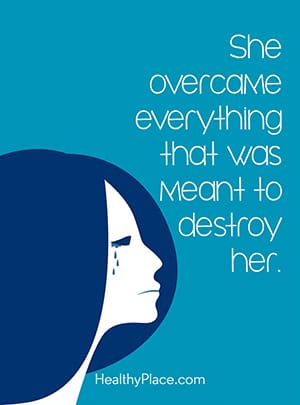 Positivity quotes about life remind us we've overcome so much: "She overcame everything that was meant to destroy her." 
Unknown
Positive life quotes remind us that no matter how difficult it is, that "Healing is absolutely possible." Don't underestimate the power of positivity.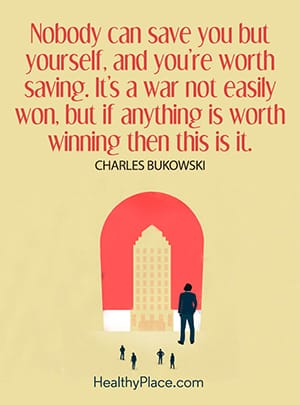 Positivity quotes about life tell us we're worth saving: "Nobody can save you but yourself, and you're worth saving. It's a war not easily won, but if anything is worth winning then this is it."
Charles Bukowski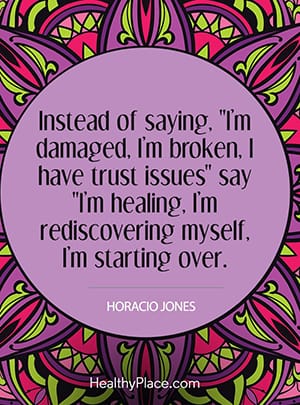 Positivity quotes say there's always a better way to see difficult experiences: "Instead of saying 'I'm damaged. I'm broken. I have trust issues' say 'I'm healing. I'm rediscovering myself. I'm starting over."
Horacio Jones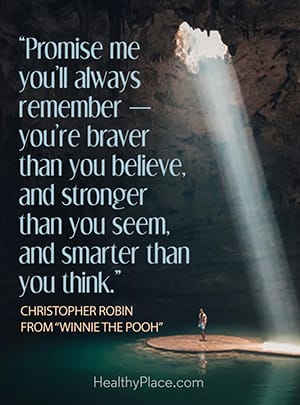 Positivity quotes for life can come from a child's book: "Promise me you'll always remember – you're braver than you believe, and stronger than you seem, and smarter than you think."
Christopher Robin from "Winnie the Pooh"
This positivity quote about life is encouraging: "Start by doing what's necessary, then do what's possible: and suddenly you are doing the impossible."
Saint Francis of Assisi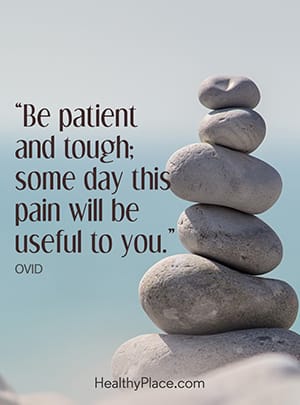 Positivity quotes help us stay strong: "Be patient and tough: some day this pain will be useful to you."
Ovid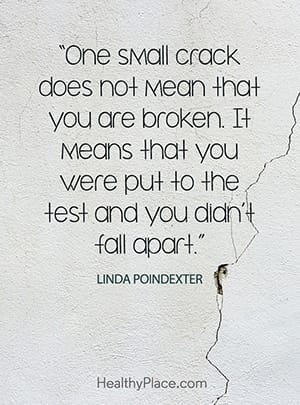 This positivity quote asks that we accept ourselves as we are: "One small crack does not mean that you are broken. It means that you were put to the test and you didn't fall apart."
Linda Poindexter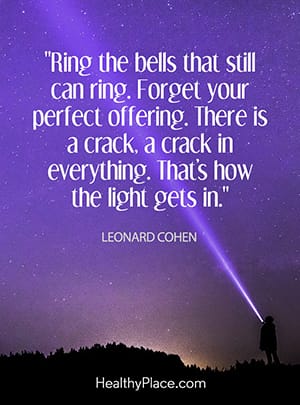 Positive life quote reminding us to be forgiving of ourselves: "Ring the bells that still can ring. Forget your perfect offering. There is a crack, a crack in everything. That's how the light gets in."
Leonard Cohen
APA Reference
Holly, K. (2018, November 2). Positivity Quotes for Life with Mental Illness, HealthyPlace. Retrieved on 2023, December 9 from https://www.healthyplace.com/insight/quotes/positivity-quotes
Last Updated: April 17, 2020