My Obsessively Clean Diary: May 2001
Quest for Freedom!
~ An insight into OCD ~ Obsessive Compulsive Disorder

Dear Diary,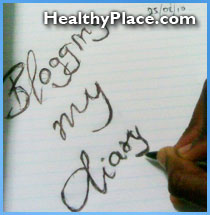 What do I say about this month, I wonder? What words could possibly sum it all up? - Heartbroken, hurt, excited, proud, angered or just Stunned!!!

These are all emotions that I've had during this past month, and the best way to describe where I'm going in my life is to say I'm going with the flow, wherever that's taking me!

One door, the one that led to my ALMOST 11 year marriage seems to be closing shut in my face. I have no control over that, no choice and I can't keep it open no matter how I try. I am saddened, hurt and numbed by that; so numb, that I retreat into myself sometime's and just stare off into space...so my Mum tells me!

Yet the OCD now has two doors, one saying Negative, the other saying Positive. The negative door is closing more and more, whilst the positive is gradually opening. I am doing more to confront my OCD fears all the time and along with that I am getting some really positive encouragement back from all the Positive OCD stuff I'm doing.

A couple of weeks ago, I was asked to do a National Radio interview with BBC Radio Scotland, although I felt nervous of course, it was just a normal amount of nerves rather than the disabling amount of fear and worry that would have taken over me before and probably prevented me from doing it. I really enjoyed it and would love to do something like that again, but a year ago I never would have believed I could have done that.

There are some really special people out there in Cyberland who have become very good friends thanks to the Web Site, and they help and support me as much as I do them. In fact, to be really honest, I think I would have given up altogether without their kind shoulders to lean on! I hope they know who they are. Thank you. :o)

Out of it all, some good has happened; freedom, loving friendships and more fulfillment in my life. Of course, there are plenty of times when it also feels like there's a huge loss and a part of me will always be missing, but for now though, I'm just plodding on and going along with the flow, trying to be supportive to any one who needs it and as a byproduct getting some support and happiness back. I'm not looking ahead too far or planning my future. I'm just taking some of my own advise and taking each day as it comes.

Because I am living out of the 3 mile catchment area of my Dr's. surgery, I have had to register with a new one closer. I remember how terrified I was with the last one! These people just don't understand, it took me 10 years to get enough courage to go to the other one! I was dreading it, but I knew it had to be done and so I gritted my teeth and did it. Of course, I came out feeling relieved!

Thanks for being there guys, and thanks to everyone who's signed my OCD bulletin board. The kind words and uplifting messages really, really help me, especially right now when so much in my life is unknown and uncertain. I guess you all give me reasons to carry on.

Well! that's all I can think of to say at the moment. Don't lose faith in your abilities everyone! I'm trying very hard not to lose faith in mine!


Love ~Sani~
---
May 7, 2001 (but it's not officially May's entry)
Dear Diary,
I've been feeling quite down the last couple of days, and a bit numb. I thought I was handling my marriage crisis quite well.
I've been getting on with stuff and trying really hard to keep it from dominating my thoughts. Trouble is, something else upset me and that made it flood into my mind. I know that I had to do what I did. I know I wasn't getting well where I was, and I know I wanted to go home long ago, but it's so sad that my husband couldn't or wouldn't see it like that.
I've been working on getting control of the OCD for the both of us, and instead there's just me. I'm used to being 2 not 1; it's lonely sometime's. I miss us, especially now that I can do so much. Memories of us, before the OCD got such a strong hold on me, come into my head all the time, and make me sad, because they're gone and we might not make any more memories together.
The illness made me isolated from all my friends. They've now moved on with their lives, and it takes time to make new ones.
I'm not sure if I've fully accepted that my marriage could be over...... first time I've written that.:( Since I saw Phil last I haven't heard from him at all. That really hurts. It feels like I've been pushed out of his life completely, like "we" never existed and I don't really understand why.
The thing is, I can't and won't let the OCD take over again though. I mustn't, else that would mean it was all for nothing. Sometime's, it's like I have to be SO strong and keep in control and together, but inside my heart is broken into pieces. My confidence has taken a battering, and it hurts to look forward, because I just see me....that's all, just me. :(
Off to bed now...... think I need some sleep, take care folks, love ~Sani~ xx
If I could tell the world just One thing
it would be that we're all okay,
And not to worry cause worry is wasteful
and useless in times like these.
I won't be made useless,
Won't be idle with despair.
I'll gather myself around my faith,
It lights the darkness most feared.
"Hands" ~ Jewel
"In the end, only kindness matters."
Love ~Sani~
next: My Obsessively Clean Diary: July 2001
~ ocd library articles
~ all ocd related disorders articles
APA Reference
Staff, H. (2009, January 5). My Obsessively Clean Diary: May 2001, HealthyPlace. Retrieved on 2023, September 28 from https://www.healthyplace.com/ocd-related-disorders/articles/my-obsessively-clean-diary-may-2001
Last Updated: January 14, 2014