My Obsessively Clean Diary: November 2001
Quest for Freedom!
~ An insight into OCD ~ Obsessive Compulsive Disorder

Dear Diary,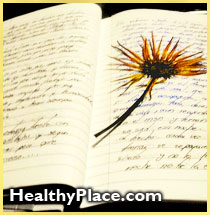 I had my birthday. It was a nice day, except it felt strange. It was my first birthday without you know who? just as this Christmas will be the first one without him. Time goes on and alas :0( it doesn't get any easier. The day felt very strange and made me feel upset towards the end of it.
I shall be seeing a psychologist in the New Year to "help me with my problem", as they put it! Other than that, I haven't got very much to say about the OCD this month!
My friend says that after Christmas we will start a deal. He wants to try and quit smoking over Christmas. Here's the deal: if I wash my hands excessively and for no reason, then he will smoke a cigarette! I'm not sure that I like the sound of that! lol, bribery and corruption is what I call it, lol.
I have done a bit of Christmas shopping, but I can't really get into it, there aren't any shops I am too scared to go into this year though, which is a huge difference of course.

Take care everyone.
Love and Hugs~Sani~
next: My Obsessively Clean Diary: January 2002
~ ocd library articles
~ all ocd related disorders articles
APA Reference
Staff, H. (2009, January 3). My Obsessively Clean Diary: November 2001, HealthyPlace. Retrieved on 2023, December 8 from https://www.healthyplace.com/ocd-related-disorders/articles/my-obsessively-clean-diary-november-2001
Last Updated: January 14, 2014