COVID-19: Coronavirus and Being Scared for Your Mental Health
Here's what's happening on the HealthyPlace site this week:
---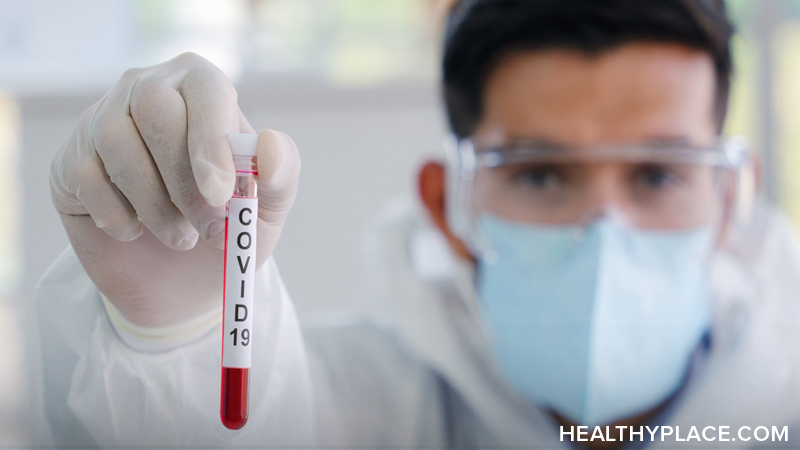 COVID-19: Coronavirus and Being Scared for Your Mental Health
Due to COVID-19 aka coronavirus, like many people around the country, all of us at HealthyPlace have been virtually locked inside our homes for two weeks. Sitting at my computer, I began to think about the scary possibility of this going on for another month or two and what it means for those of us with a mental health condition.
Limited or no access to doctors and therapists
Trouble getting psychiatric medications and refills
Isolation, depression, anxiety and the possibility of a mental health crisis
Imagine that you can't get your bipolar medication because of COVID-19. Our guest blogger, Tricia Chilcott, is facing that and is terrified of what that means.
To help you, we asked all HealthyPlace bloggers to share their coronavirus experiences and how they are coping. Their stories ranging from coronavirus anxiety and how not to panic to social distancing as a recovering addict are linked below. Hopefully, you'll find a little bit of inspiration and guidance on how to get through these challenging times.
We also had HealthyPlace Medical Director and psychiatrist, Dr. Harry Croft, on our Facebook Live sharing ideas on how to deal with mental health treatment issues that could come up because of COVID-19. Over 1,300 people have watched the video so far.
Across our social media, we've had HealthyPlace bloggers and community members talk about their coronavirus experiences and how they're handling things. For instance, Megan Griffith who writes our "Recovering From Mental Illness" blog, did a video. If obsessive thinking is a problem for you, like it is for Megan, COVID-19 could be your worst nightmare. Fortunately, Megan has found something that's helping her deal with that. Take a look.
One of the most important things we want you know is that you are not alone. Whatever you are feeling or experiencing, there are millions who relate. You do not have to keep your feelings to yourself. These are trying times. Somehow, someway, we will find a way to make it through this too.
Your Thoughts
Today's Question: Regarding the impact of COVID-19 on your mental health, what is your biggest challenge right now, how is it affecting you and how are you dealing with it? HealthyPlace Facebook page.
From the HealthyPlace Mental Health Blogs
On all our blogs, your comments and observations are welcomed.
Feel free to share your thoughts and comments at the bottom of any blog post. And visit the mental health blogs homepage for the latest posts.
------------------------------------------------------------------
Most Popular HealthyPlace Articles Shared by Facebook Fans
Here are the top 3 mental health articles HealthyPlace Facebook fans are recommending you read:
If you're not already, I hope you'll join us/like us on Facebook too. There are a lot of wonderful, supportive people there.
------------------------------------------------------------------
Mental Health Quote
"You have to learn to care about people without taking on all their problems."
Read more mental health quotes.
------------------------------------------------------------------
That's it for now. If you know of anyone who can benefit from this newsletter or the HealthyPlace.com site, I hope you'll pass this onto them. You can also share the newsletter on any social network (like facebook or stumbleupon) you belong to by clicking the links below. For updates throughout the week, follow HealthyPlace on Twitter or become a fan of HealthyPlace on Facebook. Also, check out HealthyPlace on Instagram, YouTube and Pinterest, where you can share your mental health pins on our Share Your Mental Health Experiences board.
APA Reference
Peterson, T. (2020, March 24). COVID-19: Coronavirus and Being Scared for Your Mental Health, HealthyPlace. Retrieved on 2023, December 10 from https://www.healthyplace.com/other-info/mental-health-newsletter/covid-19-coronavirus-and-being-scared-for-your-mental-health
Last Updated: March 24, 2020