Feeling Guilty Because You Have A Mental Illness
HealthyPlace Mental Health Newsletter
Here's what's happening on the HealthyPlace site this week: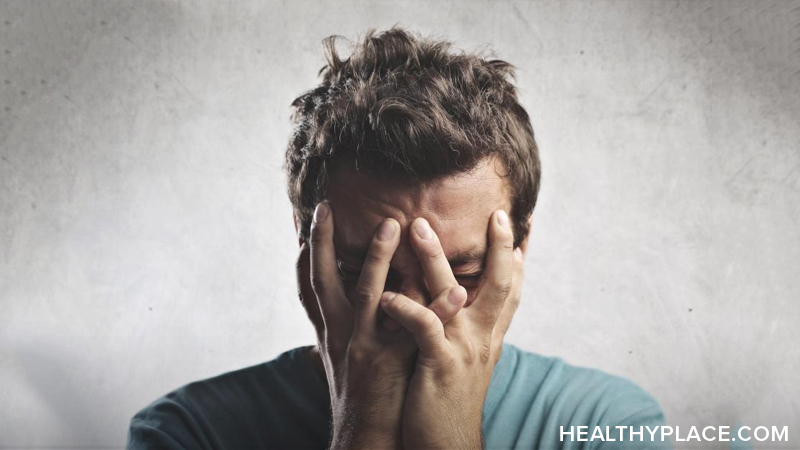 Feeling Guilty Because You Have A Mental Illness
Do you feel guilty because you have a mental illness? HealthyPlace newsletter subscriber, Jason, does. In an email, Jason writes:
"I feel guilty for having bipolar disorder. At some point or another, it has affected, even hurt everyone important in my life; my parents, my friends, my co-workers. I feel especially bad for my parents because I see the hurt in their faces whenever they see me struggling."
Guilt does serve a positive purpose. If you've done something wrong, you feel "emotionally hounded" until you apologize and right the wrong. On the other hand, it can become self-destructive and a complete waste of energy. So how do you figure out whether your guilt is appropriate. HealthyPlace Medical Director, Dr. Harry Croft, suggests asking yourself this one question:
Am I truly responsible for what happened?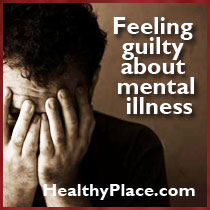 You are not responsible for having a mental illness. You are not responsible because you might need someone's help. You are not responsible for other people's reactions to your simply having a mental illness. But you are responsible for your actions and behaviors whether or not you have a mental illness. If you have done something improper or wrong, under the influence of your mental illness or not, then guilt may be an appropriate emotional response.
How to Get Rid of Guilty Feelings
Figure out whether or not you should feel guilty. Did you actually do something wrong? Being born with or developing a mental illness is not something you did. Taking money from your parents for treatment and using it to party is an example of doing something wrong.
Is there something you can do to right things or make them better? Maybe you can't give the money back right now, but you can definitely apologize and learn from what you did.
Still feeling guilty? Ask yourself if it's necessary or productive. If you've done everything you can, does guilt still serve any positive purpose?
It's time to get on with your life. Negative, guilty feelings lead to inappropriate levels of shame and self-loathing. Affirm that nobody is perfect and that you will not make this mistake again. Engage in positive activities that allow you to do good.
Related Stories About Guilt and Feeling Guilty
Your Thoughts
Today's Question: "Do YOU feel guilty about having a mental illness?" We invite you to participate by commenting and sharing your feelings, experiences and knowledge on the HealthyPlace Facebook page.
Help Spread Awareness of Mental Illness
Get Our Mental Health Blog Widget
Over 300 sites and blogs are helping spread awareness of mental illness. How about putting our mental health blogs widget on your website, blog or social page? The latest HealthyPlace blog headlines appear as soon as the articles are posted on our site. Just click "Get Widget" at the bottom of the widget, grab the embed code and paste it into your page. You'll also see embed links for Wordpress, Blogger, Linkedin and other social sites there.
As a bonus, put the blogs widget on your site or blog, email us (info AT healthyplace.com) with a page link where it appears, and we'll give a shoutout to your site, blog, or social site on our Facebook and Twitter pages.
------------------------------------------------------------------
Share our Stories
At the top and bottom of all our stories, you'll find social share buttons for Facebook, Google+, Twitter, Pinterest and other social sites. If you find a particular story, video, psychological test or other HealthyPlace feature helpful, there's a good chance others in need will too. Please share.
We also get many inquiries about our linking policy. If you have a website or blog, you can link to any page on the HealthyPlace website without asking us beforehand.
---
---
Most Popular HealthyPlace Articles Shared by Facebook Fans
Here are the top 3 mental health articles HealthyPlace Facebook fans are recommending you read:
If you're not already, I hope you'll join us/like us on Facebook too. There are a lot of wonderful, supportive people there.
------------------------------------------------------------------
From the HealthyPlace Mental Health Blogs
On all our blogs, your comments and observations are welcomed.
Feel free to share your thoughts and comments at the bottom of any blog post. And visit the mental health blogs homepage for the latest posts.
------------------------------------------------------------------
Stand Up for Mental Health
Thousands Have Joined the Stand Up for Mental Health Campaign
But we still need you. Let others know there's no shame in having depression, anxiety, bipolar disorder, trichotillomania, OCD, ADHD, schizophrenia or any other mental illness.
Join the Stand Up for Mental Health campaign. Put a button on your website or blog (buttons for family members, parents, mental health professionals and organizations too). We also have covers for Facebook, Twitter and Google+.
------------------------------------------------------------------
Guiding Aspergers' Teens Within Dating Relationships
Dating relationships among older teens with Aspergers' Syndrome present opportunities for growth and areas of special challenge. The Parent Coach, Dr. Steven Richfield, has advice for parents of teens with Aspergers as they head into the dating arena..
Latest Mental Health News
These stories and more are featured on our mental health news page:
Study Finds Spatial Skill Is Early Sign of Creativity
Can Belief in God Predict How Someone Responds to Mental Health Treatment?
Listening for Clues to Mind's Mysteries
What Is Nostalgia Good For? Quite a Bit, Research Shows
Wiser and Happier? Getting Older Has Its Perks.
The Good in Feeling Bad. Not All Negative Emotions Are Bad For You.
Unprecedented Levels Of Psychiatric Illness Found In Gang Members
The Importance Of Close Monitoring For Women At Risk Of Developing Postpartum Psychosis
Social Cognition Link to Positive Psychotic Symptoms
Suicidality in Pediatric Bipolar Disorder 'Needs Urgent Attention'
Antipsychotics May Counteract Brain Dysfunction
How to Bust Out of a Creative Rut
That's it for now. If you know of anyone who can benefit from this newsletter or the HealthyPlace.com site, I hope you'll pass this onto them. You can also share the newsletter on any social network (like facebook, stumbleupon, or digg) you belong to by clicking the links below. For updates throughout the week:
APA Reference
Staff, H. (2013, July 17). Feeling Guilty Because You Have A Mental Illness, HealthyPlace. Retrieved on 2023, December 5 from https://www.healthyplace.com/other-info/mental-health-newsletter/feeling-guilty-because-you-have-a-mental-illness
Last Updated: December 13, 2017