How Do You Know if You Need to Ask for Forgiveness?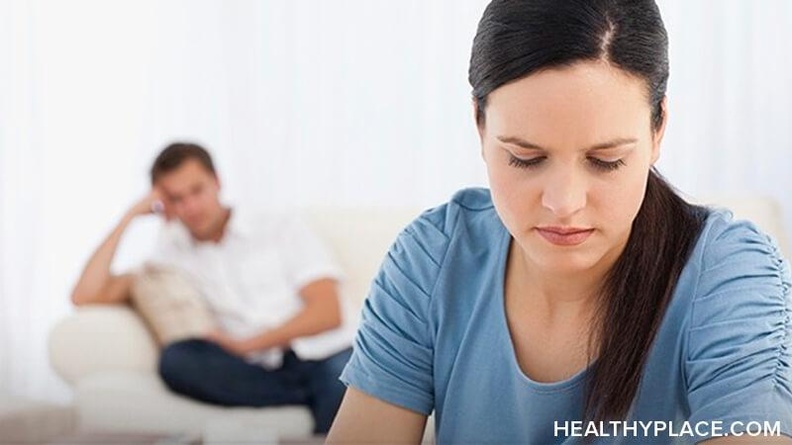 In childhood, we often learn that if we make a mistake, we need to say we're sorry. Apologies aren't always so straightforward, however. Asking for forgiveness is important, but only when it's necessary.
Living with mental health challenges, including but by no means limited to, depression and anxiety, tends to muddy the waters of life, and apologies are no exception. Mental illness often brings feelings of shame or inappropriate guilt, making us feel unduly responsible for things that are actually beyond our control. In fact, inappropriate feelings of guilt are a hallmark of depression, and different types of anxiety contribute to self-doubt and self-blame.
While each circumstance is unique, these general guidelines can be helpful in knowing if you need to ask for forgiveness:
If you decide that you do need to ask for forgiveness, from yourself or others, keep it simple and sincere. Explaining that you feel bad for what happened, offering to make amends, and asking for forgiveness strengthens relationships—including the one you have with yourself—and allows everyone to move forward rather than stewing over the past.
Recommended Video
Nicola can struggle with forgiving herself for past mistakes she made in relation to her brother, who has chronic mental health issues. Here are some tips she uses for moving past these mistakes and doing better.
Articles Related to Asking for Forgiveness
Today's Question: What would it be like to make it a habit to treat yourself with lovingkindness and ask yourself for forgiveness? We invite you to participate by sharing your thoughts, experiences, and knowledge on the HealthyPlace Facebook page.
------------------------------------------------------------------
From the HealthyPlace Mental Health Blogs
On all our blogs, your comments and observations are welcomed.
Feel free to share your thoughts and comments at the bottom of any blog post. And visit the mental health blogs homepage for the latest posts.
------------------------------------------------------------------
From the HealthyPlace YouTube Channel
Don't like routines? Either does Kelly, but she found that block routines work for her and they help manage postpartum depression. See how she does it: watch.
Subscribe to the HealthyPlace YouTube channel
------------------------------------------------------------------
Most Popular HealthyPlace Articles Shared by Facebook Fans
Here are the top 3 mental health articles HealthyPlace Facebook fans are recommending you read:
If you haven't already, I hope you'll like us on Facebook too. There are a lot of wonderful, supportive people there.
------------------------------------------------------------------
Positivity Quote for Life with Mental Illness
"Take a shower, wash off the day. Drink a glass of water. Make the room dark, lie down and close your eyes. Notice the silence. Notice your heart. Still beating. Still fighting. You made it after all. You made it another day. And you can make it one more time. You're doing just fine." ~ Charlotte Eriksson
Read more positivity quotes for life with mental illness.
------------------------------------------------------------------
That's it for now. If you know of anyone who can benefit from this newsletter or the HealthyPlace.com site, I hope you'll pass this onto them. Please share the newsletter on any social network you belong to. For updates throughout the week, follow us on Twitter, like us on Facebook, subscribe to our YouTube channel, or follow us on Instagram.
Thank you,
Deborah
Community Partner Team
HealthyPlace.com - America's Mental Health Channel
"When you're at HealthyPlace.com, you're never alone."
http://www.healthyplace.com
APA Reference
Peterson, T. (2021, November 30). How Do You Know if You Need to Ask for Forgiveness?, HealthyPlace. Retrieved on 2023, November 28 from https://www.healthyplace.com/other-info/mental-health-newsletter/how-do-you-know-if-you-need-to-ask-for-forgiveness
Last Updated: November 30, 2021