How Multitasking Hurts Mental Health. Try This Instead
Here's what's happening on the HealthyPlace site this week:
---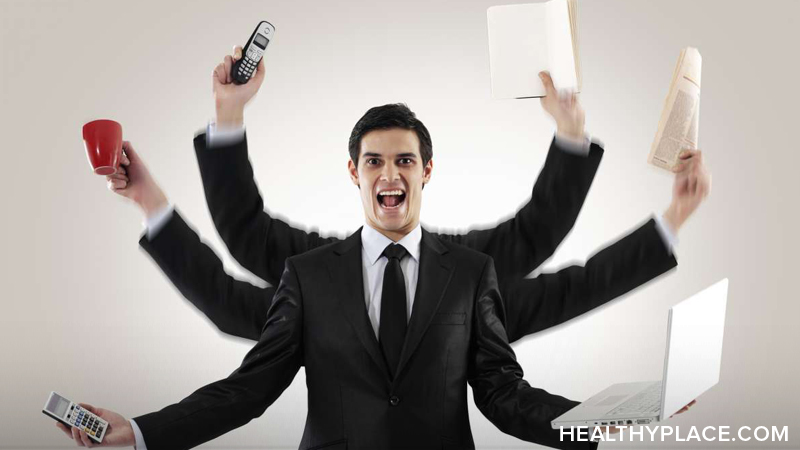 How Multitasking Hurts Mental Health. Try This Instead
How can something that seems like a good idea hurt our mental health? Many of us multitask and feel good about it; we feel efficient and productive and capable. Yet the agitation and stress we often feel are our brain's way of telling us that we don't need to multitask, and we need to stop it altogether.
Studies find that multitasking hurts mental health. Trying to focus on multiple tasks at once can cause:
You can stop multitasking to improve your mental health. Try these three ideas:
Our brain performs much better and happier when it focuses on one thing at a time. Shift from multitasking to mindful attentiveness and see what it does for your mental health.
References
Kubu, C. & Machado, A. (2017). Why multitasking is bad for you. Time. Retrieved June 2019 from https://time.com/4737286/multitasking-mental-health-stress-texting-depression/
Skerrett, P.J. (2012). Multitasking: A medical and mental hazard. Harvard Health Publishing: Harvard Health Blog. Retrieved June 2019 from https://www.health.harvard.edu/blog/multitasking-a-medical-and-mental-hazard-201201074063
Related Articles Dealing with Multitasking and Mental Health
Your Thoughts
Today's Question: If you're a multitasker, how does it impact your own mental health and wellbeing? We invite you to participate by sharing your thoughts, experiences, and knowledge on the HealthyPlace Facebook page.
From the HealthyPlace Mental Health Blogs
On all our blogs, your comments and observations are welcomed.
Feel free to share your thoughts and comments at the bottom of any blog post. And visit the mental health blogs homepage for the latest posts.
------------------------------------------------------------------
Most Popular HealthyPlace Articles Shared by Facebook Fans
Here are the top 3 mental health articles HealthyPlace Facebook fans are recommending you read:
If you're not already, I hope you'll join us/like us on Facebook too. There are a lot of wonderful, supportive people there.
------------------------------------------------------------------
Mental Health Quote
"Physically, I am here. Mentally, I am far, far away."
Read more bipolar quotes.
------------------------------------------------------------------
That's it for now. If you know of anyone who can benefit from this newsletter or the HealthyPlace.com site, I hope you'll pass this onto them. You can also share the newsletter on any social network (like facebook or stumbleupon) you belong to by clicking the links below. For updates throughout the week, follow HealthyPlace on Twitter or become a fan of HealthyPlace on Facebook. Also, check out HealthyPlace on Instagram, YouTube and Pinterest, where you can share your mental health pins on our Share Your Mental Health Experiences board.
APA Reference
Peterson, T. (2019, June 18). How Multitasking Hurts Mental Health. Try This Instead, HealthyPlace. Retrieved on 2023, December 5 from https://www.healthyplace.com/other-info/mental-health-newsletter/how-multitasking-hurts-mental-health-try-this-instead
Last Updated: June 19, 2019