Brain Injury Increases Risk of Mental Illness
Here's what's happening on the HealthyPlace site this week:
-----------------------------------------------------------------
Facebook Live This Wednesday
People love our Facebook Live events with therapist, Emily Roberts. Emily will be taking your personal mental health questions this Wednesday evening. We start at 7p CT / 8 ET. I hope you'll join us and feel free to invite others. Our page is here: https://www.facebook.com/HealthyPlace/. You can check out our previous mental health Facebook Live here.
------------------------------------------------------------------
---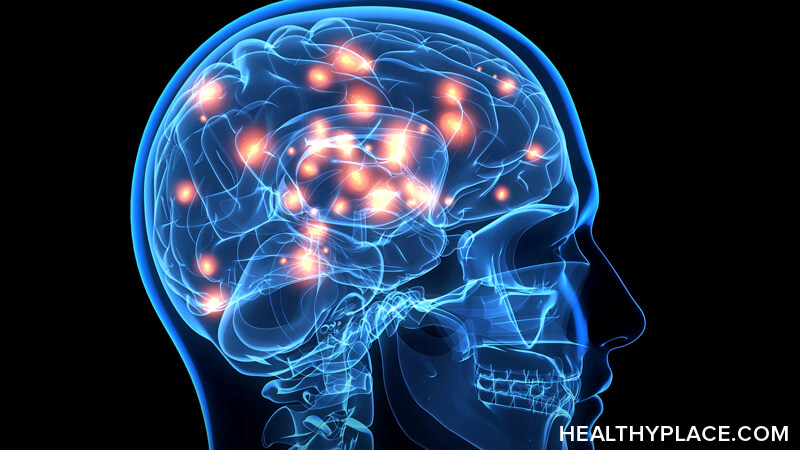 Brain Injury Increases Risk of Mental Illness
What happens to our mental health when the brain is injured? Neuroscience has begun to answer this important question, and the answer may or may not be surprising.
March is Brain Injury Awareness Month. The spotlight is on the human brain and what happens when it's hurt. Until recently, not much attention has been paid to the connection between brain injury and mental health. Now, however, studies are revealing important findings: Traumatic brain injury (TBI) and mental illness are connected.
TBI Can Cause Mental Illness
Evidence is mounting and becoming undeniable: TBI can cause mental illness. Researchers in Denmark discovered that TBI can increase the risk of developing specific mental illnesses by a whopping 439%, depending on the illness (Hansen, 2014).
The most common mental illnesses caused by TBI are
TBI can lead to other mental health challenges, too. Even without a diagnosable illness, it's common to experience emotional upheaval, behavioral changes, cognitive changes, difficulties in relationships, and more. Also, depending on the nature of the TBI, people sometimes experience acute stress disorder (ASD) or post-traumatic stress disorder (PTSD).
The awareness that TBI can cause mental illness can lead to better identification of problems, better treatment for both brain injury and mental illness, and earlier intervention. Brain Injury Awareness Month is becoming a good month for mental health.
Sources:
Hansen, M.B. (2014). Head injury may cause mental illness. Science Nordic. Retrieved March, 2018 from
http://sciencenordic.com/head-injury-can-cause-mental-illness
Schwarzbold, M., Diaz, A., Tostes-Martins, E., Rufino, A., Nazareth-Amante, L., Thais, M.E., Quevedo,
J.,Hohl, A., Neves-Linhares, M., Walz, R. (2008). Psychiatric disorders and traumatic brain injury. Neuropsychiatric Disease and Treatment, 4(4), 797-816. Retrieved March, 2018 from https://www.ncbi.nlm.nih.gov/pmc/articles/PMC2536546/
Related Articles Dealing with Mental Health and Brain Injury
Your Thoughts
Today's Question: If you've had a concussion or TBI, how did it affect your mental health? We invite you to participate by sharing your thoughts, experiences, and knowledge on the HealthyPlace Facebook page and on the HealthyPlace Google+ page.
---
---
From the HealthyPlace Mental Health Blogs
On all our blogs, your comments and observations are welcomed.
Feel free to share your thoughts and comments at the bottom of any blog post. And visit the mental health blogs homepage for the latest posts.
------------------------------------------------------------------
From HealthyPlace YouTube Channel
I'm Hannah. I Have Bipolar 2
Bipolar Disorder and Feeling Things So Deeply
Living with bipolar 2 disorder, I feel things very deeply. I'm a very emotionally driven person. (Watch Hannah)
------------------------------------------------------------------
Most Popular HealthyPlace Articles Shared by Facebook Fans
Here are the top 3 mental health articles HealthyPlace Facebook fans are recommending you read:
If you're not already, I hope you'll join us/like us on Facebook too. There are a lot of wonderful, supportive people there.
------------------------------------------------------------------
Mental Health Quote
"I am good for a while. I'll talk more, laugh more. Sleep and eat normally. But then something happens, like a switch turns off somewhere. And all I am left with is the darkness of my mind. But each time it seems like I sink deeper and deeper."
Read more bipolar quote.
------------------------------------------------------------------
That's it for now. If you know of anyone who can benefit from this newsletter or the HealthyPlace.com site, I hope you'll pass this onto them. You can also share the newsletter on any social network (like facebook, stumbleupon, or google+) you belong to by clicking the links below. For updates throughout the week, circle HealthyPlace on Google+, follow HealthyPlace on Twitter or become a fan of HealthyPlace on Facebook. Also, check out HealthyPlace on Pinterest and share your mental health pins on our Share Your Mental Health Experiences board.
back to: HealthyPlace.com Mental-Health Newsletter Index
APA Reference
Peterson, T. (2018, March 26). Brain Injury Increases Risk of Mental Illness , HealthyPlace. Retrieved on 2023, December 3 from https://www.healthyplace.com/other-info/mental-health-newsletter/brain-injury-increases-risk-of-mental-illness
Last Updated: March 28, 2018