How to Effectively Communicate Your Mental Health Needs
Here's what's happening on the HealthyPlace site this week: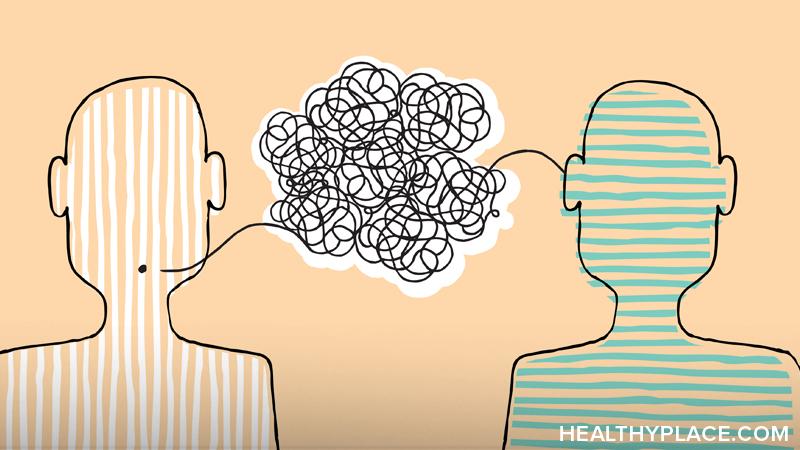 How to Effectively Communicate Your Mental Health Needs
Everyone needs to be heard and understood, to be treated respectfully and supportively. People living with mental illness are no exception, and often, mental illness intensifies those needs. Because mental illness impacts thoughts, emotions, and behaviors, though, communicating mental health needs can be difficult (How to Communicate with Confidence: 7 Steps). Try these tips for effectively communicating your mental health needs.
Be prepared. Before having a conversation with someone, determine exactly what you're asking for; perhaps write it down. This will help you get the right needs met.
Stick to what's important. Rather than presenting someone with a laundry list of needs, choose no more than three things that will help you feel better now.
Frame things positively. Saying, "I love it when we take a walk together in the evenings; can we do it several times a week?" works better than, "I hate that you don't walk with me very much."
Keep emotions in check. Mental illness often creates strong emotions that interfere in effective communication. Be aware when your emotions are becoming turbulent, and take a break.

Last but certainly not least, approach conversations with a give-and-take mentality. Listen the way you want to be listened to, and be supportive like you want, and deserve, to be supported.
Related Articles Dealing with Effective Communication
Your Thoughts
Today's Question: What have you found to be the best way to communicate your mental health needs to another person? We invite you to participate by commenting and sharing your feelings, experiences and knowledge on the HealthyPlace Facebook page.
------------------------------------------------------------------
From the HealthyPlace Mental Health Blogs
On all our blogs, your comments and observations are welcomed.
Feel free to share your thoughts and comments at the bottom of any blog post. And visit the mental health blogs homepage for the latest posts.
------------------------------------------------------------------
From HealthyPlace YouTube Channel
Dating when you have bipolar or any mental health condition is difficult. My situation, being that I am very open and public about having bipolar depression, has allowed me to gain a different perspective on this topic. That's what I'm sharing this week.
------------------------------------------------------------------
Most Popular HealthyPlace Articles Shared by Facebook Fans
Here are the top 3 mental health articles HealthyPlace Facebook fans are recommending you read:
If you're not already, I hope you'll join us/like us on Facebook too. There are a lot of wonderful, supportive people there.
------------------------------------------------------------------
Mental Health Quote
"I want to be happy but something inside me screams that I do not deserve it."
Read more depression quotes.
------------------------------------------------------------------
That's it for now. If you know of anyone who can benefit from this newsletter or the HealthyPlace.com site, I hope you'll pass this onto them. You can also share the newsletter on any social network (like facebook, stumbleupon, or google+) you belong to by clicking the links below. For updates throughout the week, circle HealthyPlace on Google+, follow HealthyPlace on Twitter or become a fan of HealthyPlace on Facebook. Also, check out HealthyPlace on Pinterest and share your mental health pins on our Share Your Mental Health Experiences board.
APA Reference
Peterson, T. (2017, February 1). How to Effectively Communicate Your Mental Health Needs , HealthyPlace. Retrieved on 2023, November 29 from https://www.healthyplace.com/other-info/mental-health-newsletter/how-to-effectively-communicate-your-mental-health-needs
Last Updated: January 9, 2023