How To Get Low-Cost or Free Psychiatric Medications
HealthyPlace Mental Health Newsletter
Here's what's happening on the HealthyPlace site this week:
How To Get Low-Cost or Free Psychiatric Medications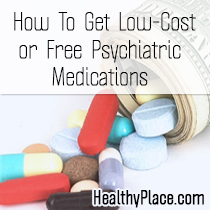 Do you need help paying for psychiatric medications? There's an organization named Partnership for Prescription Assistance which may be able to help. The group, which counts almost every U.S. pharmaceutical company as a member, helps qualifying patients without prescription drug coverage get the medical and mental health medicines they need for free or nearly free. You can visit their website or call 1-888-477-2669 and learn whether you're eligible for a patient assistance program. A trained specialist will ask a series of short questions and help identify the right patient assistance program you.
Beware, there are lots of scam groups online which purport to do the same thing...for a fee. This is completely free and a legitimate source of help.
Related Prescription Assistance Articles
Your Thoughts
Today's Question: Do you have difficulty paying for psychiatric medications? And have you ever used the Prescription Assistance Program? We invite you to participate by commenting and sharing your feelings, experiences and knowledge on the HealthyPlace Facebook page.
Help Spread Awareness of Mental Illness
Get Our Mental Health Blog Widget
Over 370 sites and blogs are helping spread awareness of mental illness. How about putting our mental health blogs widget on your website, blog or social page? The latest HealthyPlace blog headlines appear as soon as the articles are posted on our site. Just click "Get Widget" at the bottom of the widget, grab the embed code and paste it into your page. You'll also see embed links for Wordpress, Blogger, Linkedin and other social sites there.
As a bonus, put the blogs widget on your site or blog, email us (info AT healthyplace.com) with a page link where it appears, and we'll give a shoutout to your site, blog, or social site on our Facebook and Twitter pages.
------------------------------------------------------------------
Share our Stories
At the top and bottom of all our stories, you'll find social share buttons for Facebook, Google+, Twitter, Pinterest and other social sites. If you find a particular story, video, psychological test or other HealthyPlace feature helpful, there's a good chance others in need will too. Please share.
We also get many inquiries about our linking policy. If you have a website or blog, you can link to any page on the HealthyPlace website without asking us beforehand.
---
continue story below
---
Most Popular HealthyPlace Articles Shared by Facebook Fans
Here are the top 3 mental health articles HealthyPlace Facebook fans are recommending you read:
------------------------------------------------------------------
Mental Health Experiences
Share your thoughts/experiences with any mental health subject, or respond to other people's audio posts, by calling our toll-free number (1-888-883-8045).
You can listen to what other people are saying by clicking on the gray title bars inside the widgets located on the "Sharing Your Mental Health Experiences" homepage, the HealthyPlace homepage, and the HealthyPlace Support Network homepage.
If you have any questions, write us at: info AT healthyplace.com
------------------------------------------------------------------
From the HealthyPlace Mental Health Blogs
On all our blogs, your comments and observations are welcomed.
Feel free to share your thoughts and comments at the bottom of any blog post. And visit the mental health blogs homepage for the latest posts.
------------------------------------------------------------------
Stand Up for Mental Health
Thousands Have Joined the Stand Up for Mental Health Campaign
But we still need you. Let others know there's no shame in having depression, anxiety, bipolar disorder, trichotillomania, OCD, ADHD, schizophrenia or any other mental illness.
Join the Stand Up for Mental Health campaign. Put a button on your website or blog (buttons for family members, parents, mental health professionals and organizations too). We also have covers for Facebook, Twitter and Google+.
------------------------------------------------------------------
For Parents with Low Self-Esteem, Psychological First Aid
Some parents are hampered by their own low self-esteem thus hurting the self-esteem in their children or teens. The Parent Coach, Dr. Steven Richfield, has some solutions to help the self-esteem challenged parent find some relief.
Latest Mental Health News
These stories and more are featured on our mental health news page:
In Texting Era, Crisis Hotlines Put Help at Youths' Fingertips
Lack Of Sleep And Exercise, Too Much TV Affects Teens' Mental Health
Psychological Well-Being Is Important For Physical Health
Study Reveals Women With Mental Health Disability May Face 4-Fold Risk Of Abusive Relationship
More Evidence That Childhood Trauma Can Lead To Psychosis
Women With Bipolar Disorder Shoulder Heavy Medication Burden
Rare And De Novo Mutations Flesh Out Schizophrenia Picture
Bipolar Disorder Could Be More Common Than Thought
10-Minute Neurocognitive Measure Valid In Schizophrenia
Computerized Cognitive Training Shows Early Promise In Schizophrenia
Just Over Half Of NHS Trusts Have A Mental Wellbeing Policy In Place For Staff
That's it for now. If you know of anyone who can benefit from this newsletter or the HealthyPlace.com site, I hope you'll pass this onto them. You can also share the newsletter on any social network (like facebook, stumbleupon, or digg) you belong to by clicking the links below. For updates throughout the week:
APA Reference
Staff, H. (2014, February 17). How To Get Low-Cost or Free Psychiatric Medications, HealthyPlace. Retrieved on 2023, December 2 from https://www.healthyplace.com/other-info/mental-health-newsletter/how-to-get-low-cost-or-free-psychiatric-medications
Last Updated: September 3, 2014