How to Improve Your Mental Health and Wellbeing
HealthyPlace Mental Health Newsletter
Here's what's happening on the HealthyPlace site this week: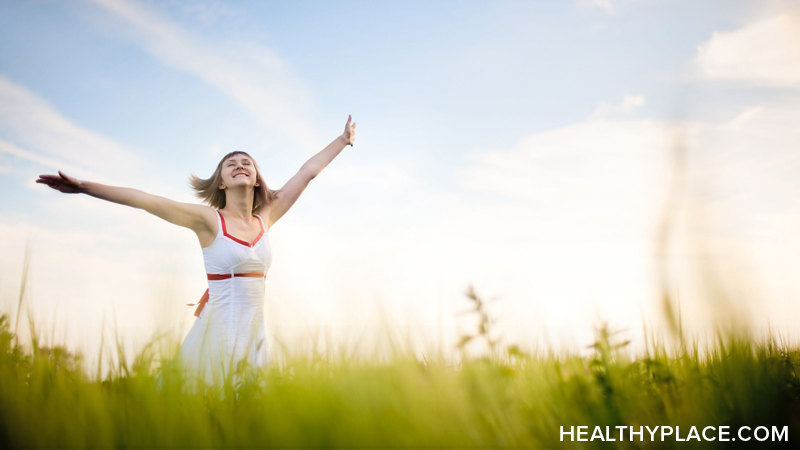 How to Improve Your Mental Health and Wellbeing
You can take action to improve your mental health and well-being despite problems and challenges. Stress is a real experience that threatens our mental health and well-being. Further, mental illness can make stress more difficult to handle (Take our online stress test). Anxiety, depression, ADHD, PTSD, eating disorders, and personality disorders are but a few mental illnesses that interfere in daily living.
Despite these difficulties, you can take control of your life. The following lists suggest ways to improve your mental health and well-being no matter what challenges you face. Engaging in activities such as these will lead to power and control over your own wellness. Choose what works for you.
Calm your mind and body:
Breathe deeply.
Listen to music.
Take a shower or bath.
Dim the lights; light a candle.
Enjoy quiet.

Here are 11 more activities to get rid of anxiety.
Decrease tension:
Listen to peppy music and dance.
Get outside and walk/run/bike/hike/climb/garden/wash a car.
Do jumping jacks.
Watch something funny and laugh.

Enjoy alone time:
Walk.
Read.
Journal.
Color.
Do DIY projects.

Socialize:
Do any of the above with someone.
Join a club or support group.
Invite someone over for a game night.

While these activities don't remove problems from your life, they all help you to enhance your mental health and well-being by taking charge of your actions.
Related Articles Dealing with Improving Your Mental Health and Wellbeing
Your Thoughts
Today's Question: Today's Question: When life gets hard to deal with, what do you do to increase your mental health and wellbeing? We invite you to participate by commenting and sharing your feelings, experiences and knowledge on the HealthyPlace Facebook page and on the HealthyPlace Google+ page.
---
---
Share our Stories
At the top and bottom of all our stories, you'll find social share buttons for Facebook, Google+, Twitter, Pinterest and other social sites. If you find a particular story, video, psychological test or other HealthyPlace feature helpful, there's a good chance others in need will too. Please share.
We also get many inquiries about our linking policy. If you have a website or blog, you can link to any page on the HealthyPlace website without asking us beforehand.
Most Popular HealthyPlace Articles Shared by Facebook Fans
Here are the top 3 mental health articles HealthyPlace Facebook fans are recommending you read:
If you're not already, I hope you'll join us/like us on Facebook too. There are a lot of wonderful, supportive people there.
------------------------------------------------------------------
From the HealthyPlace Mental Health Blogs
On all our blogs, your comments and observations are welcomed.
On all our blogs, your comments and observations are welcomed.
Feel free to share your thoughts and comments at the bottom of any blog post. And visit the mental health blogs homepage for the latest posts.
------------------------------------------------------------------
Stand Up for Mental Health
Thousands Have Joined the Stand Up for Mental Health Campaign
But we still need you. Let others know there's no shame in having depression, anxiety, bipolar disorder, trichotillomania, OCD, ADHD, schizophrenia or any other mental illness.
Join the Stand Up for Mental Health campaign. Put a button on your website or blog (buttons for family members, parents, mental health professionals and organizations too). We also have covers for Facebook, Twitter and Google+.
------------------------------------------------------------------
Latest Mental Health News
These stories and more are featured on our mental health news page:
Larger Brains Are More Susceptible To Mental Illness
Personality, Behavioral Changes May Signal Alzheimer's
Gastrointestinal Disorders Involve Both Brain-To-Gut And Gut-To-Brain Pathways
New Research Concludes That There Is No Association Between Labor Induction And Autism
US Suicide Rate For People With Epilepsy Exceeds Levels In General Population
Behavioural Activation (BA) Is As Effective At Treating Depression In Adults As CBT
Study Finds Average 6-Year Delay Between Onset And Diagnosis Of Bipolar Disorder
Changes In Brain Structure During Teenage Years Provide Clues To Onset Of Mental Health Problems
That's it for now. If you know of anyone who can benefit from this newsletter or the HealthyPlace.com site, I hope you'll pass this onto them. You can also share the newsletter on any social network (like facebook, stumbleupon, or digg) you belong to by clicking the links below. For updates throughout the week:
back to: HealthyPlace.com Mental-Health Newsletter Index
APA Reference
Peterson, T. (2016, August 17). How to Improve Your Mental Health and Wellbeing, HealthyPlace. Retrieved on 2023, December 11 from https://www.healthyplace.com/other-info/mental-health-newsletter/how-to-improve-your-mental-health-and-wellbeing
Last Updated: August 17, 2016