Mental Health Challenges Are Overwhelming: How to Center
What's Happening at HealthyPlace?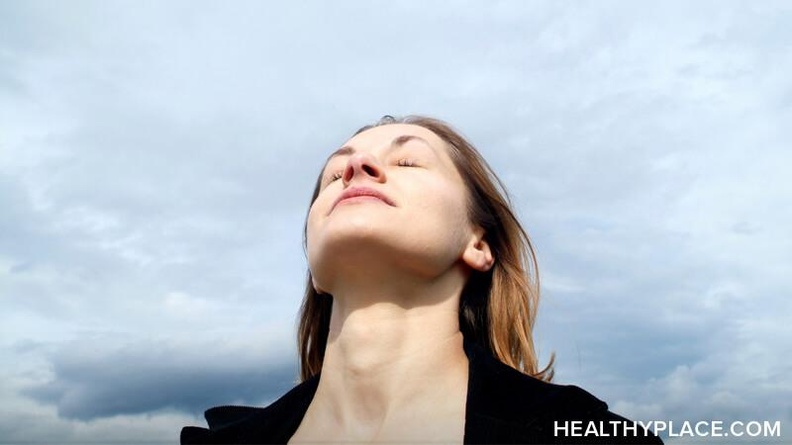 Living with a mental health diagnosis or experiencing mental health difficulties that may not be considered a disorder can be overwhelming. All mental health disorders and difficulties have some things in common that can make daily living hard. Here are some of the challenges of living with a mental health condition:
They don't wait until we have nothing else to do before they strike. Life and its demands, rather than being put on hold while we recover, continue in full force.
While symptoms differ between the different mental health disorders and experiences, all of them affect thoughts, emotions, the physical body, and actions. They disrupt our lives and how we want to live them.
They are exhausting (because of their symptoms and effects and also because they often interfere in sleep). When we're fatigued, the ordinary tasks of daily living seem more overwhelming.
Despite this, you can do specific things to make life feel less overwhelming even while still facing mental health challenges.
Identify what will make this moment better. Focus just on one single present moment rather than your entire life vision.
Do just one thing you can do right now to make your moment just a little bit better. (Perhaps organize just your immediate surroundings, walk to the mailbox, stretch, breathe, eat a healthy snack, drink a glass of water, text or call someone. Just pick one small action and do it now.
Communicate your needs. Speak up for yourself, say no, set limits.
Doing these things can help you feel more centered and mentally healthy, one moment at a time.
Recommended Video
The "tap and breathe" technique helps regulate your emotions and calm your mental state in moments that feel particularly chaotic. Try it with Mary-Elizabeth: Take a look.
Articles Related to Mental Health and Being Overwhelmed
Your Thoughts
Today's Question: What helps you when you are feeling overwhelmed by mental health challenges? We invite you to participate by sharing your thoughts, experiences, and knowledge on the HealthyPlace Facebook page.
---
From the HealthyPlace Mental Health Blogs
On all our blogs, your comments and observations are welcomed.
Feel free to share your thoughts and comments at the bottom of any blog post. And visit the mental health blogs homepage for the latest posts.
---
From the HealthyPlace YouTube Channel
Therapy helped Kayla maintain her sobriety. Find out how -- it may work for you too! Take a look.
Subscribe to the HealthyPlace YouTube channel
---
We Are Looking for a Blogger for the 'Debunking Addiction' Blog
We're looking for someone who has lived experience with addiction who is willing to share those experiences with site visitors. Check out the Debunking Addiction blog and apply at Mental Health Bloggers Wanted.
---
Most Popular HealthyPlace Articles Shared by Facebook Fans
Here are the top 3 mental health articles HealthyPlace Facebook fans are recommending you read:
If you haven't already, I hope you'll like us on Facebook too. There are a lot of wonderful, supportive people there.
---
Quote on Relationship Abuse
"The only people who get upset about you setting boundaries are the ones who were benefiting from you having none."
Read more quotes about abuse.
---
That's it for now. If you know of anyone who can benefit from this newsletter or the HealthyPlace.com site, I hope you'll pass this onto them. Please share the newsletter on any social network you belong to. For updates throughout the week, follow us on Twitter, like us on Facebook, subscribe to our YouTube channel, or follow us on Instagram.
Thank you,
Deborah
Community Partner Team
HealthyPlace.com - America's Mental Health Channel
"When you're at HealthyPlace.com, you're never alone."
http://www.healthyplace.com
APA Reference
Peterson, T. (2022, May 10). Mental Health Challenges Are Overwhelming: How to Center, HealthyPlace. Retrieved on 2023, December 1 from https://www.healthyplace.com/other-info/mental-health-newsletter/mental-health-challenges-are-overwhelming-how-to-center
Last Updated: May 10, 2022