Would You Stand Up For Yourself, For Your Mental Health?
HealthyPlace Mental Health Newsletter
Here's what's happening on the HealthyPlace site this week:
Would You Stand Up For Yourself, For Your Mental Health?
"True rebels hate their own rebellion. They know by experience that it is not a cool and glamorous lifestyle; it takes a courageous fool to say things that have not been said and to do things that have not been done." ~ Criss Jami, Venus in Arms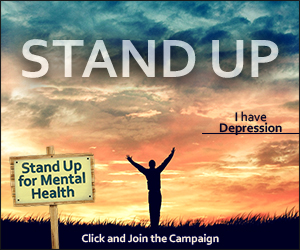 I've been thinking about our "Stand Up for Mental Health Campaign" and the thousands of people who have joined the campaign. These brave people are displaying campaign buttons on their websites and blogs and have put campaign cover photos on their Twitter, Facebook and Google+ pages. Those buttons specifically state: "I have (and the name of the mental health disorder) on them. As you can imagine, there are many more who, for whatever reason, aren't ready to stand up publicly.
This got me thinking. If someone significant in your life, a friend, family member, co-worker, made a negative comment about your mental health, would you say something or keep quiet? Your answer is not only important for your own self-esteem, but for the mental health of millions of adults and children. In the history of the United States, other minority groups learned that keeping quiet, going along with the status quo, didn't accomplish anything. Change, whether on a personal level or a larger scale, doesn't occur if you let the "wrong" continue.
I'm not saying one has to go march in front of the White House for equal rights for all people with a mental health condition (although I would support that), but how can one credibly call for the end of mental health stigma when they won't stand up for themselves? How will others even begin to understand that?
Your Thoughts
Today's Question: If someone made a negative remark about your mental health, what would you do? We invite you to participate by commenting and sharing your feelings, experiences and knowledge on the HealthyPlace Facebook page.
Help Spread Awareness of Mental Illness
Get Our Mental Health Blog Widget
Over 340 sites and blogs are helping spread awareness of mental illness. How about putting our mental health blogs widget on your website, blog or social page? The latest HealthyPlace blog headlines appear as soon as the articles are posted on our site. Just click "Get Widget" at the bottom of the widget, grab the embed code and paste it into your page. You'll also see embed links for Wordpress, Blogger, Linkedin and other social sites there.
As a bonus, put the blogs widget on your site or blog, email us (info AT healthyplace.com) with a page link where it appears, and we'll give a shoutout to your site, blog, or social site on our Facebook and Twitter pages.
------------------------------------------------------------------
Share our Stories
At the top and bottom of all our stories, you'll find social share buttons for Facebook, Google+, Twitter, Pinterest and other social sites. If you find a particular story, video, psychological test or other HealthyPlace feature helpful, there's a good chance others in need will too. Please share.
We also get many inquiries about our linking policy. If you have a website or blog, you can link to any page on the HealthyPlace website without asking us beforehand.
---
continue story below
---
Most Popular HealthyPlace Articles Shared by Facebook Fans
Here are the top 3 mental health articles HealthyPlace Facebook fans are recommending you read:
If you're not already, I hope you'll join us/like us on Facebook too. There are a lot of wonderful, supportive people there.
------------------------------------------------------------------
Mental Health Experiences
Share your thoughts/experiences with any mental health subject, or respond to other people's audio posts, by calling our toll-free number (1-888-883-8045).
You can listen to what other people are saying by clicking on the gray title bars inside the widgets located on the "Sharing Your Mental Health Experiences" homepage, the HealthyPlace homepage, and the HealthyPlace Support Network homepage.
If you have any questions, write us at: info AT healthyplace.com
------------------------------------------------------------------
From the HealthyPlace Mental Health Blogs
On all our blogs, your comments and observations are welcomed.
Feel free to share your thoughts and comments at the bottom of any blog post. And visit the mental health blogs homepage for the latest posts.
------------------------------------------------------------------
Stand Up for Mental Health
Thousands Have Joined the Stand Up for Mental Health Campaign
But we still need you. Let others know there's no shame in having depression, anxiety, bipolar disorder, trichotillomania, OCD, ADHD, schizophrenia or any other mental illness.
Join the Stand Up for Mental Health campaign. Put a button on your website or blog (buttons for family members, parents, mental health professionals and organizations too). We also have covers for Facebook, Twitter and Google+.
------------------------------------------------------------------
Helping Children Understand Social Cues
Does your child misunderstand the behavior of other children? The Parent Coach, Dr. Steven Richfield, has some helpful tips on how to help your child correctly understand what peers are saying and doing.
Latest Mental Health News
These stories and more are featured on our mental health news page:
Are Depression's Causes Biological?
Signs May Be Evident in Hindsight, but Predicting Violent Behavior Is Tough
How Robots Can Trick You Into Loving Them
Why We Like Sad Music
Anxiety Is a Greater Risk Factor For Suicide Than Depression, Studies Report
Stroke Warning For Bipolar Patients
Prefrontal Glutamate Abnormalities Confined To Established Psychosis
Adolescents With Psychosis Face Long Treatment Delays
Why You're Braver Than You Think
Healthy Competition. A Little Competitive Spirit Is Good For You
Mental Health 'Eye Test' Breakthrough Up For National Award
That's it for now. If you know of anyone who can benefit from this newsletter or the HealthyPlace.com site, I hope you'll pass this onto them. You can also share the newsletter on any social network (like facebook, stumbleupon, or digg) you belong to by clicking the links below. For updates throughout the week:
APA Reference
Staff, H. (2013, September 25). Would You Stand Up For Yourself, For Your Mental Health?, HealthyPlace. Retrieved on 2023, December 11 from https://www.healthyplace.com/other-info/mental-health-newsletter/would-you-stand-up-for-yourself-for-your-mental-health
Last Updated: September 4, 2014