What Is a Mental Health Treatment Plan? Why Is it Important?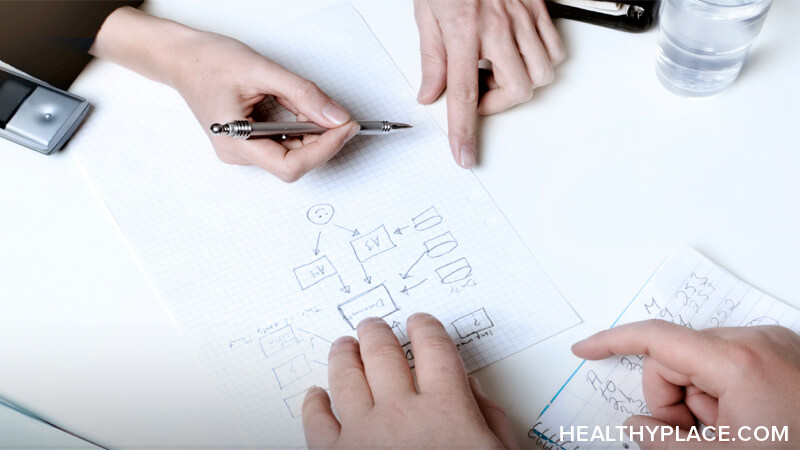 A mental health treatment plan is a tool used by doctors, counselors/therapists, and clients to shape the focus of mental health therapy. A mental health care plan helps therapists and clients make positive change happen through purpose, focus, and direction.
At a basic level, mental health treatment plans help people manage mental health problems and develop opportunities for change and growth. Simultaneously, they help ensure safety through proper care and treatment; indeed, all aspects of a treatment plan must be sound and part of a mental health counselor's high quality, effective practice. And if you are engaging in mental health counseling as a patient, you should have one in place.
The beauty of a mental health treatment plan is that it helps people separate who they are from the problems they're experiencing and become unstuck, able to move forward positively. A mental health therapist is like a tour guide, the client is the adventurer, and the treatment plan is a colorful map to the client's happy and healthy place.
Who Needs A Mental Health Treatment Plan?
Mental health treatment plans are for everyone experiencing mental health challenges and difficulties with life as well as for people who have been diagnosed with mental illness.
Treatment plans are for anyone and any issue. A partial list of who and what treatment plans are for includes:
people living with a serious mental illness
people experience distress in one or more areas of life (work, school, relationships, etc.)
children
adults
elderly
individuals
couples
families
people with developmental disabilities
people experiencing sexual or gender identity issues
people being bullied and/or abused
bullies and/or abusers
parents
people in the criminal justice system
employers
employees
and more.
Both therapy and accompanying mental health care plans are truly for everyone and every difficulty. With such a wide range of people and challenges, treatment plans can't be one-size-fits-all approaches to healing and wellness.
While mental health treatment plan templates exist to help in the creation of a plan, these ideally are mere guidelines. Mental health treatment plans help doctors and counselors consider the nature of the problem or disorder to this individual client and to consider this client's individual situation, characteristics, and goals.
Because mental health issues are personal (what bipolar disorder is specifically like for one person will look slightly different in another), and because each person is unique, a one-off in the world, so too must be mental health treatment plans. A particular treatment, such as specific mental health medication or a particular therapeutic approach, can work well with one person but not at all with the next. Therefore, treatment plans are individualized approaches to therapy.
Creating a Mental Health Treatment Plan
After initial assessment is complete and a diagnosis made, mental health doctors, therapists, and clients collaborate to develop a treatment plan. When doing so, important factors are considered:
the nature of the disorder
client characteristics, including his or her strengths
the specific treatment approach to be used
The emphasis in creating a treatment plan is on how things will be different at the end of treatment and how clients will remain healthy. Treatment planning is a process that involves multiple steps:
identification of the problem and the most important issues
specific definition of the issues
development of measurable short- and long-term goals
creation of the interventions that will help reach the goals
Important guiding concepts in a treatment plan involve:
a picture of what's going on for the client right now
a vision of what the client wants and possibilities for the future
the creation of a forward path to help clients achieve what they need and want
Mental health treatment plans are comprehensive and incorporate all facets of a client and his or her treatment. Plans for success address thoughts, feelings, and behaviors. They incorporate specific strategies and types of therapy, including mental health medications. Mental health difficulties are all-encompassing, impacting someone's internal and external worlds; so, too, must a treatment plan.
Mental Health Treatment Plans are Positive
Effective mental health treatment plans, those colorful maps, do what the person wants and needs them to do. Treatment plans empower him or her to take charge of his or her own life, address mental health distress, and move forward toward that happy and healthy place with strong mental health, emotional health, and wellbeing.
APA Reference
Peterson, T. (2019, October 13). What Is a Mental Health Treatment Plan? Why Is it Important?, HealthyPlace. Retrieved on 2023, November 30 from https://www.healthyplace.com/other-info/mental-illness-overview/what-is-a-mental-health-treatment-plan-why-is-it-important
Last Updated: October 23, 2019