Beware the Narcissistic Sociopath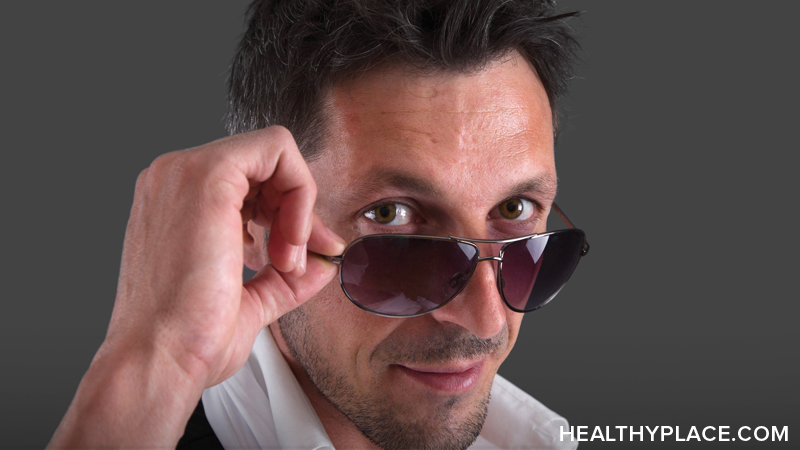 If a sociopath is someone who, because he is antisocial with no conscience, lies, manipulates and controls people any way he so desires, what is a narcissistic sociopath? The traits and behaviors of a sociopath are chilling enough on their own. Almost unbelievably, a narcissistic sociopath intensifies sociopathy and takes it to another level.
People are toys to the sociopath; to the sociopathic narcissist, they are trash. Sociopathy combined with narcissism can be extremely dangerous. Beware the narcissistic sociopath.
Officially, What is a Narcissistic Sociopath?
The American Psychiatric Association (2013) describes and defines both antisocial personality disorder (the clinical term for what is commonly called psychopathy or sociopathy) and narcissistic personality disorder in its authoritative Diagnostic and Statistical Manual of Mental Disorders, Fifth Edition.
Antisocial personality disorder is "a pervasive pattern of disregard for and violation of the rights of others, occurring since age 15 years"
Narcissistic personality disorder is "a pervasive pattern of grandiosity (in fantasy or behavior), need for admiration, and lack of empathy, beginning in early adulthood and present in a variety of contexts.
Those are separate definitions of these personality disorders. It is possible to be clinically diagnosed with both simultaneously. Cold callousness and lack of empathy for others, plus grandiose self-admiration and disdain for others equal a sociopathic narcissist who believes that she deserves to exploit people and dispose of them when finished.
Narcissistic Sociopath is a Bad Combination
Sociopath and psychopath are words that commonly describe antisocial personality disorder. Sometimes they're used interchangeably, but some experts differentiate between the two. Perhaps inserting narcissism into the mix might help people decide which term to use.
A sociopath doesn't care if he's benefitting anyone. Cold, calculating, and manipulative, he doesn't think about others at all unless they can benefit him.
A narcissist believes he's great, that everything about him is magnificent. He knows with unwavering confidence even beyond conceit that he's benefitting everyone around him and more (Narcissistic Personality Disorder Symptoms, Diagnosis.
In reading a wide variety of literature, patterns become evident. It appears that it is a combination of these personalities that constitutes a narcissistic sociopath. Further, it's the description of a narcissistic sociopath that is the common conceptualization of the psychopath.
Traits of a Narcissistic Sociopath
How do you spot a sociopathic narcissist? Watch for certain traits:
A driven quest for power. If a narcissistic sociopath cares about anything other than himself, it is destructive power and control over people.
Behaviors that seek love and admiration. To be sure, this isn't needy love. It's not even emotional love. It's superficial. A narcissistic sociopath sees love and admiration as power tools to manipulate and dominate (Do Sociopaths Even Have Feelings?).
No apologies, no guilt, no remorse under any circumstance. A sociopathic narcissist believes that she is a gift to the world who makes it richer and more colorful. Therefore, her calculated, even cruel actions are always justified.
Invincibility. The narcissistic variety of sociopath believes he is indomitable. Even punishment and prison can't stop him. They're merely part of the game.
Wholly self-serving. The needs and wants of others are insignificant and undeserving of consideration.
Act as the producer, director, and only actor of his own show. The narcissistic sociopath casts people in roles that increase his power and sense of importance and when bored, casts them aside.
M.E. Thomas is a self-proclaimed sociopath whose memoir (2013) screams narcissism throughout, writes matter-of-factly, "Ruining people is delicious."
Beware the narcissistic sociopath.
APA Reference
Peterson, T. (2021, December 17). Beware the Narcissistic Sociopath, HealthyPlace. Retrieved on 2023, December 11 from https://www.healthyplace.com/personality-disorders/sociopath/beware-the-narcissistic-sociopath
Last Updated: January 28, 2022