Books on PTSD and Stress Disorders
MUST HAVES for people with PTSD and stress disorders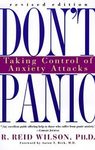 The Body Keeps the Score: Brain, Mind, and Body in the Healing of Trauma by Bessel van der Kolk M.D
buy the book 
Reader Comment:
"This is the new Bible for anyone affected by trauma, or who works in the field. Van der Kolk has synthesized the most important new breakthroughs in neuroscience, psychology and body-centered therapies, to create a coherent blueprint for understanding and treating trauma."

Extreme Fear: The Science of Your Mind in Danger
by Jeff Wise
buy the book 
Author Jeff Wise was the guest on the HealthyPlace Radow show to discuss the science of fear and how the simple model of "fight or flight" is now being replaced with a more scientific understanding.

The Anxiety and Phobia Workbook, 4th Edition
By: Edmund J. Bourne Ph.D.
buy the book 
Reader Comment:
"This book has made me a better person by helping me see who I really was. The sections on exercise, nutrition, and relaxation (especially meditation) put me into a new routine in which I am more prepared to deal with reality."

The Stress Response: How Dialectical Behavior Therapy Can Free You from Needless Anxiety, Worry, Anger, and Other Symptoms of Stress
By: Christy Matta MA
buy the book 
Reader Comment: "This book is very helpful in teaching how to relax and boost happiness. It is well laid out, making it easy to follow the necessary exercises and techniques. It teaches mood control; and the breathing exercises are particularly effective for reducing stress levels."

The Shyness & Social Anxiety Workbook: Proven, Step-by-Step Techniques for Overcoming Your Fear By: Martin M. Antony, Richard P. Swinson
buy the book 
Description: This new edition of The Shyness and Social Anxiety Workbook offers a comprehensive program to help shy people confront their fears and become actively involved in the social world.

Beyond Shyness: How to Conquer Social Anxieties
By Jonathan Berent, Amy Lemley
Reader Comment: "I have kept my shyness hidden for many years, partially because I was embarrassed and partially because I couldn't acknowledge it to myself. The author helped me to acknowledge that a problem exists and then through further reading, I was able to learn various methods to help conquer it."
APA Reference
Avila, R. (2016, March 17). Books on PTSD and Stress Disorders, HealthyPlace. Retrieved on 2023, December 9 from https://www.healthyplace.com/ptsd-and-stress-disorders/ptsd/books-on-ptsd-and-stress-disorders
Last Updated: June 5, 2019