Reiki for Psychological Disorders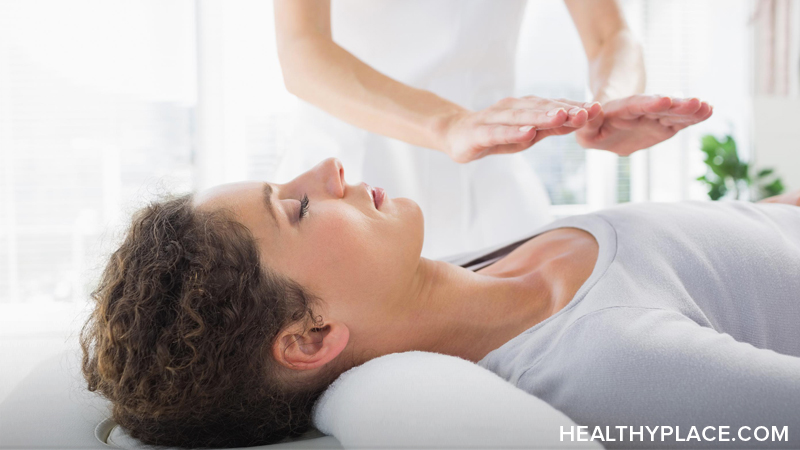 Learn about Reiki, a form of alternative healing, that may reduce levels of depression, stress and pain.
Before engaging in any complementary medical technique, you should be aware that many of these techniques have not been evaluated in scientific studies. Often, only limited information is available about their safety and effectiveness. Each state and each discipline has its own rules about whether practitioners are required to be professionally licensed. If you plan to visit a practitioner, it is recommended that you choose one who is licensed by a recognized national organization and who abides by the organization's standards. It is always best to speak with your primary health care provider before starting any new therapeutic technique.
Background
The practice of Reiki, which may be as old as 2,500 years, is mentioned in Tibetan sutras and in ancient records of cosmology and philosophy. The name Reiki comes from the Japanese words rei, meaning "universal spirit," and ki, meaning "life energy." The Japanese physician and Buddhist monk Hichau Mikao Usui revitalized the practice of Reiki in the 19th century. Hawayo Tokata introduced Usui Reiki to the West in the 1930s.
Theory
Reiki practitioners believe that beneficial effects are obtained from a "universal life energy" that practitioners channel to patients, providing strength, harmony and balance to the body and mind. Reiki aims to treat health problems and to enable patients to feel enlightened, with improved mental clarity, well-being and spirituality. Reiki is sometimes administered to people who are dying, with the goal of instilling a sense of peace. Reiki masters believe that all living beings are affected by universal life energy, and animals may be treated in the same manner as humans.
---
---
It has been proposed that Reiki can lower heart rate and blood pressure, boost the immune system, alter hormone levels, stimulate endorphins and affect skin temperature and blood hemoglobin levels. However, these properties have not been well studied or clearly demonstrated in scientific studies.
In Reiki treatments, practitioners position their hands in 12 to 15 different positions, which are held for two to five minutes each. They may place their hands directly on a clothed patient or hold their hands one to two inches above the patient. Practitioners believe that hand positions can cover all of the body systems within 30 to 90 minutes. The number of sessions varies based on the judgment of the practitioner. Participants have reported warmth, tingling, sleepiness, relaxation or invigoration during Reiki.
Sometimes a technique called sweeping is used at the beginning of a session; sweeping involves the practitioner passing hands over the patient. This technique is proposed to allow the practitioner to detect areas of energy disruption, imbalance or blockage and allows the practitioner to cleanse patients of negative feelings, emotions or physical burdens.
Evidence
Scientists have studied Reiki for the following health problem:
Autonomic nervous system function
One randomized trial suggests Reiki may have an effect on autonomic nervous system functions, such as heart rate, blood pressure, or breathing activity. Large, well-designed studies are needed before conclusions can be drawn.
Depression and stress
There is evidence that Reiki can reduce symptoms of distress when compared with placebo. More information is needed before a conclusion can be drawn.
Pain
Patients in a preliminary ("phase II") trial of Reiki in combination with standard pain medications (with opioids) were reported to experience improved pain control. Further research is needed to confirm these findings.
Stroke recovery
In a randomized controlled trial, Reiki did not have any clinically useful effect on stroke recovery in patients receiving appropriate rehabilitation therapy. Selective positive effects on mood and energy were noted.
---
Unproven Uses
Reiki has been suggested for many other uses, based on tradition or on scientific theories. However, these uses have not been thoroughly studied in humans, and there is limited scientific evidence about safety or effectiveness. Some of these suggested uses are for conditions that are potentially life-threatening. Consult with a health care provider before using Reiki for any use.
Addiction
Adjunct to surgery
AIDS
Alcoholism
Allergies
Anemia
Anger
Anxiety
Arthritis
Asthma
Bone marrow transplant support
Brain damage
Breast cancer
Broken bones
Cancer
Cardiopulmonary resuscitation
Cardiovascular disease
Cardiovascular risk reduction
Carpal tunnel syndrome
Cellulitis
Cervical dysplasia
Chemical burns
Chronic pain
Diabetes
Diabetic neuropathy
Diabetic wound healing
Drug withdrawal
Emotional problems
Emphysema
Epilepsy
Fatigue
Fibromyalgia
Gallstones
Grief
Guillain-Barré syndrome (a type of nerve damage)
Guilt
Headache
Heart attack
Hemophilia
Hemorrhoids
Hernia
Herpes zoster
Hiccough
High blood pressure
HIV
HIV-related pain and anxiety
Hysterectomy
Impotence
Labor
Mental problems
Migraine headache
Multiple sclerosis
Muscle spasms
Nervous system function
Neuropathy
Nosebleeds
Postoperative pain
Post-traumatic stress disorder
Pregnancy
Promotion of healing
Prostate problems
Psoriasis
Radiation sickness
Rash
Recovery from anesthesia
Reduction of adverse effects of chemotherapy and radiation
Reflex sympathetic dystrophy
Relaxation
Rheumatoid arthritis
Sickle cell anemia
Sinus congestion
Suicide prevention
Systemic lupus erythematosus
Trauma
Tremor
Ulcers
Varicose veins
Venereal diseases
Warts
Wound healing
---
---
Potential Dangers
Reiki is not recommended as the sole treatment for potentially serious medical conditions, and its use should not delay the time it takes to consult with a health care provider or receive established therapies. Serious adverse effects have not been reported in association with Reiki. Some Reiki practitioners believe that Reiki should be used cautiously in individuals with psychiatric illnesses.
Summary
Reiki has been suggested for many health conditions, but it is not well studied scientifically. Reiki should not be used alone to treat potentially dangerous medical conditions, although it may be used in addition to more proven medical treatments. Speak with your health care provider if you are considering Reiki therapy.
The information in this monograph was prepared by the professional staff at Natural Standard, based on thorough systematic review of scientific evidence. The material was reviewed by the Faculty of the Harvard Medical School with final editing approved by Natural Standard.
---
Resources
Natural Standard: An organization that produces scientifically based reviews of complementary and alternative medicine (CAM) topics
National Center for Complementary and Alternative Medicine (NCCAM): A division of the U.S. Department of Health & Human Services dedicated to research
Selected Scientific Studies: Reiki
Natural Standard reviewed more than 135 articles to prepare the professional monograph from which this version was created.
Some of the more recent studies are listed below:
Astin JA, Harkness E, Ernst E. The efficacy of "distant healing": a systematic review of randomized trials. Ann Intern Med 2000;132(11):903-910.
Eliopoulos C. Integrative care-Reiki. Director 2003;Spring, 11(2):46.
Fleming D. Reiki: a gift and a skill anyone can learn. Beginnings 2003;Jan-Feb, 23(1):12-13.
Kennedy P. Working with survivors of torture in Sarajevo with Reiki. Complement Ther Nurs Midwifery 2001;7(1):4-7.
Mackay N, Hansen S, McFarlane O. Autonomic nervous system changes during Reiki treatment: a preliminary study. J Altern Complement Med 2004;10(6):1077-1081.
Miles P. Preliminary report on the use of Reiki HIV-related pain and anxiety. Altern Ther Health Med 2003;Mar-Apr, 9(2):36.
Miles P. Reiki vibrational healing. Interview by Bonnie Horrigan. Alt Ther Health Med 2003;Jul-Aug, 9(4):74-83.
Miles P, True G. Reiki-review of a biofield therapy history, theory, practice and research. Alt Ther Health Med 2003;Mar-Apr, 9(2):62-72. Comment in: Alt Ther Health Med 2003;Mar-Apr, 9(2):20-21.
Olson K, Hanson J, Michaud M. A phase II trial of Reiki for the management of pain in advanced cancer patients. J Pain Symptom Manage 2003;26(5):990-997.
---
---
Potter P. What are the distinctions between Reiki and therapeutic touch? Clin J Oncol Nurs 2003;Jan-Feb, 7(1):89-91.
Scales B. CAMPing in the PACU: using complementary and alternative medical practices in the PACU. J Perianesth Nurs 2001;16(5):325-334.
Schmehr R. Enhancing the treatment of HIV/AIDS with Reiki training and treatment. Alt Ther Health Med 2003;Mar-Apr, 9(2):120, 118.
Schflett SC, Nayak S, Bid C, et al. Effect of Reiki treatments on functional recovery in patients in poststroke rehabilitation: a pilot study. J Alt Compl Med 2002;Dec, 8(6):691-693.
Schiller R. Reiki: a starting point for integrative medicine. Alt Ther Health Med 2003;Mar-Apr, 9(2):62-72.
Shore AG. Long-term effects of energetic healing on symptoms of psychological depression and self-perceived stress. Altern Ther Health Med 2004;10(3):42-48.
Wardell DW, Engebretson J. Biological correlates of Reiki Touch(sm) healing. J Adv Nurs 2001;33(4):439-445.
Whelan KM, Wishnia GS. Reiki therapy: the benefits to a nurse/Reiki practitioner. Holist Nurs Pract 2003;Jul-Aug, 17(4):209-201.
Witte D, Dundes L. Harnessing life energy or wishful thinking? Reiki, placebo Reiki, meditation, and music. Altern Compl Ther 2001;7(5):304-309.
Wong SS, Nahin RL. National Center for Complementary and Alternative Medicine perspectives for complementary and alternative medicine research in cardiovascular diseases. Cardiol Rev 2003;Mar-Apr, 11(2):94-98.
back to: Alternative Medicine Home ~ Alternative Medicine Treatments
APA Reference
Staff, H. (2008, December 2). Reiki for Psychological Disorders, HealthyPlace. Retrieved on 2023, December 6 from https://www.healthyplace.com/alternative-mental-health/treatments/reiki-for-psychological-disorders
Last Updated: July 10, 2016