Social Anxiety Disorder Test: Do I Have Social Anxiety?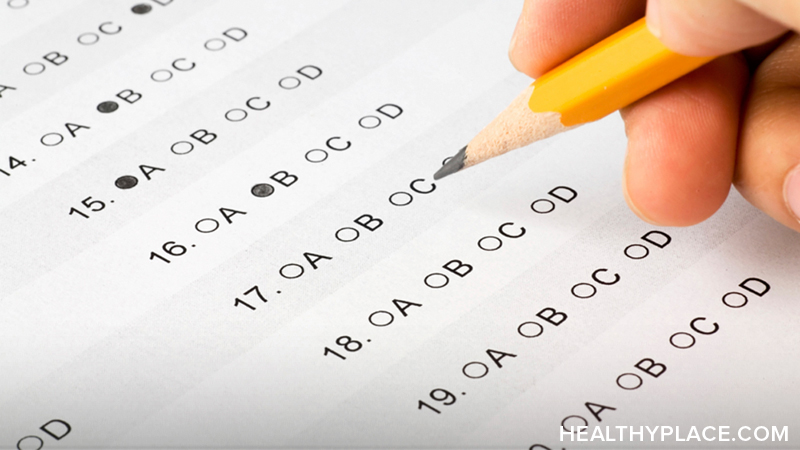 If you persistently feel awkward around others, or in public, you might wonder, "Do I have social anxiety?" This social anxiety test is designed to answer that question. This social anxiety disorder test will show both social anxiety and social phobia symptoms.
Social Anxiety Test Instructions
Carefully consider the following social phobia test questions. Record a yes or a no response to each question. See the bottom of the social anxiety quiz for information on what your answers mean.
Social Anxiety Test1
1. Are you troubled by the following?
Intense and persistent fear of a social situation in which people might judge you
Yes No
Fear that you will be humiliated by your actions
Yes No
Fear that people will notice that you are blushing, sweating, trembling, or showing other signs of anxiety
Yes No
Knowing that your fear is excessive or unreasonable
Yes No
2. Does a feared situation cause you to...
Always feel anxious?
Yes No
Experience a panic attack, during which you suddenly are overcome by intense fear or discomfort, including any of these symptoms:
Pounding heart
Yes No
Sweating
Yes No
Trembling or shaking
Yes No
Choking
Yes No
Chest pain
Yes No
Nausea or abdominal discomfort
Yes No
"Jelly" legs
Yes No
Dizziness
Yes No
Feelings of unreality or being detached from yourself
Yes No
Fear of losing control or "going crazy"
Yes No
Fear of dying
Yes No
Numbness or tingling sensations
Yes No
Chills or hot flushes
Yes No
go to great lengths to avoid participating?
Yes No
have your symptoms interfere with your daily life?
Yes No
3. Having more than one illness at the same time can make it difficult to diagnose and treat the different conditions. Depression and substance abuse are among the conditions that occasionally complicate social anxiety disorder.
Have you experienced changes in sleeping or eating habits?
Yes No
4. More days than not, do you feel...
Sad or depressed?
Yes No
Disinterested in life?
Yes No
Worthless or guilty?
5. During the last year, has the use of alcohol or drugs...
Resulted in your failure to fulfill responsibilities with work, school, or family?
Yes No
Placed you in a dangerous situation, such as driving a car under the influence?
Yes No
Gotten you arrested?
Yes No
continued despite causing problems for you or your loved ones?
Yes No
Social Anxiety Test Scoring
Sections one and two of this social phobia test are designed to screen for social anxiety disorder and panic attacks. The more you answered yes in these sections, the more likely it is you have social anxiety or social anxiety disorder.
Sections three, four and five are designed to screen for additional mental illnesses that commonly occur with social anxiety, such as substance abuse or depression. The more you answered yes in these sections, the more likely it is you have an illness in addition to social anxiety.
If social anxiety, social phobia or any other illness is a concern, take this social anxiety disorder test, along with your answers, to a licensed professional like your doctor or a psychiatrist. Only a health care or mental health professional can make a mental illness diagnosis.
See Also
APA Reference
Tracy, N. (2022, January 10). Social Anxiety Disorder Test: Do I Have Social Anxiety?, HealthyPlace. Retrieved on 2023, December 11 from https://www.healthyplace.com/anxiety-panic/social-anxiety-disorder/social-anxiety-disorder-test-do-i-have-social-anxiety
Last Updated: January 16, 2022