Tips For Partners Living with Dissociative Identity Disorder
Living with dissociative identity disorder (DID) presents unique difficulties, whether you're the one that has it or the person who loves the one living with it. I can only imagine how frustrating, confusing, even painful it must sometimes be to have a partner with DID.
I've witnessed how challenging it often is for my own partner and, if some of the comments I've received here at Dissociative Living are in any way representative, her experience is typical. But it's also largely ignored. Partners of people with DID don't get that much support or encouragement, primarily because only those who've been there can truly understand (Caregiver Stress and Compassion Fatigue).
3 Tips for Partners Who Love Someone Living With DID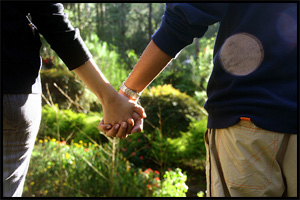 As someone with dissociative identity disorder, my perspective is different than my partner's. I think that's what makes hers so important. Significant others are in a unique position to offer viewpoints and ideas that might otherwise be overlooked. When I asked my partner what she'd say to someone in a relationship with a person with DID, this is what she said:
Know and maintain your own boundaries. You can't support others if you aren't supporting yourself. You're going to let your partner down sometimes. That's true in any relationship. When you let someone with DID down, the ramifications can be far-reaching and surprisingly painful. It may be tempting to make your own needs negotiable in order to ensure peace and stability. But that will backfire eventually by sowing the seeds of resentment and creating an unhealthy imbalance. Knowing your limits, and making the hard decisions required to honor them is vital. Believe me, sacrificing yourself won't heal your partner's wounds anyway.
Nearly impossible, but try to learn how to not take it personally. You're going to be the villain to some no matter what. People with DID generally have trust issues that nearly incapacitate them in relationships. It's not unusual for protective alters to attempt to sabotage intimate relationships. That's not about you.
Learn as much as you can, but remember all systems are different. There is no way to be in a relationship with someone with DID and not be profoundly affected. Living with dissociative identity disorder is just plain hard. It only makes sense to educate yourself. Not for your partner's benefit, but for yours. It's awfully hard to cope with something you don't understand (3 Ugly Truths about Dissociative Identity Disorder).
Living with Dissociative Identity Disorder Is A Choice for You
Those of us with DID don't have the option of walking away from the illness. You do. For my part, I'd like to remind you that no matter how it feels, DID isn't forced on you. You can leave, or choose not to get involved at all. Those of us with this disorder would spare you if we could. So when it gets rough - and it will get rough - please remember this: living with dissociative identity disorder is a decision you're making, not something we're doing to you. Blame us for our choices and behaviors ... not for having DID.
Follow me on Twitter!
Photo by Randy Pagatpatan
APA Reference
Gray, H. (2011, January 17). Tips For Partners Living with Dissociative Identity Disorder, HealthyPlace. Retrieved on 2022, November 28 from https://www.healthyplace.com/blogs/dissociativeliving/2011/01/for-partners-living-with-dissociative-identity-disorder
Author: Holly Gray
I have been with my wife for just over nine years. Just after we got married alters started to really show themselves. This was about four years after dating. Over the years since, a lot of things that happened in the past make a lot more sense. Note, I have also know this person since high school.
To date I have met most of the "others" as we call them in conversation (as they do also). There are twelve of them. One I was told died. I assume from what I have learned this particular one merged. None the less. This makes for a full house. I brought three children with me into this marriage. None of them to date have been told of the others.
It makes for an always changing, sometimes chaotic, stressful environment for me. Also, as noted above, sometimes lonely. I admit it has made me mad, sad, laugh and cry. I sometimes think, I did not sign up for this! But, I did. I married her because I loved her, all of her.. sickness and health, 4 year old or 60 year old.
I am searching for avenues of support as I can't talk to anyone about this. A couple friends know, and we get that.. "oh really?!"..
Hello! My name is Kai, and my friend (who I'll call "C") has DID. I have had a long distance romantic relationship with one of his alters, who I'll call "A," for over a year, and we visited in person last summer. I had a wonderful time with them all, and it was one of the best times of my life.
Today, "A" told me that their therapist and the others voted that he needs to reintegrate, in order to strengthen "C," the main core of their system. I am devastated, but of course i understand. I love them all in their own ways, and want whatever is best for their system as a whole.
We said our farewells today. "A" said he won't be fronting again. I still am going to be friends with "C," and the others in his system of course... But... Do you have any insight as to how i should best deal with this loss? I feel like there's been a death, even though "C" is still alive. I don't want to burden "C" with my grief, he's struggling enough on his own right now, and, it's really complicated for me to explain to my own therapist, i don't feel like she'll understand it. I don't know anybody else who was close to "A," (he was a protector), so, there's nobody for me to grieve with about this... I feel like it's selfish of me to feel this way, and of course i want what's best for "C," and for their system as a whole... But it hurts so much, and i don't know where to turn. There's almost no information on navigating relationships with partners who have DID, or relationships with alters, let alone how to cope with losing someone to integration.
Thank you.
Hi holly, im in a 5yr relationship i love my partner but finding it hard to accept thst one of my partners alters has fallen in love with someone i dislike. Im trying to understand be strong for both of us. My partner is struggling to accept they are a part of her and have to use her body. She understands they all have a right to a life and so do i. But im strugggling and the alter thats in love is the protector and because ive made mistake in the past by not understanding as fast as they want me to. The alter doesnt care about us anymore. Im trying everyday to work on myself but strugglijg to accept that any day the alter will walk out on me. I wanna be with my partner for the rest of my life but im scared im not gonna be good enough. Im finding it hard to seperate my parter from the main alter as the alter doesnt wanna speak to me. My question is how do i accept this relationshipthe alter has?also how do i accept alwys coming last? Her and her alters come first i accept that but im always left behind always last to know everything im always kept in the dark but yet the alters parter knows almost everything. I dont mean not to feel good enough but honestly cant help it. Please email me i need help just advice
I've been trolling the internet relentlessly for the last couple of months, reaching out to any and everybody, both legally and mental health related. I just happened upon this page and the tears are literally streaming down my face. Just to hear there are people out there like me, it was like exhaling for the first time. I'm not same sex, but I live in Palm Springs :) LOL. (I always fall back on humor when i really just want to collapse.) I've been so immersed and alone in this bubble of mine. i feel like I'm screaming at the top of my lungs and nobody hears me. There are so many questions I have, so many stories i could tell, most of which, at the time i didn't realize what was happening. It is now, now that its too late that I'm putting all the pieces together. Here is basically what I've been putting out there.... I need help!!! My boyfriend , I believe, no, I'm CERTAIN has DID. (Dissociative Identity Disorder)The more I research, the more I know without a doubt. He has not even fully come to grips with it. He is very good at hiding it. Most people just think he's a jerk, but I swear, he has like 17 alters. A good majority are childlike or adolescent. And for every thing that he absolutely hates and will not tolerate, there's an alter that does that exact thing. It took me a while to put the pieces together. I'm no stranger to mental illness, but this is like nothing I've ever seen. The man i fell in love with is the sweetest, funniest, cuddliest and introspective guy. He is always working on himself, admitting his faults and trying to get better. And then, there's that m@$&#%*%er that has not an ounce of soul behind his eyes. No feelings, no remorse ….. nothing. Just pure hatred. I am not naive nor am I ignorant. And my intuition has always been notable, and everything in me is saying DONT GIVE UP! He has never been treated for or diagnosed properly so he has never even had a chance. He is one of 9 kids raised by a single mother in a Hispanic family where mental illness is not talked about or considered. I know that he for sure has attachment disorder and abandonment issues compiled in there. He is a case study for sure. I have no doubt with the right psychiatrist/therapist who can tap into what caused the dissociation (I am certain it was severe abuse and his vehement denial of such makes me even more certain) he could be a highly functional flourishing individual. He is very smart, driven and kind. This is a person who would NEVER pass a person who needed help, ignore a homeless person, He even negotiates with bugs to get them out the door so he doesn't have to squish them. He is tortured inside. You can't fake the fear, sadness and defeat you see in his eyes. He thinks he has a demon in him. He feels unworthy of love. The reason I'm asking for help is he is currently in jail awaiting trial for torture and battery…….. I'm the victim. I can tell you , the person who did those things to me was not him. He doesn't look the same, he doesn't talk the same and he has NOTHING behind those eyes. This may sound nuts, but I swear , he's even taller and more muscular. When he is present, I feel nothing. Well, I do, but it's all bad. I could kill him with my bare hands and dance on top of his dead carcas . Part of me is nothing but relieved to be rid of him. But when I see the light come back to his eyes and the shame and sadness in there, it breaks my heart. Its worse than anything he could do to me. As you know, torture is a life sentence. I can't let them throw away an entire life without at least trying to save it. I've attended NAMI support groups and they did say not to mention the DID part. As that diagnosis is still not accepted as valid by some. Nobody will listen to me. They all label me as traumatized, making excuses, in denial, codependent.....etc. I have no doubt that I am a lot of those things, but I am also a very smart, educated and strong woman and I have the ability to sift through the BS, and differentiate FACTS from FEELINGS. I've got a long road ahead and i am well aware of the physical and severe emotional damage that i have endured. I know that i need help with that. There's no way I can deal with it alone. I also know that i have all the time in the world to utilize these resources. He, on the other hand, has none of that. So, for now, i am putting my issues aside and forging on! Every day that i wake up, i brush off all of the rejections and try something new. I tell myself "today is going to be the day". I am no quitter! I am a fighter! I know I'm going to do something important, and when I get to the other side of this, i know I'm going to be able to help somebody else who feels just as defeated as I do now. I'm not even saying that I can stay with him because I can't ever risk being in that place Again. I could've died. But I do know the wounded,tortured and loving soul in there. HE DESERVES A CHANCE!!!! I'm not going to just give up on him and throw him to the wolves. All he's got is me. My words mean nothing to anybody. I need someone to stop what's going on. Put on the brakes and have him evaluated. NOT BY ANOTHER BIASED PERSON ON THE STATES PAYROLL.They claimed that's what they were going to do, but they are liars. His PD won't even return my calls and I guess she doesn't even have any contact with him either. No evaluation has been done and his next court date is the 28th. HE HAS NO IDEA of the magnitude of his situation. Any help would be most appreciated. There is also a criminal protective order keeping him from contacting me. I want to file a motion to have hat removed. I'm the only one out there fighting for his rights. I have nothing left, but my will and determination but Trust, it is fierce! I will do anything to make sure he doesn't get tossed aside with yesterday's trash. Thank you, Tracee Ekins Well, that's my situation in a nutshell. I am struggling with how to deal with HIM because I cant look into his eyes and know how to deliver what I need to say. I struggle with how to deal with THEM because i can't show any emotion at all, otherwise I'm just a victim. This happened April 4th. I have not stopped fighting for a single day since. Court is on Thursday, and I have NOTHING solid. To be honest, I'm not entirely sure what it is I am even looking for? Now, of course, he thinks God is going to take care of everything. Until I have a plan in action, I am just letting that one ride with him. Now that I know the various alters, it is anywhere BUT safe to be tapping into any of them where he is now
Hi just would like to add is if you notice your partner going into one of there mood swings and trust me you will notice it think of a nice place you and your partner recap with your partner over a tea or coffee make sure you are both in a comfy room such as the bedroom and 9 times out of 10 your partner will nod off and you will probably to when they wake they will not remember a thing the was really getting at them they will only remember the lovely chat over a drinks if they do ask you just say to them no we were only chatting we both had a sleep trust me this really works please fill free to email me if it has worked for you.
I have a husband of over 50 years both in our 70s. He was seriously sexually abused as a child by his mother. This has created a great need and he has manipulated his life to have a long term similarly affected person he supports on the side. He comes home to me every night. We now have group therap;y. I have been in AA for 18 years, Alanon for over 30. THis has kept me alive. He goes to AA with me now. Quite a number of men in AA have found a place to deal with their abuse and MPD. God is with us.
My husband was finally been diagnostic with did about 15 yrs ago I always was diapointed by his actions which was there along time ago when his father died ied he really came out cocaine quit hit his job and then started abusive bahavior raping me calling me lesbian then he had to where I was at all times jaws told toldes to leave him but I had no place to go. Things have gotten better but suffer depression and and anxiety I can tell when he changes now but don't love him anymore but I try to deal but he is still makes scared because I never know what's up I am trying to be spupported but is. really hard and there nothing I can do I hope others are stronger then me and deal with it
So wondering if anyone else has dealt with a similar situation. My fiancé had informed of his alters, but only recently have I seen or interacted with them. It all started because he met someone. He has 3 alters. Bobby (host, shy), Kitty (female, lesbian, polyamorous extrovert), and HD (aggressive, polyamorous). When we first started dating we discussed having a poly relationship. I said I wasn't there yet but maybe eventually. Well, Kitty, met a bi girl she is interested in.
All three personalities say they love me, but Kitty and HD really want to pursue this other relationship and I am really struggling. I feel like a third wheel. Has anyone else had an issue with the alters falling in love with someone else? How do you cope?
I don't know what to do my gf (I'm also female) has broken up with me this time over me not being over her leaving me for the person she cheated with that abused her I was indirectly being argumentive n rubbing in her face what she did name calling,saying I forgave her but kept thinking when she was being quiet or not paying attention to me that she still wanted him or loved him I keep telling her if I knew he abused her j wouldn't have raised my voice let alone brought him up as I was a battered woman in the past myself I thought I wasn't being a scary mean person and I was and now that we found our about her disorder I'm thinking back to when she started the lying n cheating (she was also using meth saying she wasn't anymore she'd never done drugs before that time )when she changed the way she treated me n started doing n saying all theese evil things using my past against me I got distant n disconnected n wasn't paying all my attention to her anymore cuz I felt unloved n unwanted I told her my girl would never say n do this things or want someone else it escalated. Got worse resulting into a breakup n j stayed loyal n still pleaded for us to fix things cuz I really felt she wasn't herself it was the drugs she still was even more mean calling me up with the other person there saying how she didn't love me n didn't want new to leave her alone followed by her accusing me of using saying she wasn't n saying she wasn't in the other relationship with whom she cheated with when I knew she was so she was super mean n I was still professing I loved her n I wanted my girl back that he'd never live her like I did long story short as I can make it she finally got rid of him after he abused her n got her on even more types of drugs she almost oded n died so when she wanted me I came running promising I was over it hense the beginning of this comment. This time I was the aggressor I thought she still loved n wanted him when she'd go all ghost on me (not there) n we fought this time when I yelled I seen her clamor n shake and run n I never abused her before so I asked if he put his hands on her she never answered she cried n days later I find on her safari stuff about pregnancy n meth so I flipped cuz she said she never had sex with him she said she did just one time n her period was crazy n she didn't wanna hurt me telling me I told her the like hurt more she said she had to cuz he made her feel bad but again when u tried to talk about it she shut down and there's now I had to deal with court outta state n when I was ready to come home she said I couldn't cuz I hurt her bringing him up n j scared her when I argued I'd never scared her before so I was even more upset I mean I said n did things not thinking n one night drinking around the kids n I really didn't mean to cuz I love her kids like my own truly. Well now I've read about what I was doing that I thought I was innoscent of n now finally understand fully where I was wrong about he argumebtness around the kids n what I was bringing back to her that was painful I've bn basically begging for a second chance now that I know he abused n practically raped her n she has this disorder and I just wanna come home n show her I've changed my actions n k understand now what she went through as I would have before had I had known and the more n more I read about to the this disorder I can't help but think it had alot to do with what happen the first time we been up n I feel I would have tried harder n loved her more id a never stopped giving her attention cuz I fear that that may have bn a factor in pushing her into the arms of an abuser n it's also my fault I'm dunno what I can say is do anymore for she's telling me it'll never work I'll still argue n think she's cheating n I keep telling her I will not I just wanna right my wrong make it up to her n love her through this new disorder she's had since childhood we believe the drugs have awakened she also has issues with her parents being penocostal n in fear they'd disown her if they knew she was gay and still I don't feel and and wanna save her it's not about thatvor her disorder I lived her before I loved her through her leaving me for someone else n inlive her still the same now I just want my relationship n my family back I love her n those girls more than my own life and I don't care how many personalitys come fourth I'll love her still and just the same even the alters that could possibly have set us up for sabotage I know they're just protecting her because she always seemed to be in relationships where someone left her cheated and emothionally abused her making her feel unloveable unwanted n set up for failure Everytime and she's never had a real relationship where it seems like she was tryly lived at all let alone one worth a female when she feels she's bn gay her while life she's bn afraid to cuz of her family n what we had was almost perfect before the drugs n he boy who broke her heart in high School stepped in. I just need advice how can I get her to believe me when everything n everyone inside her is telling her not to to protect her this girl to me is my one true love my soulmate everything I ever wanted in a partner I just want her back I wanna love her and live with her through this she's scared a he disorder she doesn't wanna have it but she does and I just wanna marry this girl n give her the best love that I can the best a everything that I can I dont have alot a $ I can't buy her alot of things but I can love her n take care of her n those girls and be there for her I know I messed up too n she doesn't wanna forgive me but I'm sure one of them does and I'm sure I could show her I've forgiven her n the past is the past now that I've learned things about myself not just her. So plz any advice HELP ME BELP US
Fiance' acts 100% completely when he is stressed...He is the most caring and sometimes overly attentive to my needs BUT when he gets stressed out or we have an argument (that may or may note a part of something greater than I can probably handle. He says the most hateful things to me, one of which hurt me to the core because I was sent to a treatment center because my depression got so bad, he told me in a heated argument that resulted in catching him in lies, "Just go back to the hospital, I'll help you pack!" Someone who is genuinely loving toward me and will do anything to help another said that to me and I can't process it all. I noticed that he may have something there inside him when I told myself that "he just does not look and sound like himself". He has not been tested and I really don't know-how to bring it to his attention without triggering. He has been lying and making inappropriate comments to other females but when I do confront him this extremely ugly personality comes out, it's the only way I describe it, then " shut up, you fucking bitch, etc" comes out of this person who would die for me. I would say 8/10 times, he doesn't remember even saying those things. I'm so scared for us. I don't know what to do. Everyone here commenting knows their s/o has the disorder, what advice can you give someone that doesn't even know yet what she's dealing with.
I just been diagnosed with conversation Identity Disorder after doctoring for two years. My girlfriend refusing to have any kind of sexual relationship and we been together for 5 years. I'm so hurt and frustrated. She won't even allow me to hug her. I don't know how we can. Get past this.
I'm having a hard time dealing with my S/O's alters. One in particular hates the very air I breath. I can't do anything I do or say is wrong. I've been fighting a lot with the alter and when I argue/fight back he hurts himself. He tells me I'm abusive and I'm a piece of shit. I don't talk to anyone about it, I thought I was handling it, not taking it personally but all I have been doing is crying. I realize that on an intellectual level that this is not the person I love saying these things, but my heart hurts. I feel like I can't dig myself out of this pit, nothing I do to try and fix things is working. The alter is coming out more and more and just literly trying to make me crazy. I'm trying my best but it's not good enough.
My gf of 5 years is considering integration especially after a huge fight we had been and ended up being an alter trying to keep me from her. I want her to do this if she wants to NOT for me. I was wondering if there is more information out there that I can read on about integration pros cons everything. I know that it's a hard long process but I know she is desperately ill and needing advice and guidance and want to make sure I discuss everything with good knowledge of it.
I'm so confused, heartbroken, and hurt. My spouse of almost a decade was just diagnosed with DID and told me about it last week. We have had hard patches of course. But he has hidden so much from me and himself. Now that we know he is trying to not turn off and let the personalities out. We have two children. 7 and 4. He asked me to really consider and that I can leave if I want but he really needs me as a friend to help navigate how to learn to live like this. It explains so muc. How he can be all over the place every other day. I can't just leave. He finally told me how just how much he doesn't remember. Sometimes he doesn't remember the birth of our children... I am so heartbroken. For him and myself. I don't know what to do. Or where to start. He is in therapy but most of the time his businessy personality thinks couples therapy is a waste of time. I have had a very hard time finding myself a therapist. I have always put my husband and children first. I also suffer from moderate occasional depression and anxiety. He has always been so busy keeping himself in check. It makes total sense now how he just doesn't see me or what I'm going through. Does anyone have a happy life with a spouse with DID? So far I haven't been able to find any happy ending stories. How do I explain to my young children, oh yeah, daddy's a different personality today. So he probably won't want to play with you and will have zero patience if you don't acknowledge him when he speaks to you. Just wait for the other personality to come out and want to play on your bedroom floor with you. I just. What am I supposed to do?!
Im so confused. What do y'all mean by "Alter?"
So my girlfriend has DID. Which I'm totally ok with. But the alters want to date people and have intercorse and stuff but idk how I feel about it. Help me?
Hi everyone, wow you're all echoing my life right now. This is soul diminishing isn't it?!?!? I'd never heard of DID, I just chanced upon it during one of my numerous web searches asking for help with my fiancé of 7 years. I too thought at first it was because he was hooked on drugs, then I thought it was the alcohol, then whatever else was thrown my way. But it's only because of chancing upon a description of DID that I was able to look back at our past, very tumultuous relationship, that I began to 'see' when he changed, and how often he changed. Surely there HAS to be a way to talk to them, the host, or to draw them out of hiding?!?!? I've been told once, when I asked when my partner was coming back, "he's not coming back!" Is what I was told. That was 2 years ago and our relationship has been no where near as close as it used to be. I'm starting to think he actually hasn't come back and I've been trying to fix our relationship with an alter.
I've witnessed a switch. This probably sounds melodramatic but it really did look like his eyes rolled back in his head (they didn't) but his eyes became very, very dark, his face seemed to darken too, and any signs of empathy disappeared completely. I call this one the gatekeeper.
The thing is before I was aware of what I was dealing with I said some pretty dumb things to him. I thought at one stage he was possessed, so I walked up to him, looked him dead in the eye and said "give it your best shot buddy, you don't frighten me. If anything YOU should be scared of me!" ..... oops! That's the LAST thing he needed to hear. ☹️
Oh this is so heartbreaking. He's moved back in with his parents and I know/feel very strongly that they are either the cause of this or they've tried to bury it, cover it up and just pretend nothing happened. Because around them is when he switches more often. Like the rest of you, I just don't know what to do or where to go for help. I've promised him I won't abandon him. I never have and never will, but he has shut the door on me! So what do I do?
I was reading this and it struck a cord with me. I usually don't leave comments, but I just want to say that my mom has d.i.d. and this is a confirmation for me. No matter all the goods things I've done for her, she makes me out to be the villain. She went to extremes and helped other people to bring me down. I don't take it personally, because I recognized that something wasn't right when I was a kid. It doesn't feel good with the abusive behaviors of my mom, but I've learned to keep my distance and set boundaries
Can someone send me a email about this i Have a partner and we are going true a horrible stage of did and I have to talk to someone that has it too to get a diffrent view point.
I met a guy online started out as a friendship within 2 wks I decided he seemed harmless then he told me he loves me after a month that's a red flag. As the relationship progressed he flipped then act as nothing happened. He plays people just like teens do between parents to get what he needs. He mentioned he grew up in an abusive home. But then he says his mom's a cardiologist Dr. He graduated high school early joined the Navy and college. I had a worse childhood and dealt with it. What he'd tell me never made sense I'd catch him in lies. I'm 10 yrs older than him. He's destroyed the other families house where he was living he's not from here so of course I felt bad excused his behavior on alcohol. I told him he can't drink alcohol and he needed to seek help. He's been here 9 months we dated for 7 on and off. I recently found out he has a gay alter this person showed me the picture my ex sent him a dick pic and a message professing his love for the married man. He gets lost easy and panics. I constantly have to repeat myself. In the meantime I have a disabled son I'm disabled with rare spine disease and my dad is fighting cancer an aggressive cancer. He's too much to deal with especially when he adds more problems. My ex never said he has DID. He is on disability he told me he lied to get it. I figured it was because he was in the military. He's told me he has iq of 160. He doesn't act like he does in the last 4 months he's been arrested 4 times. He's 38yrs old and never got his driver's license. I had him removed from my home. It's been over a wk. He's still bothering me I've blocked 6 numbers he's called me from. He's on probation and homeless I even told him please go find someone else. He uses emotional blackmail to get his way. It's draining I think he sneaks on my property and sleeps behind my garage ugh he can go to the homeless shelter what else can I do so he'll leave me alone I feel he's obsessed with me.
I have been married for 3 years, and we have been together on and off for about 8 years. Recently, it seems my wife can not get over issues we had together in the past. She only blames me. It always my fault. The past 6 months I have been beating myself up over this, but recently when I was removed from our relationship by an order of protection, I could finally see things differently. In the order, my wife stated I had issues such as I abuse my legal meds, I am mean to my stepson, when everyone else knows differently. If I ever made 1 mistake, it is held against me to this day. What didn't make since in the order of protection, is that she told fabrications about me being an abuser of my meds,( since I did not stop taking them after my 1 yr old son accidently digested part of one,) yet she still allowed visitation with her alone with the kids and I. It is as she had to control the circumstances of our relationship.
My wife had a very difficult childhood. She only gave me glimpses into the past. Her parents where constantly fighting in front of her, and she once told me about her mom throwing glass dishes at her. Along with this, she had an accident in which she fell on a 4 inch knife and has a large unexplained gash in the back of her head. She to this day, doesn't know what this is from, but based upon her hating her parents for a number of years, I believe she thinks it was because of them. Like dropping her as a baby.
Given the difficult past of my wife, and the back and forth of her treatment of me, I found many similiarities between DID and her.
Yet, I don't want to accuse her of this? I have asked her to go to counseling with me, but she refuses. She told other she would go to marriage counseling, but when she talks to me, it comes to my issues. This is really how its been for the past 3 months. But prior, one minute she would love me, the other she would hate me. In the last months, we would be getting along great and then, all the sudden, it was as she put up her guard and was someone else.
What really hurts, is my wife has been through this before. In her first marriage, she completely removed my stepsons biological father and grandparents from his life. She never even had the discussion with my son, about his legal last name. He learned his legal first name on the first day of 4th grade when he attended a public school and they required him to use his legal name. Based on what I gathered over the years, the dad and family tried, but after 2 years, they called it quits since his dad wasn't that attached after 4 months with my stepson when he was a baby.
Now, I have an order, and it is turning into the same scenario. At first the order was place against me, and now she has told my parent they can no longer see the kids, because I am mismanaging the money. Yet we came to agreement in court on this, and this was her idea, now when it effects what she wants to do, it sets her off. And just days before, she was crying and breaking down in my arms, and then she wants to have me arrested the next week.
I am not a doctor. And the last thing I want to do is make this claim in court, but if anyone that reads this maybe able to offer some suggestions, outside of get out of the relationship, it would be appreciated. I am fine moving on, I've accepted that over the past 6 weeks of the order, but now my concern is how to move forward, so I can still be in my 3 kids lives.
Thanks
I have been reading a number of articles, about behavior similar to my wifes, and DID and her have a lot in common.
Oh please tell me this site or link is still up. I have so many questions.
My husbands suffers from DID and paranoia schizophrenic . We've been married for 12 years, and it has been extremely difficult. He has left me multiple times and has had affairs, which were my fault due to him thinking I was cheating. He has moved us from state to state away from my children and family. I feel isolated and alone. He doesn't sleep, every noise he hears, makes him Paranoid. He thinks someone is in the house, or that I'm hiding a man under the bed.He has the house with Booby traps, constantly accusing me of cheating or hiding things. He is watching my every mood, makes me feel as if I am a bad person. I'm lost and torn on how to handle him at times. I don't feel safe at times due to mean scary threats he makes. I don't know how much more I can take. I love him dearly and have supported him thru all of this yet I feel as I'm being punished for his altars. What to do? Lost and alone joy
Leave a reply