Creative Projects for Recovery from Mental Illness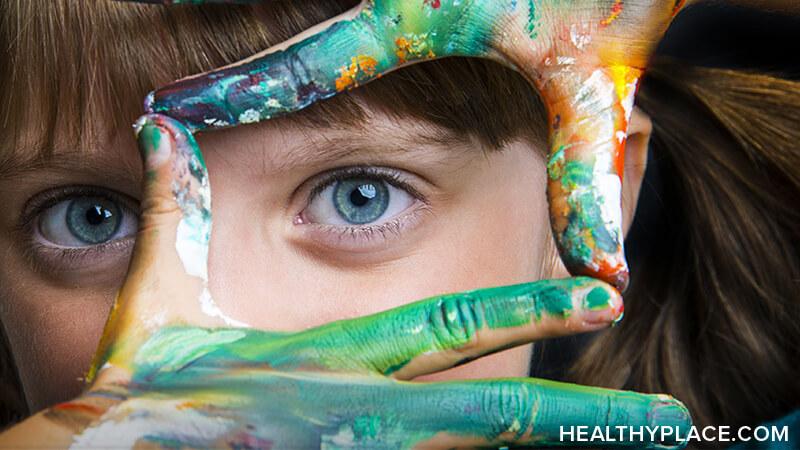 Using creative projects for mental illness recovery helps me immensely. The arts have played an integral part in my recovery from schizoaffective disorder. It all started with a five-week stay at a treatment center where I received my initial diagnosis. There was a lot of downtime at the center and I was frequently digging through their stash of art supplies. I had frightening visual hallucinations and found it very therapeutic to draw them.
When others could see what I saw, my hallucinations lost their power over me and I felt less isolated. A few drawings and paintings turned into many which then turned into a more serious pursuit. Over the next several years I participated in group and solo art shows all across North America. Recovery is full of surprises, and my life was taken in a direction I would have never expected prior to my admission to the treatment center, the place where my recovery journey began.
But it gets better. I now have my dream job. For the past year, I have been running a small arts center. The center is a part of a local mental health organization that helps the homeless in securing permanent housing. I now help others use the arts to tell their own recovery story. The job is a perfect fit for me, and I feel so grateful to be able to make a living doing what I love while helping our community.
At the arts center, we do a variety of activities in visual art, music, and writing. I would like to share a few of our art and writing projects.
Some Creative Projects for Mental Illness Recovery
Our visual art activities are popular among our participants. Mediums include colored pencil, marker, acrylic paint, and photography. Every Tuesday, we have "open art" where participants can choose their supplies and are free to experiment, explore, and find different ways to tell their stories.
A More Structured Project with Masks
"Inside/outside masks" is a more structured project. For this project, we used blank mask templates printed on cardstock and decorated them using colored pencils, markers, and collage materials. Each participant created two masks. The first mask represented how they felt on the inside and the things they hid from others. The second mask was them on the outside -- how they presented themselves to the world. When we finished our masks, we spent time sharing our work.
You can find lots of versions of this project online. Check out Pinterest for examples and ideas.
A Collaborative Project Using Visual Art and Poetry
This was a two-part project. First, a group of our writers anonymously wrote poems. The next day, our artists were randomly assigned the poems to inspire drawings and paintings. The results made a beautiful exhibition.
Recovery Prompts from Our Writer's Group
Our writer's group always meets the second Wednesday of the month. We usually have a theme with corresponding prompts. Here are a few we have used this past year:
Pain and chaos: The prompts for this group included, "Are there benefits to experiencing pain?" and "Which do you experience more -- real or manufactured chaos?"
Enough: This group was about limits. Our prompt was, "When is it enough? How do you know when you've reached your limit?"
Love and acceptance: We wrote about self-love as well as relationships. Prompts included, "What does unconditional love look like?" and "When do I feel happy in my own skin?"
Past, present, future: We started by writing about a childhood memory. For the present, we used our five senses to describe the environment around us right at that moment. Then we finished up by writing about future goals.
Spoken Word for Recovery
Our spoken word workshop resulted in an afternoon of powerful performances. The audience was so moved that people not involved in our workshop got up to speak. I felt like it brought everyone in the room closer together.
Over three weeks, we met for two, two-hour workshops and a final performance. There are plenty of examples of spoken word performances on YouTube as well as music and beats to go with the words. Most of our participants chose to stand up with their journal and perform without music.
We plan on repeating this activity soon.
Activities for Fun
Some days we give the heavy topics a rest and just have fun. One relaxing drawing project is scribble drawings. Quickly draw and loopy scribble and fill in the closed shapes with different colors. Zen tangles, mandalas, and adult coloring books are also relaxing and fun.
Finding Creative Projects for Recovery Is My Job
This job is not only something I'm passionate about, but it also challenges me. I'm the only employee based at the center, so I do everything from cleaning and buying snacks to planning groups and events. Preparing topics and projects for groups can be a lot of work, but I really love doing it. I'm learning a lot. I've grown leaps and bounds as a person since starting my job a little over a year ago. I can't even begin to say how grateful I am.
Do you have any creative projects that have helped you in mental illness recovery? I'd love to hear about it in the comments.
If you try any of the projects or writing prompts mentioned in the article I would love to hear about that, too.
APA Reference
Rahm, M. (2019, August 21). Creative Projects for Recovery from Mental Illness, HealthyPlace. Retrieved on 2023, December 6 from https://www.healthyplace.com/blogs/recoveringfrommentalillness/2019/8/creative-projects-for-recovery-from-mental-illness
Author: Megan Rahm