I Suck at Goodbyes: Lessons Learned and Moving On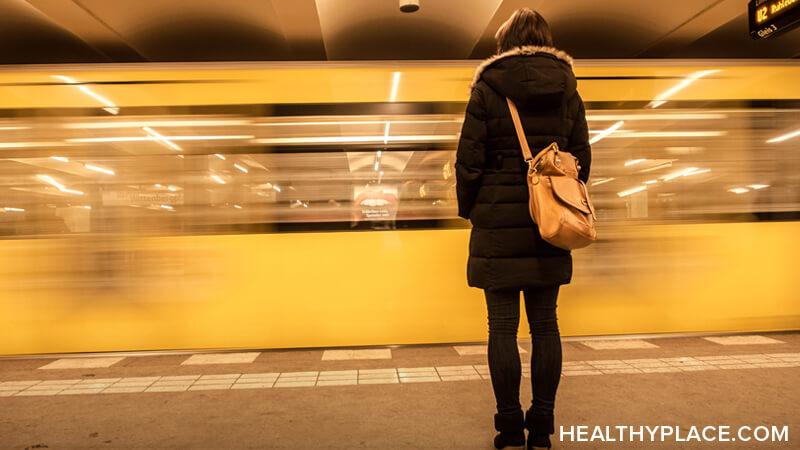 Goodbyes suck. I suck at giving goodbyes. There are times I'm more likely to fade away than give a proper goodbye. But, in this case, I'm here to give a proper goodbye to HealthyPlace. As much as I don't want to say goodbye, it feels like it's time for me to move along.
Why Are Goodbyes So Darn Hard? Why Do I Suck at Goodbyes?
Goodbyes feel final—an ending to a relationship, a journey, an opportunity. It invites change that we may not be ready for or comfortable moving through. It means changing up a routine and moving from what's familiar to the unfamiliar realm.
As humans, we're prone to avoiding discomfort, so it's no wonder there are people like me who'd prefer to fade to black instead of confronting the goodbye and the change head-on. Maybe that's why I suck at goodbyes.
But, you know what? Maybe it's good for us in the end. It opens up new opportunities for ourselves and others too.
My Time with HealthyPlace
I began blogging with HealthyPlace back in 2015. A friend had sent me the call for bloggers, and I jumped at the opportunity to share about my mental health experiences and teach specifically about body-focused repetitive behaviors, particularly skin picking disorder. I started with the Surviving Mental Health Stigma Blog and wrote for it until late last year when I switched to write about recovery.
In both cases, it's been amazing. But remember how I said I jumped at the opportunity to teach? I don't think I ever would have expected how much I'd learn from blogging when I started all those years ago.
3 Things I Learned About Mental Health (And Myself) from Blogging
While I suck at goodbyes, I did want to leave by highlighting three things I learned from and during my time here blogging about mental health.
1. Mental health stigma manifests in ways I never expected.
When I started writing for the Surviving Mental Health Stigma Blog, I thought I knew what stigma looked like. It looked like people looking down on those with mental health issues and criticizing them for struggling.
What I've learned is that stigma can manifest in subtle and malicious ways—and that a lot of stigma can be internalized. I learned I have a lot of internalized stigma, such as negative inner thoughts and self-gaslighting, that I still need to overcome as I continue my mental health recovery.
2. Mental health recovery looks different for everyone.
This is something I knew long before writing for Recovery from Mental Illness, but it's been reinforced time and again the more I've written about and explored mental health experiences.
Maybe that's scary because we don't have a clear path to recovery. But I think that's such a hopeful concept, too. It means that when my steps to recovery don't look like someone else's, all is not lost.
We each have our trials to overcome. We each have our ways of dealing with things. We each have our way of thinking about and receiving information, help, and hope.
3. Just when I thought I had it all figured out, mental health surprised me.
Pivoting and reassessing have been big learning curves for me. While once I would have thought I had it all figured out, I now know that's never likely going to be the case.
How I understand mental health issues and how they impact me is evolving. But I'm not afraid. With an open mind and self-care skills in my back pocket, I'm confident I'll be okay.
For All Who Suck at Goodbye, I'll See You Around
I hope my time writing with HealthyPlace has made a positive impact. I've loved reading comments over the years, seeing people sharing my work because they found meaning, and connecting with people in my own life in new ways because of this opportunity. For that, HealthyPlace has my gratitude.
Although I say goodbye to HealthyPlace as a regular blogger, I don't think this is a full goodbye after all. I'll still follow HealthyPlace and keep an eye on what amazing things people are sharing. And know that this experience will live with me forever and always hold a place in my heart.
See you around, okay?
APA Reference
Barton, L. (2023, June 26). I Suck at Goodbyes: Lessons Learned and Moving On, HealthyPlace. Retrieved on 2023, December 8 from https://www.healthyplace.com/blogs/recoveringfrommentalillness/2023/6/i-suck-at-goodbyes-lessons-learned-and-moving-on
Author: Laura A. Barton