I Just Learned About #NEDAPride—And I Love It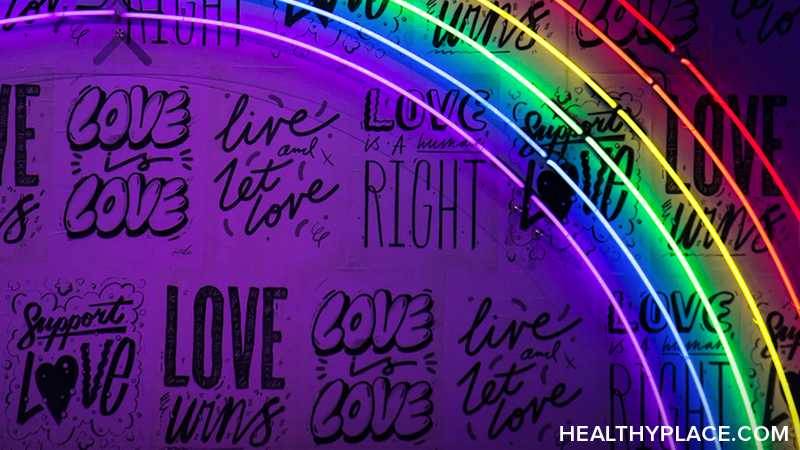 The National Eating Disorders Association runs an annual social media campaign each June called #NEDAPride.1 I just learned of its existence, but I love it already. As someone who is both queer and in eating disorder recovery, this combination feels so poignant to me. 
Pride Month is one of my favorite times of year. I experienced my first Pride Parade back in 2013 as a college theater intern spending the summer in New York City. I remember the thrill of witnessing such a diverse, enthusiastic crowd of humans join together as a community to embrace their most authentic selves. I wanted to know that sense of freedom too.
Flash forward seven years later, and I came out to my husband as bisexual during the Pride Month of 2020. He accepted this news beautifully, and our marriage has since flourished in tremendous love, intimacy, passion, and commitment as a result of our willingness to be honest with each other about who we truly are. That is what makes Pride Month so special—it's an unapologetic celebration of human identities in all of their unique colors and orientations. So when I recently learned about #NEDAPride, it was love at first sight. 
Why I Love the Mission of this #NEDAPride Campaign
When I first began residential treatment for anorexia in 2010, the concepts of diversity or inclusion were not part of the eating disorder recovery circles I became immersed in. Most of the young women I encountered in this program looked similar to me: underweight with hollow features and pale white skin. Sexual orientation was not a topic of conversation, and at the time, I never thought to openly question or challenge this.
In the depths of my soul, I knew there was something different about my internal experience, but queerness was not visible in my limited scope of the world back then. It wasn't until several years later as an adult that I finally made the connection between owning my bisexual orientation and making peace with my miraculous, resilient body. I love how the #NEDAPride campaign not only normalizes this connection, but helps it feel accessible to members of the queer community, who are sometimes not represented in the public discourse or media portrayal of eating disorder recovery.
I Love How #NEDAPride Celebrates All Identities and Bodies
The common—but inaccurate—stereotype that eating disorders primarily affect heterosexual white females has historically caused mental health stigma and barriers to treatment for many queer individuals who suffer from body image distortions or harmful eating behaviors. This is especially true for racial or gender minorities within the queer community. However, the truth is, those who identify as LGBTQ+ (lesbian, gay, bisexual, transgender, queer) are prone to exhibit more severe eating disorder symptoms than their heterosexual counterparts.2
There is a rampant need for inclusive messages of body acceptance across the whole continuum of human sexuality. And that is why I love #NEDAPride. The mission of this campaign fills me with hope that everyone is capable of embracing what makes each personal identity so unique and valuable—no matter how different it might be from their own.
When bodies of all shapes, colors, genders, sizes, and orientations are given a platform of equal representation and celebration, radical self-love can blossom. That's the healing power I feel as a queer woman standing in the truth of who I am, and I hope others come to experience this for themselves—both during Pride Month and well beyond.  
Sources
#NEDAPride. (n.d.). National Eating Disorders Association. Retrieved June 2, 2022, from https://www.nationaleatingdisorders.org/nedapride

Parker, L., & Harriger, J. (2020). Eating disorders and disordered eating behaviors in the LGBT population: A review of the literature. Journal of Eating Disorders, 8(51). https://jeatdisord.biomedcentral.com/articles/10.1186/s40337-020-00327-y
APA Reference
Schurrer, M. (2022, June 3). I Just Learned About #NEDAPride—And I Love It, HealthyPlace. Retrieved on 2023, December 1 from https://www.healthyplace.com/blogs/survivinged/2022/6/i-just-learned-about-nedapride-and-i-love-it
Author: Mary-Elizabeth Schurrer