Depression - Fighting the Odds and Winning
Julaine suffered from severe depression and anxiety disorder. She received ECT treatments and antidepressant medications. Here's her ECT story.
One Woman's Story of Hope and Recovery
I tell this story,

not out of a desire to call attention to myself, but because I want mental health consumers, family members, friends and their professionals to know there IS hope and recovery for those who experience the painful and often terrifying experience of having a mental illness.
It started out with a simple panic attack one night. As a young mother, I had struggled for three long years, combining full-time work and caring for my family. My husband, Dennis and I, were enroute to Washington, D.C. on a short vacation, celebrating the acquisition of his new job which would allow me to stay at home with our young son.
I awoke suddenly in the middle of the night, breathless, heart pounding - feeling like I was suffocating. Pacing the floor until the attack subsided, I returned to bed mystified. The panic attack returned the next day and the next, increasing in frequency and severity.
Severe nausea then invaded my body, landing me in a hospital emergency room. Physicians there admitted me twice during the following week, treating me with intravenous feedings and medication for anxiety. Searching for intestinal problems but finding none, doctors released me and I returned home with my husband. Retreating to my bed, I began to feel worse and worse.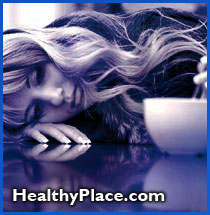 My third admittance to a hospital (that time locally) proved fruitless again. I returned to bed, sluggish from medications that seemed only to induce sleep. My weight plummeted to a dangerous level, along with my spirits. I could no longer function--neither did I have a desire to. An ominous weight pushed down on me. Powerless to escape its clutches, I began to think about dying.
One night, I awoke feeling as if someone were injecting me with toxic adrenaline. Sobbing and frantically pacing the floor, I began to think I had lost my mind. My frightened husband once again rushed me to a hospital, this time to a university medical center. There, a diagnosis was finally made. I had severe depression and anxiety disorder.
Admitted to a psychiatric in-patient center, I was heavily sedated. Weeks inched by as I endured various antidepressant medication trials and ECT treatments. Many times, I felt I could not go on. The battle seemed interminable. Finally, following various treatments methods and two hospitalizations in six months, I was able to resume a normal life again.
For the next few years, I was successful battling various minor episodes of recurrent depression. It was during this time, I discovered a wonderful support group for depressives and manic depressives (DMDA/San Antonio, Texas), where my family resided. Not only did I find friends and support, but received life giving education and coping skills concerning clinical depression.
Upon relocating to Florida soon afterwards, my participation in the San Antonio DMDA Chapter aided me in establishing DMDA Mid-Orlando in 1992. The group flourished and began to exert a positive impact on Orlando's mental health community. When I experienced a major depressive setback soon after, a DMDA support group friend and member stayed with me day-after-day, taking care of my physical and mental needs while my husband went to work.
For months, I fought a downhill battle of medication trials and treatments, only becoming increasing ill. My family grew exhausted from the tremendous strain I was putting on them. Time-after-time, I came close to losing my struggle with depression. Only the perseverance of my doctor, loved ones, friends, and countless prayers in my behalf, kept me fighting to overcome this illness that seemed to want to devour me.
After three years of constant battling, I finally responded to a successful medication combination. It was as if I had risen from the dead! In 1, I celebrated my fourth year of major recovery from severe depression. The recent years since my recovery have been filled with struggles, yet have been the best time of my life.
Because of the excellent training and support provided by DMDA on a local, state and national level, I was able to resume active DMDA leadership and help train others to in the same pursuit.
Resulting employment as an information and referral specialist at the Florida Mental Health Association increased my knowledge about mental illness, its treatment, and advocacy. Participation in mental health seminars, programs and contacts with professionals further honed my skills.
I have been privileged not only to work as an Orange County, Florida guardian advocate for psychiatric inpatients but to be a team member of the first official Guardian Advocacy pilot program in the state of Florida. My great desire to help educate and support others dealing with mental illness has expanded even further.
I have also aided in National Depression Day Screenings, and participated in the following as an organizer and speaker: Orlando and Daytona, Florida's Mental Illness Awareness Week and Mental Health Association of Central Florida's Statewide Conference for Mental Health Consumers and their families.
I was also privileged to be a Board Member and active volunteer for NAMI of Greater Orlando during the last 3 years I lived in Orlando, Florida.
One of my favorite activities is addressing professional, community and school classes about my struggle to overcome serious depression. Additionally, in October 1998, my husband and I appeared on a nationally broadcast program at Universal Studios, relating the story of our family's struggle to successfully survive my life threatening illness, depression.
The highlight of my victory, however, occurred just recently when I entered graduate school to become a licensed mental health counselor. Today, as a masters student at Denver Seminary, I see clients in my counseling practicum program. I look forward to the day I can further serve others as a consumer-oriented professional in the community, churches and mental health support organizations.
Winning the 1998 Beth Johnson Scholarship from the Mental Health Association of Central Florida helped confirm my belief that mental health consumers can join the ranks of professionals, positively impacting not only clients and family members, but coworkers, as well.
The recovery and victories I have attained, are largely due to the support, education and skills I received from being a DMDA member and leader.
Today, I can reach out to others in a more effective way. Truly, I have "walked the walk!"
Julaine
next: Electroconvulsive Therapy (ECT): An Effective Treatment for Depression
~ depression library articles
~ all articles on depression
APA Reference
Staff, H. (2008, December 14). Depression - Fighting the Odds and Winning, HealthyPlace. Retrieved on 2023, November 30 from https://www.healthyplace.com/depression/articles/depression-fighting-the-odds-and-winning
Last Updated: June 24, 2016