Participate In An ECT Evaluation
From Linda Andre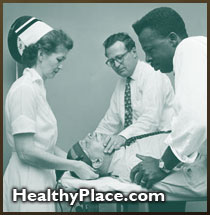 On Friday, May 18th, the New York State Assembly held public hearings on electroshock. Among those testifying was psychologist Harold Sackeim. Sackeim, dubbed the nation's "electroshock czar", receives tens of millions of dollars in federal funding to research electroshock. He has an exclusive grant to investigate the adverse effects of ECT, which he has held for 20 years. (He has also "consulted" for the shock machine manufacturers continuously over these years.) He's known as the foremost proponent of electroshock in the world.
Sackeim claimed that in his 20 years of shocking people he has never seen even one case in which ECT has had a permanent effect on memory function (anterograde memory).
He stated:
"I invite anyone in the country who believes ECT's had a deleterious effect on their cognition to come to us for an evaluation."
In the interests of science, let's take him on up on this offer---made before a large audience, recorded on tape and in official transcripts! Please write, call, fax or email Harold Sackeim. Tell him you had ECT, and you are responding to his request to evaluate people who experienced adverse cognitive effects.Ask for an appointment for an evaluation. (Don't worry about paying for it---he's got plenty of grant money to study ECT survivors.)
It is important to make a record of your request. If you email, send a copy to Committee for Truth in Psychiatry at ctip@erols.com. You may mail a copy to CTIP at P.O. Box 1214, New York, NY 10003. If possible, it's a good idea to send your request for an evaluation by certified mail.
Harold Sackeim, PhD
Chief, Dept. of Biological Psychiatry
New York State Psychiatric Institute
1051 Riverside Drive
New York, NY 10032-2965
Telephone: (212) 543-5855 (it can be difficult to reach him on this number sometimes) or (914) 238-8613
Fax: (212) 543-5854
email: has1@columbia.edu
Harold has repeatedly said that he would never even try to study persons who experienced permanent adverse memory effects from ECT because such persons are so "rare" he could never find enough of us for a study. Let's show him he's wrong.
Linda Andre
CTIP Director
next: Psychiatric Care Problems Involving Tenet Healthcare
~ all Shocked! ECT articles
~ depression library articles
~ all articles on depression
APA Reference
Staff, H. (2007, February 15). Participate In An ECT Evaluation, HealthyPlace. Retrieved on 2023, December 1 from https://www.healthyplace.com/depression/articles/participate-in-an-ect-evaluation
Last Updated: June 23, 2016