Shock Treatment!
A Survivor Battles to Stop Controversial Therapy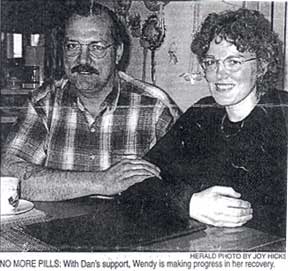 By JOY HICKSON Lethbridge Herald
Seven years ago, Wendy Funk-Robitaille was a different person.
At 32, she was living in Medicine Hat, happily married with two children, had a job as a social worker, was working on her master's degree and planning to go to law school.
But after being diagnosed and treated, including electric shock, for depression, Funk-Robitaille was left a shell of her former self, unable to read, drive or even remember how to find her bathroom.
She had lost almost a lifetime of memories, including knowing her husband and sons.
In the years since, she has been able to recover to a degree, thanks largely to the support of her husband, Dan Robitaille.
But she has discovered she is not the only one who feels scarred by psychiatric treatment and he's started a support group called Crusaders Against Psychiatry.
"I would like to see ECT (electroconvulsive therapy or shock treatment) banned and some kind of tighter control on psychiatrists," she says. "I want other people to realize this could happen to you."
Members of her group, CAP, believe psychiatry "is a brainwashing technique which damages the brain and destroys memory," she says.
"I think mental health care is a scam. Professionals are in it to make money."
Robitaille's treatment began after a visit to a doctor whom she'd never seen before to treat a sore throat.
She had been under considerable stress because she had recently been raped at work. That, a heavy workload and the pain of a sore throat caused her to burst into tears in the doctor's office. The doctor determined she might be suffering from depression and prescribed Prozac.
Side effects of the antidepressant drug, affecting her sleep and eating patterns, made her feel worse and Funk-Robitaille's treatment snowballed to include more medication and eventually ECT.
After 43 shock treatments in a 14 month period and dozens of pills, she knew she needed a change.
"I decided this was not the way to live," Funk-Robitaille says. "I flushed the pills down the toilet."
Then she went to a psychiatrist in Calgary who determined she no longer needed treatment, but said her amnesia was probably permanent.
Now living in Lethbridge, Funk-Robitaille has re-learned most life skills and had another baby three years ago.
But life is still a struggle, she says
Many memories have been lost and some of her abilities, such as with math, are impaired.
"I can't remember my older sons' (ages 15 and 17) births or our wedding," she says. "I have a record in my picture albums and diaries, but it' not the same."
She thought her experience was an isolated incident until she saw a television talk show about the same thing happening to other people.
"I couldn't believe it," she says thought I was the only one. Then I knew there had to be other people this area who'd had bad experience and want to survive."
She has gone on local talk show herself, and is planning to publish, book on her experience.
"(Psychiatric treatment) took away my career, my past is gone and my future is shaky," she says.
"I just want to raise my family a give them the best life possible. And I want to tell others to be careful of people who they think can help the cope with life. Find alternatives to taking chemicals."
And she wants people who have had damaging treatment to know "there is hope for survival after psychiatry." For more information about CAP people may call Funk Robitaille at 381-6582
next: Shock Treatment Survivor Continues To Speak Out
~ all Shocked! ECT articles
~ depression library articles
~ all articles on depression
APA Reference
Staff, H. (2007, February 19). Shock Treatment!, HealthyPlace. Retrieved on 2023, December 11 from https://www.healthyplace.com/depression/articles/shock-treatment
Last Updated: June 21, 2016