Depression Precedes Eating Disorder in Some Women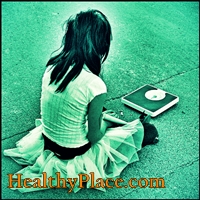 Women with eating disorders who have attempted suicide may have had a depressive disorder long before their problems with food began, the results of a small study suggest.
Researchers found that among 27 eating-disorder patients with a history of suicide attempts, two thirds had major depression before the onset of the eating disorder. That compares with just one of 27 patients who had never attempted suicide.
Women in the suicidal group also developed depression and anxiety disorders at a younger age than the other women did.
A substantial number of people with eating disorders purposely injure themselves or attempt to take their lives, according to the study authors, led by Dr. Lisa R. R. Lilenfeld of Georgia State University in Atlanta.
The new findings show that for these women, "the eating disorder may be secondary to a mood disturbance," the researchers report in the International Journal of Eating Disorders.
That stands in contrast to some past research suggesting that depression typically arises after a woman develops an eating disorder like anorexia or bulimia. According to Lilenfeld and her colleagues, depression may often be a consequence of the eating disorder, but this may not be true of suicidal patients.
They say that understanding such differences between eating-disorder patients who do or do not attempt suicide should aid in treatment.
For the study, the researchers interviewed 54 women with anorexia, bulimia, or other eating disorder, half of whom had a history of suicide attempts and self-inflicted injuries such as cuts and burns.
The authors found that while suicidal and non-suicidal women did not differ much in their rates of depression--most women in both groups had a history of major depression--those with a history of attempted suicide developed depression at a younger age.
Excluding the subjects who developed an eating disorder and major depression in the same year, more suicidal women developed major depression before they developed the eating disorder.
In addition, women in the suicidal group had a higher rate of anxiety disorders--93 percent versus 56 percent--and, on average, developed anxiety at a younger age.
According to the researchers, the findings suggest that for most women with eating disorders and no history of suicidal behavior, depression may be a consequence of the eating disorder. But for those who are suicidal, the first and perhaps most "central" psychological problem may often be major depression.
Therefore, the authors write, women with eating disorders and a history of depression may be at increased risk for suicide. This, they note, suggests the need to put more emphasis on regulating emotion and mood in treating these patients.
SOURCE: International Journal of Eating Disorders, March 2004.
next: Don't Wait to Treat Early Forms of Bulimia: Experts
~ all articles on depression and eating disorders
~ eating disorders library
~ all articles on eating disorders
APA Reference
Staff, H. (2004, April 29). Depression Precedes Eating Disorder in Some Women, HealthyPlace. Retrieved on 2023, December 1 from https://www.healthyplace.com/eating-disorders/articles/depression-precedes-eating-disorder-in-some-women
Last Updated: April 18, 2016